When it comes to picnics, outdoor concerts, and beach days, RTIC soft coolers are the perfect way to keep your food and drinks cold.
We're sharing our RTIC soft pack cooler review with our fellow adventurers because there is nothing better than a cold drink on a hot day outdoors. We love this cooler for its excellent insulation, portability, and durability. Keep reading to learn more!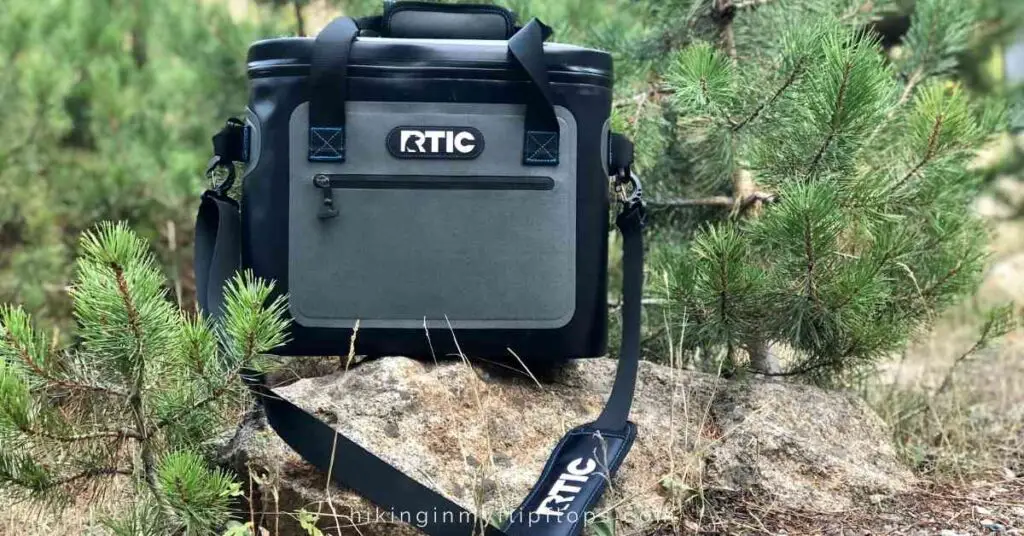 Our RTIC Soft Pack 30 Review
When we were recently in the market for a small cooler, the researchers in us set into high gear to find the perfect cooler for our adventures.
Here's what we were looking for and why we found everything we wanted in the RTIC Soft Pack cooler.
1. It Keeps Your Food Cold
It's the number one thing we all want in any cooler, and it does the job well.
When it comes to keeping things cold, RTIC soft coolers are up to the challenge—high-quality insulation and a sturdy zipper keep the cold in and air out. An inch of closed-cell foam on the walls (and 2 inches of insulation on the lid) is an effective barrier against the cold. Of course, many factors go into how well a cooler can keep food cold. No matter what type of cooler you're using, it takes more than the perfect cooler to keep food cold. Knowing how to keep your cooler cold will ensure it's doing its job.
2. It's Lightweight and Portable
Hard-sided coolers weren't part of our search because many are heavy and difficult to carry. Many that were lightweight didn't close securely enough to protect contents when tipped or rolled around.
The 12 and 20 Can RTIC Soft Coolers are small enough to use as a carry-on bag on many airlines and may even fit as a personal item. Confirm the dimensions with your airline before your flight.
3. It's Affordable
The RTIC Soft Pack coolers aren't cheap by any means. Compared to similar options (like Yeti's Hopper Flip), RTIC delivers quality at less than half the price. The affordable prices for excellent quality continue to draw us to the RTIC Outdoors brand.
You Might Also Like: The Battle of the Insulated Tumblers: Does the Affordable RTIC Hold Up to Its Pricier Competitors?
4. It's Durable
The durable materials in the RTIC Soft Pack coolers can withstand it all. Holding up against weather, bumps, and terrain makes them perfect for any adventure. The heavy-duty nylon shell exterior and puncture and tear-resistant liner provide essential protection.
5. It Floats!
The 100% leakproof cooler is the one you want for a day at the beach, lake, or pool. Pair it with one of these beach bags to keep everything organized.
Whether camping or exploring near home, we're often by the water. We needed a cooler that wouldn't get lost or ruined from splashes or if tipped into the lake.
Everything to Know About the RTIC Soft Cooler
The Materials
The RTIC Soft Pack cooler has an ultra-durable nylon shell on the exterior and a puncture-resistant lining on the interior. There are 2-inches of closed-cell foam insulation between those durable materials to keep your food and drinks cold.
The interior liner is antimicrobial and mildew resistant (so you don't need to worry when your cooler gets wet) and fully waterproof to protect contents from getting wet.
A durable zipper prevents air or water from sneaking into your cooler, providing excellent ice retention.
How Long Does It Keep Ice
RTIC claims that the cooler will keep things cold for 24 hours. And in our experience, we can confirm that claim.
We packed up food for a trip into the mountains but knew we wouldn't get into it until a day later. That had us second-guessing whether it would stay cold long enough. Sure enough, we unpacked at our destination and found still-frozen shock packs in the cooler. We did keep the cooler away from direct sunlight and did not open it until we were ready to unpack it. If you're traveling or camping in hot weather, you may not get the full ice retention.
A Variety of Sizes
Choose from 4 different RTIC Soft Pack coolers, sized by the number of cans they can hold: 12, 20, 30, or 40.
Our RTIC Soft Pack 30 is the perfect size to hold drinks at the campground or snacks and lunches on our road trips.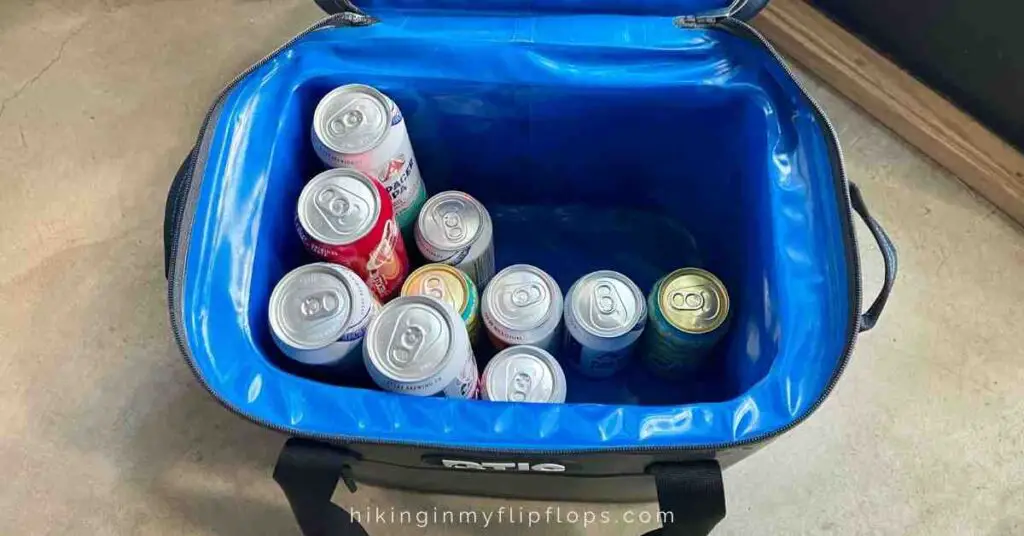 And They Come in a Variety of Colors
There are 11 colors to choose from (at publishing time), from bright beachy colors like citrus and coral to outdoorsy tan and camo. We decided on the classic RTIC blue & grey.
The Best Uses for the RTIC Soft Pack Cooler
While we love nearly everything about the RTIC Soft Pack 30, it's not always the cooler we reach for. This cooler isn't great for holding a weekend's worth of camping meals or keeping food and drinks cold for an extended period.
The Zipper Needs to Be Lubricated
There is no doubt that it's a quality cooler, but it's not perfect. The waterproof zippers may keep the element out, but they are also tough to open and close. Use the zipper lubricant (provided) to keep the zipper working well and easy to use.
RTIC Soft Pack Cooler Review: What Other Users Have to Say
Others who have reviewed RTIC's soft pack coolers agree that the zipper can be a little challenging, so don't forget to use the lubricant every so often (RTIC recommends about every 6 months).
And many agree that you can't go wrong with the durability of this lightweight cooler. The range of sizes is perfect for nearly every occasion: from work lunches carried in the 20 Can size to keeping drinks cold on a weekend getaway with the 40 Can cooler.
RTIC Soft Pack vs. Yeti Hopper Flip and Hydro Flask Carry Out
The soft cooler competition is intense. Our research included comparisons to that competition with many great options on the market.
We compared the RTIC Soft Pack 30 with the Yeti Hopper Flip 18 and the Hydro Flask 20L Carry Out, which are all about the same size. All three coolers have a zippered flip top, detachable shoulder carry strap, and carry handle. RTIC sizes theirs by the number of cans it holds, while Yeti and Hydro Flask size their coolers by liters. 
While they are all excellent coolers with fantastic reviews, Hydro Flask's Carry Out Soft Coolers don't have the waterproof materials we need in a soft cooler. The price of the Yeti Hopper Flip was a bit outside of our budget.
| | | | |
| --- | --- | --- | --- |
|   | RTIC Soft Pack 30 | Yeti Hopper Flip 18 | Hydro Flask 20L Carry Out |
| Price | $120 | $300 | $90 |
| Weight | 4 lbs | 5.1 lbs | 2.5 lbs |
| External Dimensions | 15.5″ W  x 12.8″ H x 11.5″ D | 13″ W x 16.3″ H x 10.8″ D | 12.7″ H x 13.3″ W x 17″ D |
| Internal Dimensions | 13″ W x 9″ H x 9.5″ D | 10.3″ x 14.3″ x 8.5″ | not available  |
| Storage Capacity | 30 Can (with ice) | 20 Can (2-to-1 ice ratio) | 38 Can (without ice) |
| Warranty | 1-Year Warranty | 3-Year Warranty | 5-Year Warranty |
| Colors | 10  | 3 | 3 |
| Other Features | External pocket | HitchPoint Grid for attaching gear | Exterior pocket and loops to attach gear |
| Other Sizes Available | 12, 30, and 40 Can | 8L and 12L | 12L |
To make it easier to compare the sizes, we converted the internal dimensions of the RTIC Soft Pack coolers to liters.
the RTIC Soft Pack 12 Can is about 8L, the same size as the Yeti Hopper Flip 8
the 12L Soft Pack 20 Can is equal to the Yeti Hopper Flip 12
the RTIC Soft Pack 30 Can cooler is 18L, like the Hopper Flip 18
Frequently Asked Questions
---
RTIC soft coolers are a great addition to your camping or travel gear. These durable coolers keep food and drinks cold while keeping contents protected from the elements. This affordable cooler also makes packing for your next adventure extra easy. If you're in the market for a new cooler, you can't go wrong with the line of RTIC soft coolers.
---
Click below to save this RTIC soft cooler review on Pinterest!