It's already time to start thinking about those summer camping trips! And that means thinking about those delicious meals that seem to taste so much better in the outdoors. After all of the cooking and washing up the dishes at the campground, I always want dessert to be quick and easy so that we can get to our nighttime fun at the campground. We always plan some make-ahead camping desserts that are quick to serve and have little to no clean-up!
You can have your cake and eat it too with these make-ahead desserts to take camping – without all the hassle. Whether you're looking for something chocolatey, fruity, or a classic campfire treat, we've got you covered. So sit back, relax, and enjoy the great outdoors with one of these delicious desserts in hand.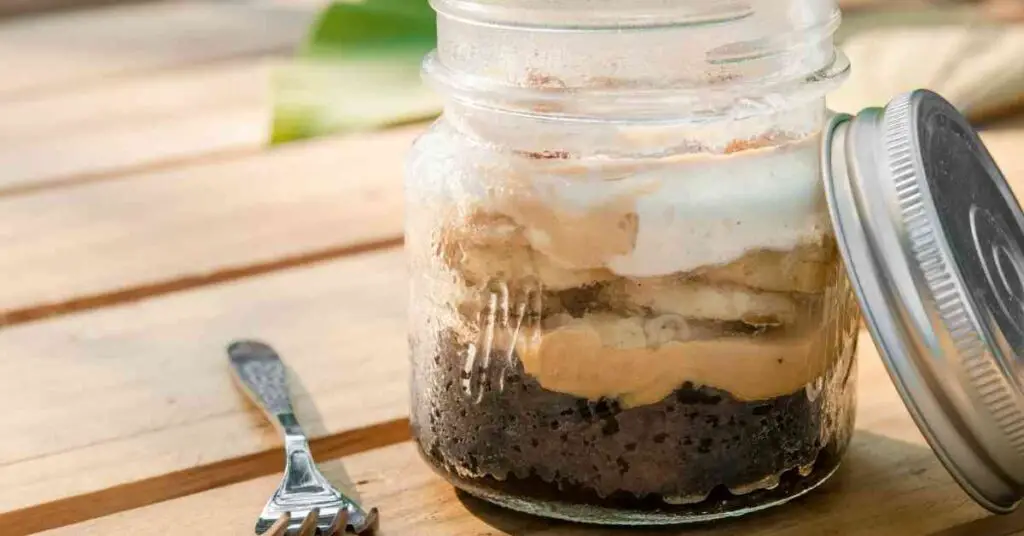 Delicious Make-Ahead Camping Desserts
While you can always pack up packaged cookies, pudding cups, or candy bars for after-dinner treats when planning your camping menu, there is just something better about homemade.
Whether it's your first camping trip or your 100th, you can get the convenience of pre-packaged that is elevated with this homemade goodness with these classic dessert ideas. These not only work for tent camping but are excellent for RV and campervan meal planning, too.
Make-Ahead Desserts for Camping Instead of S'mores
We all love s'mores when camping, but when you're looking for easy desserts that are ready to serve, traditional s'mores don't always fit the bill. These new twists on classic s'mores are the perfect solution.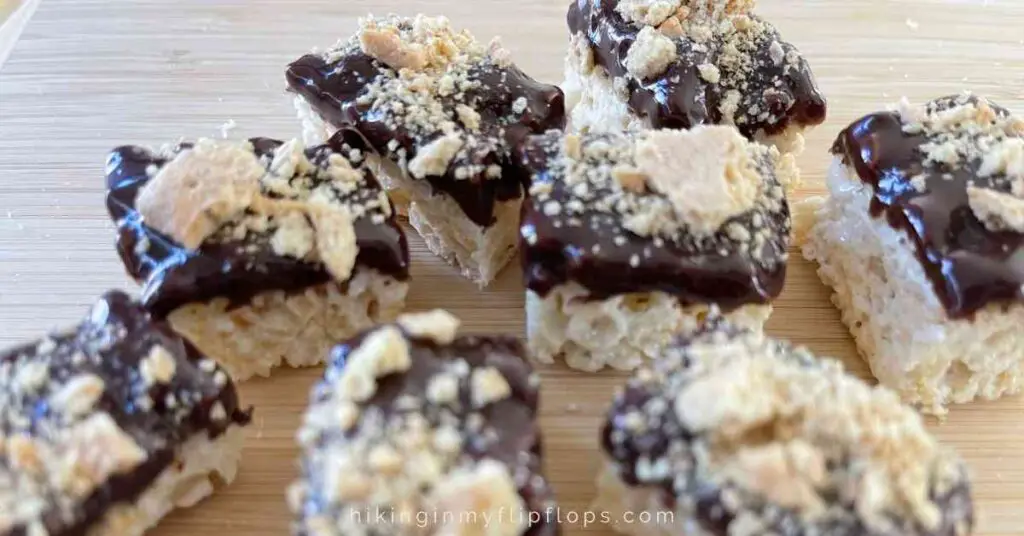 1. S'mores Brownies
Ooey, gooey goodness is the best way to describe these S'mores Brownies. Complete with graham crackers, chocolate, and marshmallow, these are easy to make ahead of your camping trip because they use brownie mix as a base.
2. Rice Krispies S'mores
It's the best of both worlds: rice crispy treats + s'mores in one. We dip Rice Krispies Treats in melted chocolate, then sprinkle with crushed graham crackers. Or, make up a batch of homemade S'mores Crispy Bars in your crockpot before you leave home.
3. No-Bake S'mores Bites
No-Bake S'mores Bites are made with a marshmallow and graham cracker mixture dipped in dark chocolate. Make them less messy by turning them into cake pops!
Fruity Make-Ahead Desserts for Camping
Camping desserts made with fruit are perfect for summer camping trips, and those that are served cold are especially refreshing on warm nights.
4. Knox Blox
There are many Knox Blox recipes out there, but none hold up for travel as well as this classic recipe, making it one of the best make-ahead desserts for camping too.
5. Strawberry Shortcake
We use a strawberry shortcake recipe that is more like a biscuit, like this one here. Pack sliced strawberries and whipped cream for serving at the campground. Bring a mason jar of whipping cream to the campground if you're ok with partially make-ahead desserts to take camping. Take turns shaking vigorously until whipped cream is formed (just be careful not to shake too long, or you'll make butter!).
6. Strawberry Pretzel Salad
Pack up individual servings of Strawberry Pretzel Salad. When it's time for dessert, everyone can just grab a spoon and dig in. Make sure to keep these in your cooler to keep them cool until ready to serve.
7. Fresh Fruit and Whipped cream
Pack a container of fresh berries and whipped cream to serve a super simple and refreshing dessert on hot summer nights at the campground.
8. Blueberry Pies
Pie is an easy dessert for camping, but these Mini Mason Jar Blueberry Pies are even easier to serve. Press the crust into the jar a bit before baking so there is room to fit the mason jar's lid.
9. Cherry Crisp
An easy, fruity, baked treat that works well for warm or cold camping weather. Cherry Crisp in a Jar can be eaten chilled or gently warmed over the campfire before serving.
Chocolaty and Peanut Buttery Make-Ahead Desserts to Take Camping
You can never go wrong with chocolate for dessert. Combine it will peanut butter, mint, or even coffee for something even tastier.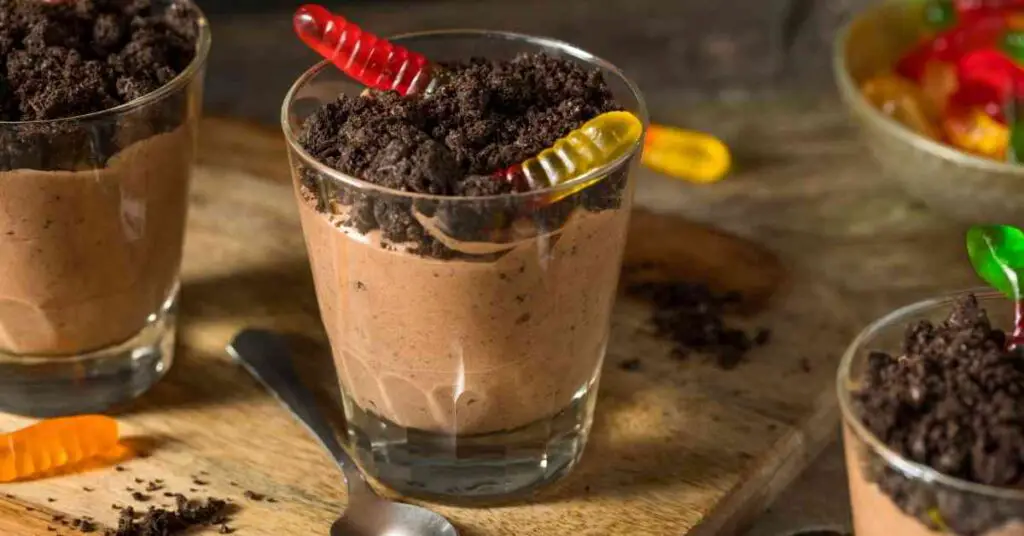 10. No-Bake Camping Cookies
Chocolate and coffee are a winning combination, making each taste even better. Not only do these No-Bake Camping Cookies don't use the oven or the stove. Just mix and roll into bite-sized balls, and you're ready to go!
11. Dirt Pudding Cups
Pudding made to look like dirt, complete with gummy worms, is a kid favorite that goes well with a camping theme. These are easily assembled in advance, and look for cups with lids to bring them to the campground. Need a refresher on how to make these? Try this simple recipe.
12. No-Bake Oatmeal Fudge Cookies
These were always my favorite growing up and what my mom often packed for our camping trips. And with lots of oats, they are healthy too! This recipe for No-Bake Chocolate Oatmeal Cookie is close to what we use – but we like to throw in a few raisins too.
13. Graham Cracker Sandwiches
It's one of our favorite hiking snacks, but it is sweet enough to be one of our favorite make-ahead desserts to take camping.
14. Chocolate Peanut Butter Crunch Bars
One of my favorite candy bars is Take 5. These are like a homemade version of the salty, crunchy, chocolatey, peanut buttery bar. But with the addition of marshmallows in the base, it's even more camping-appropriate.
15. Grasshopper Pies
One more idea for mini mason jar desserts: Grasshopper Mini Pies. While chocolate pairs perfectly with peanut butter, the combination of chocolate and mint comes in a close second.
---
Whether you're looking for a simple sweet treat or a decadent dessert, we've got you covered with these make-ahead camping desserts. All of these recipes can be made ahead of time and simply served when you're ready to indulge. Save this list for your next camping trip and give yourself a break from the extra cooking and clean-up after your outdoor meal!
---
Click below to save these ideas for make-ahead desserts for camping on Pinterest!