One of our favorite road trips was just days before the pandemic hit in early 2020. We rented a campervan from Escape Campervans in Denver for a 4-day weekend getaway to Santa Fe, NM.
While we're well-versed in cooking meals at a campground and finding easy meals for our road trips, cooking in a campervan is a little in between. Our short journey took us to where we couldn't do a campfire. But our campervan came equipped with a refrigerated drawer and a camp stove which opened up the options.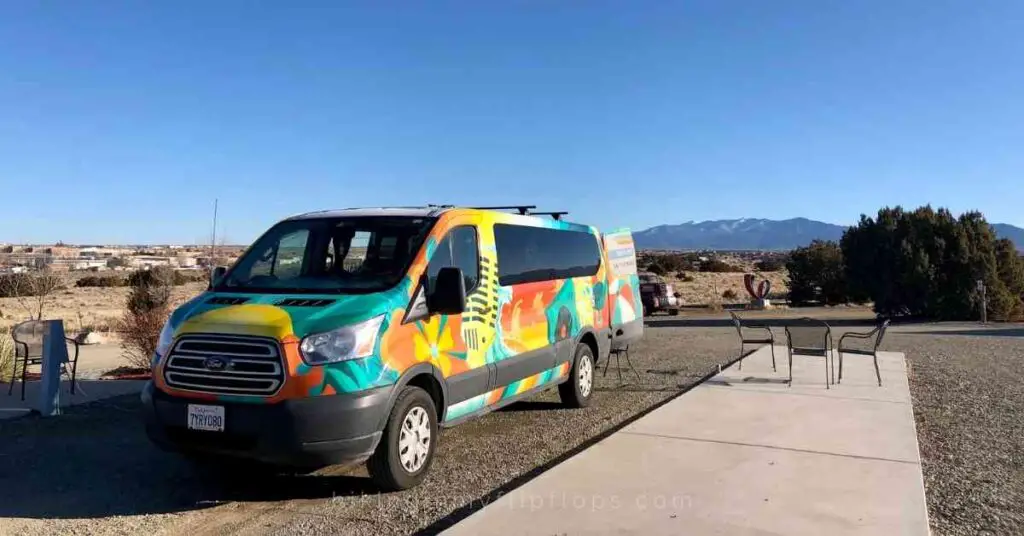 Your Campervan Kitchen
Kitchens in vans can vary, so make sure you know exactly what you'll have in yours. They often come well-equipped with:
a small refrigerator drawer
a camping stove
plates, cups, and cutlery
a pour-over coffee
knives and cutting board
a small set of pots and pans
small kitchen sink
dish towels and cloth
other essentials like a bottle opener, can opener, tongs, spatula, serving spoon, vegetable peeler, vegetable scrubber
You may also want to pack:
insulated coffee mugs
a French press
a cooler
containers to store any leftovers or pack a picnic
trash bags
paper towels
dish soap
aluminum foil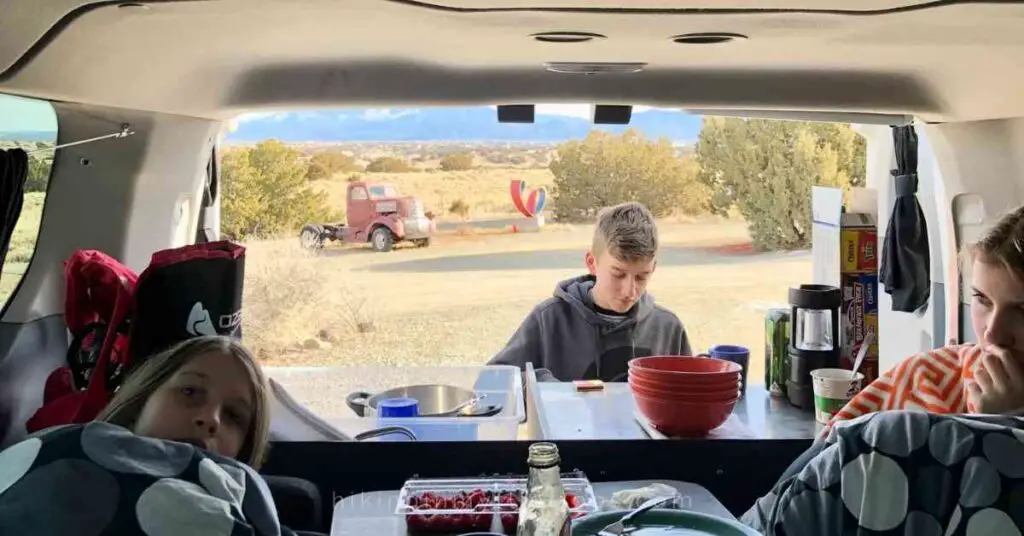 11 Tips That Make Cooking In A Campervan Easy
Cooking in a campervan is a lot like any other tent camping trip. The van is likely your vehicle, too, so unlike tent camping, you might be on the move and packing everything back up. These campervan cooking tips help you stay portable and not overwhelmed with too much food for your meals.
1. Plan Your Meals
one-pot meals make easy cleanup
semi-homemade make 
use simple recipes that don't mean shopping for lots of ingredients
use a camping meal planner to make sure you don't forget any ingredients or cooking equipment
2. Shop Frequently and Shop Intentionally
storage is limited, so you don't want food to take up too much room
only buy what you'll need until you're able to get to a store again
make a grocery list and stick to it
3. Don't Forget the Snacks and Drinks
have snacks like fruit, veggies, and bars for hiking or long drives between destinations
buy a few gallons of water in case there is no access to potable water
don't forget a reusable water bottle (we love Nalgene) to take water on hikes and other outdoor adventures
4. Season Well
instead of many ingredients, make up for it in the seasonings
bring garlic powder (or better yet, cloves of garlic), black pepper, kosher salt
pre-mix any seasoning blends at home, like Greek, taco, or fajita
5. Store Food Properly
keep food sealed and out of sight from critters
dispose of any trash before bed (you can also store it in the van with you, but probably don't want to sleep near garbage)
keep perishable food cold by storing it in a properly chilled cooler or refrigerator, if the van is equipped with one
6. Take Advantage of Campground Amenities
cook over the campfire and use the picnic table for prep
use the community kitchen for cooking meals away from the van (this reduces odors and gives you more space and equipment to work with)
wash dishes in a designated sink to avoid clogging the sink in the campervan
Related Reading: The Complete Guide to Washing Dishes When Camping
7. Avoid Foods with Strong Odors
remember that you sleep very close to where you cook, and strong odors can linger
I love lots of garlic, but not the lingering smell; also, avoid fish and seafood if cooking in a campervan
these odors can also attract wildlife
8. Clean Up Quickly
food is harder to clean off the dishes when it's dried on
scrape all food bits off dishes into the trash and not the drain
put perishable leftovers away right after your outdoor meal
9. Bring Kitchen Equipment
Don't forget your camp kitchen essentials. 
check with your rental for items provided
bring any specialty items you need for planned meals
your van likely comes equipped with a camping stove that can be neatly stowed in the camp kitchen; if not, consider buying one for the trip
10. Plan for Leftovers
After just a day or two of making meals in your campervan, you'll probably have a stock of leftovers taking up precious space.
don't let leftovers take up the limited space you have, so make a plan to use up leftovers for one (or more) of your meals
get creative with the assortment of leftover ingredients and make up new meals to use it all up
11. Bring Cooking Staples From Home
Shop your pantry at home for campervan cooking staples rather than buying more than you need along the way. I clean out as much as I can, looking for food to take in a campervan that we already have on hand:
seasonings, including salt and pepper
peanut butter
canned soup
olive oil or butter
tortillas
small containers of condiments, like mayo, ketchup, mustard, and hot sauce (don't forget the packets you've collected from fast-food stops)
Decant anything you can into smaller containers to save more space.
10 Easy Campervan Meals
Need some campervan meal ideas? We pull from our favorite camping meal ideas but try to have a mix of meals that are best over the campfire and can be cooked on a camp stove.
You don't want to rely too much on a campfire when traveling in a campervan. From campfire restrictions to cooking during a brief stop on the road, you may not have access to a campfire.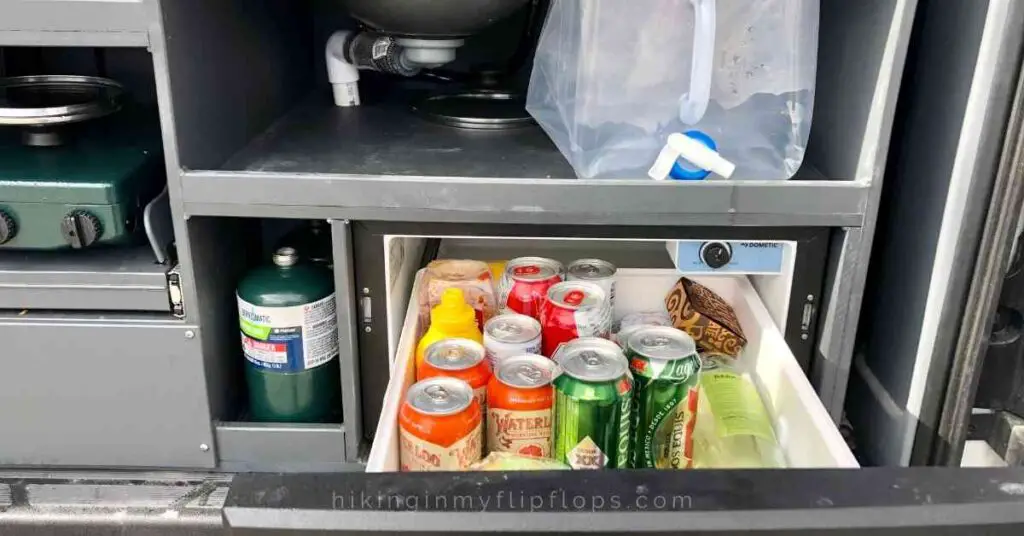 Try these delicious meal ideas when planning your menu:
1. Pasta
We always have a backup of dried pasta and a jar of pasta sauce on our list of food to take in a campervan. From spaghetti to ramen to mac-n-cheese, there are a lot of campervan meal ideas using pasta.
We use this basic recipe for one-pot spaghetti with meat sauce (no pasta water to toss!). Don't forget to bring parmesan cheese!
2. Quesadillas and Grilled Cheese
The ingredients for this quick but filling meal are mostly shelf-stable, can be customized in any number of ways, and use a camp stove when you can't do a campfire. Make quesadillas with cheese, canned black beans, and shredded cheese. Pick up a rotisserie chicken, shred, and layer on your quesadilla for extra protein. Grilled cheese can be paired with soup, especially great when camping in colder weather.
3. Pancakes
Who doesn't love pancakes when camping? They are also easy to make using a camp stove as long as you have a skillet in your camp kitchen. French toast is another option but requires milk and eggs.
Not into pancakes? You can find a few more camping breakfast ideas here.
4. Soup 
Whether you have the fridge or cooler space to store homemade soup (tip: freeze before your trip to hold up longer) or buy cans of your favorite soup, it's an easy and filling meal.
5. Stir-Fries
Make a quick and easy stir-fry with pre-chopped veggies (like carrots, snap peas, onions, red bell pepper, mushrooms, or broccoli), diced chicken or tofu, rice, and a sauce. We love the Quick Teriyaki Chicken Rice Bowls recipe from Crunchy Creamy Sweet that has just a few ingredients but is loaded with flavor.
6. Fajitas
These are better cooked over the campfire but are good on a camp stove as well. Sliced chicken or steak, bell peppers (add a hot pepper like a jalapeno if you like spicy), and onions sprinkled with fajita seasoning. We swap out the chicken or steak for portabello mushrooms when we don't want to store raw meat. Serve on tortillas with shredded cheese.
7. Hot Dogs and Baked Beans
It's a camping staple but worked just as well in our campervan. Instead of cooking over the campfire, we pan-fried the hot dogs and warmed the beans on the camp stove. 
8. Greek Chicken
We're pros at make-ahead meals for road trips, and it's now one of our go-to campervan meal ideas. We cook the chicken and prep veggies (tomatoes, red onion, cucumbers) at home. Serve with feta cheese and naan or pita.
9. Baked Potatoes and Chili
We shop for this simple meal during our trip, but this one does require a campfire. Pick up russet potatoes, a can of chili (or check the refrigerated section in the deli, and grated cheese for serving.
10. Snack Board
This is our favorite of the campervan meal ideas because it uses up all of the odds and ends left over from other meals. Fruits and veggies, meats and cheeses, and the assortment of snacks left towards the end of your trip all get laid out on a snack board for lunch or a late dinner.
Don't forget sweet treats for after dinner! S'mores are classic if you have a campfire. If not, try one of these new twists on classic s'mores. We also like a few desserts that we can make ahead, so there is less mess to clean up.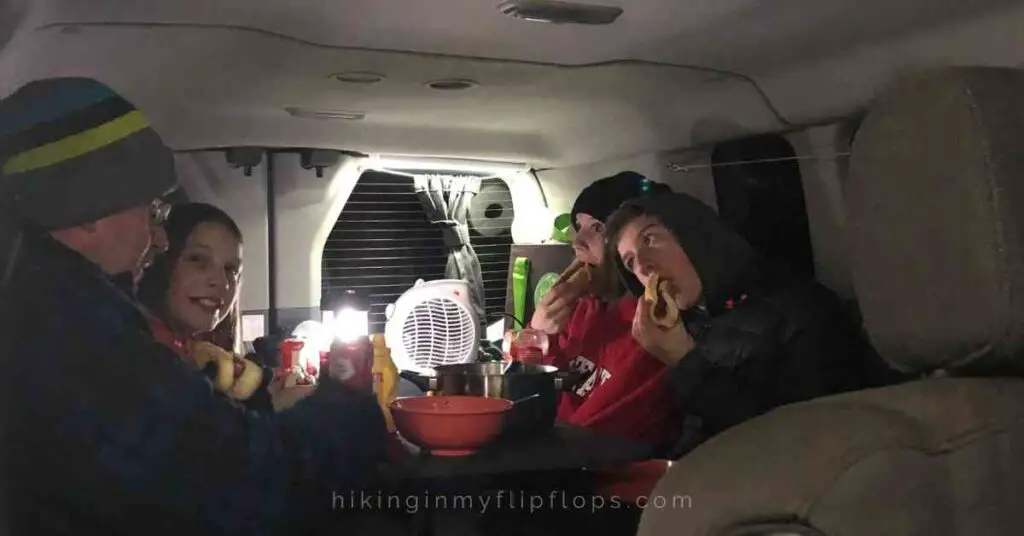 Frequently Asked Questions About Cooking in a Campervan
---
Whether you're a seasoned camping chef or making meals outdoors is new to you, cooking in a campervan can be a little different from cooking when tent camping or traveling in an RV. This guide is filled with the info you need to make delicious meals on your campervan adventure. From the camp kitchen gear to tips for planning meals and storing food to ideas for easy campervan meals, you'll find all the info you need right here. Happy camping (and cooking)!
---
Click below to save these tips for cooking in a campervan on Pinterest!