Finding new restaurants and trying local foods can be one of the best parts of taking an epic road trip. But when you're trying to save money, eat a little healthier, or are pressed for time to get to your destination, planning a road trip food list is the best way to go.
We almost always have food for our adventures with everything else on our packing list for a family road trip. But these ideas aren't just for road trips – they work great for camping, hiking, skiing, or traveling through airports. Here are favorites from our list of road trip meals so you can skip unhealthy meals from a gas station and save time and money on road trips!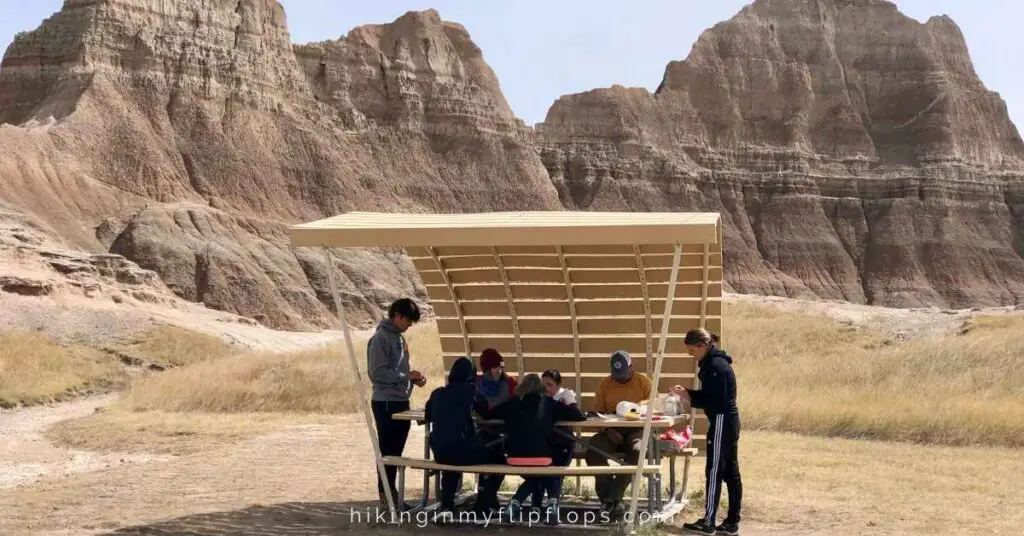 The Ultimate Road Trip Food List
Simple Road Trip Breakfast Ideas
Start the day fueled for a day of adventure. Of course, if breakfast is included with a hotel stay, take advantage of that to help stay on your trip budget. Make sure to focus on healthy foods that are high in fiber and protein and low in sugar so you don't find yourself looking for more food hit after you hit the road.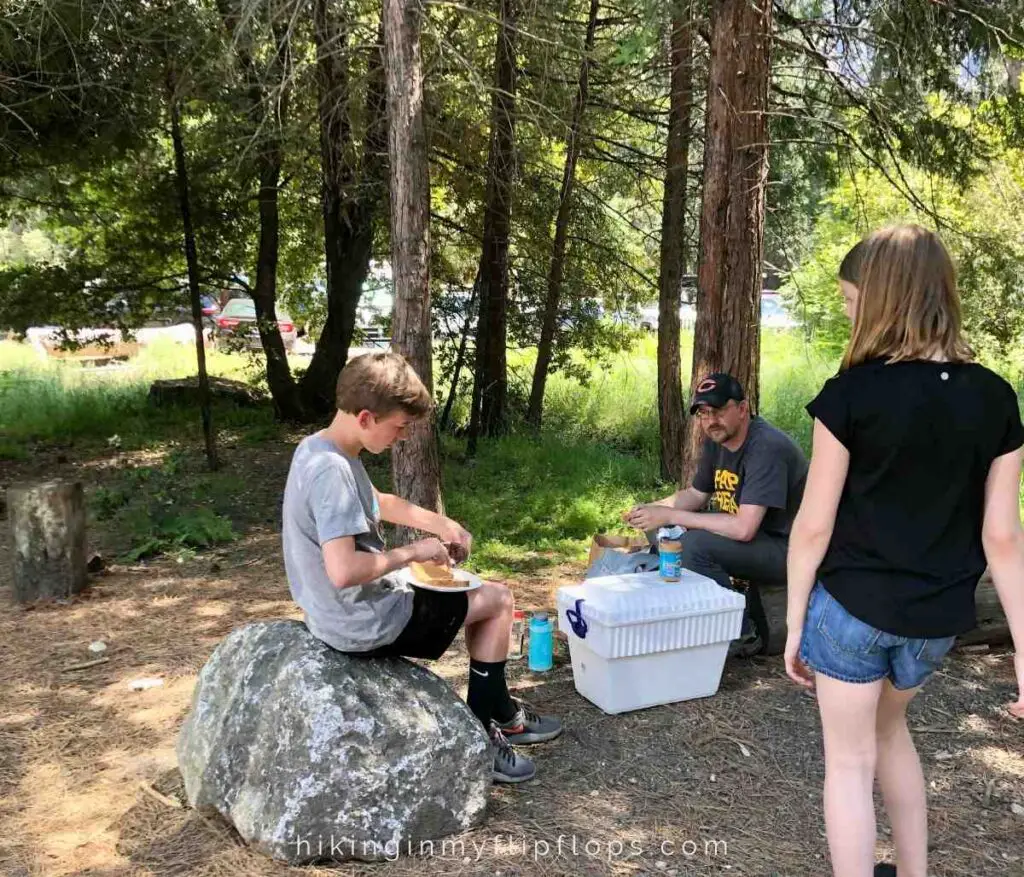 1. Egg Muffin Cups
Fill them with veggies, cheese, and bacon or sausage for an additional source of protein. Keep in the freezer until right before your trip. They will thaw and be ready to eat after a day or two on the road.
2. Bagel with Cream Cheese
Use peanut butter instead of cream cheese for extra protein. Bagel thins tend to pack a little better than regular-sized bagels.
3. Muffins
Pick up some muffins from the grocery store bakery, or make them at home before your trip. We like muffins made from high protein mixes, like Krusteaz or Kodiak, because they are less crumbly than others.
Breakfast-friendly quick bread like zucchini or banana bread are other great options.
4. Cereal
Munch on dry cereal if you're eating en route, or pick up a pint of milk to serve with boxed or homemade cereal.
5. Hard-Boiled Eggs
Hard-boiled eggs are so easy to transport. Cook them at home and store them in a cooler with plenty of ice packs. Peel at home to keep the eggshell mess out of the car – and they'll be ready to eat when you are.
6. Pop-Tarts
We mostly avoid junk food on the road, but every now and then, a sugary treat in the morning is fun for our road trip meals. Our go-to is Pop-Tarts because they pack well.
7. Scones
We don't eat scones often, so we sometimes add them to our road trip food list. We'll make them at home or pick some up at the local bakery.
8. Breakfast Cookies
Giant cookies that are actually healthy are one of our favorite make-ahead meals for road trip adventures. These cookies, made with peanut butter and oats, is one of our favorites.
Road Trip Lunch Ideas (That Are Great for Dinners Too)
The best road trip lunch ideas are quick to prep and serve. We've ended up at a fast food place more often because I didn't feel like digging through the cooler and prepping lunch when everyone was starving. These ideas include make-ahead meals for road trips, so the work is done at home before you hit the road. When you can, get everything prepared and assembled so you can unpack that delicious road trip meal and eat when hunger strikes.
9. Rotisserie Chicken
Pick up a roasted chicken from the grocery store when you need to restock on groceries. It's easy to serve and often comes with leftovers for another lunch or dinner.
10. Chicken Salad Sandwiches
When you have leftover rotisserie chicken, use it to make chicken salad. It's effortless when you already have mayo, grapes, and pecans on your road trip food list.
11. Turkey Wraps
We generally save this for when we pick up groceries for more on-the-road meals. Tortillas, deli turkey, and sliced cheese are all you need for a quick and easy meal.
12. Pasta Salads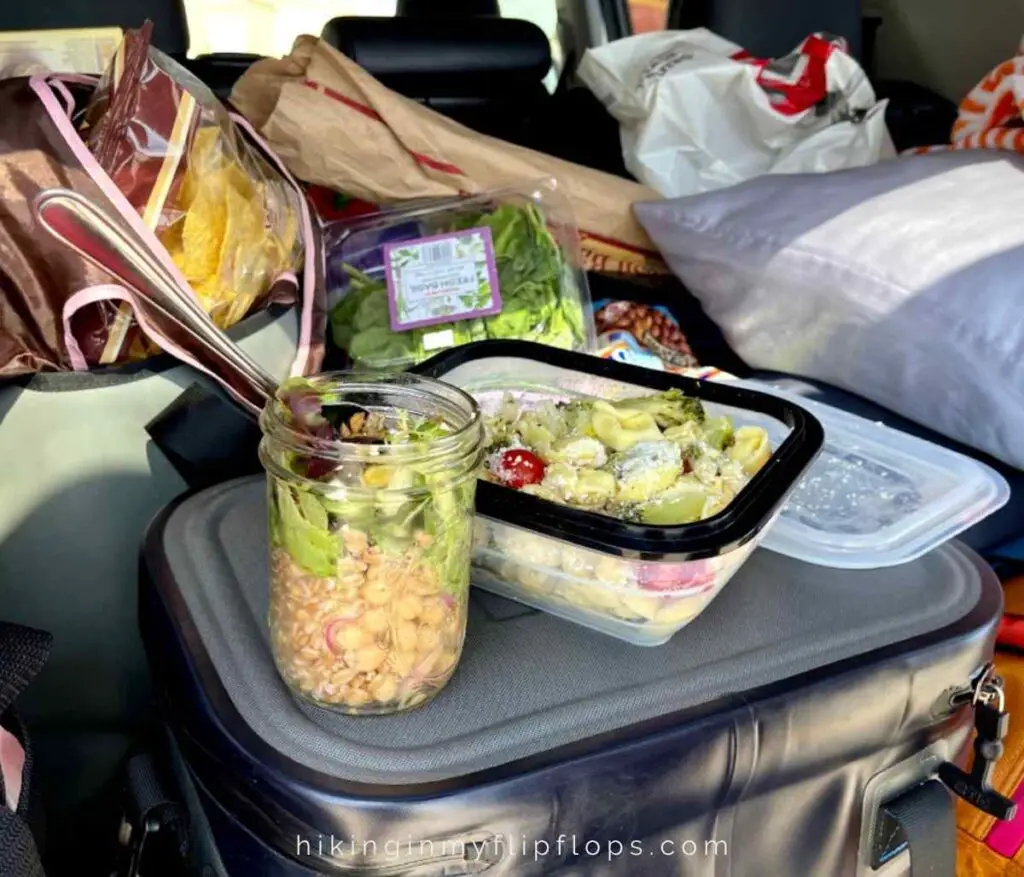 Pasta salads are super easy road trip meals. Cook tortellini or penne, add your favorite veggies (like chopped carrots, peppers, broccoli, and tomatoes), and toss with Italian dressing. Pack each serving up in a repurposed Talenti container so you can toss it after lunch.
13. Mason Jar Salads
Mason jar salads are intentionally packed to travel well, making them one of the best road trip lunch ideas. And it's a great option when you're looking for a healthy road trip meal filled with veggies.
If you haven't made mason jar salads before, this has good instructions – and you can customize as you wish.
14. Peanut Butter & Jelly Sandwiches
A good old peanut butter sandwich is the easiest on-the-go meal ever. Easy to make wherever you are, and easy to find the ingredients in almost any store with even the most limited groceries. Of course, any nut butter works if you have dietary restrictions in the family.
15. Greek Chicken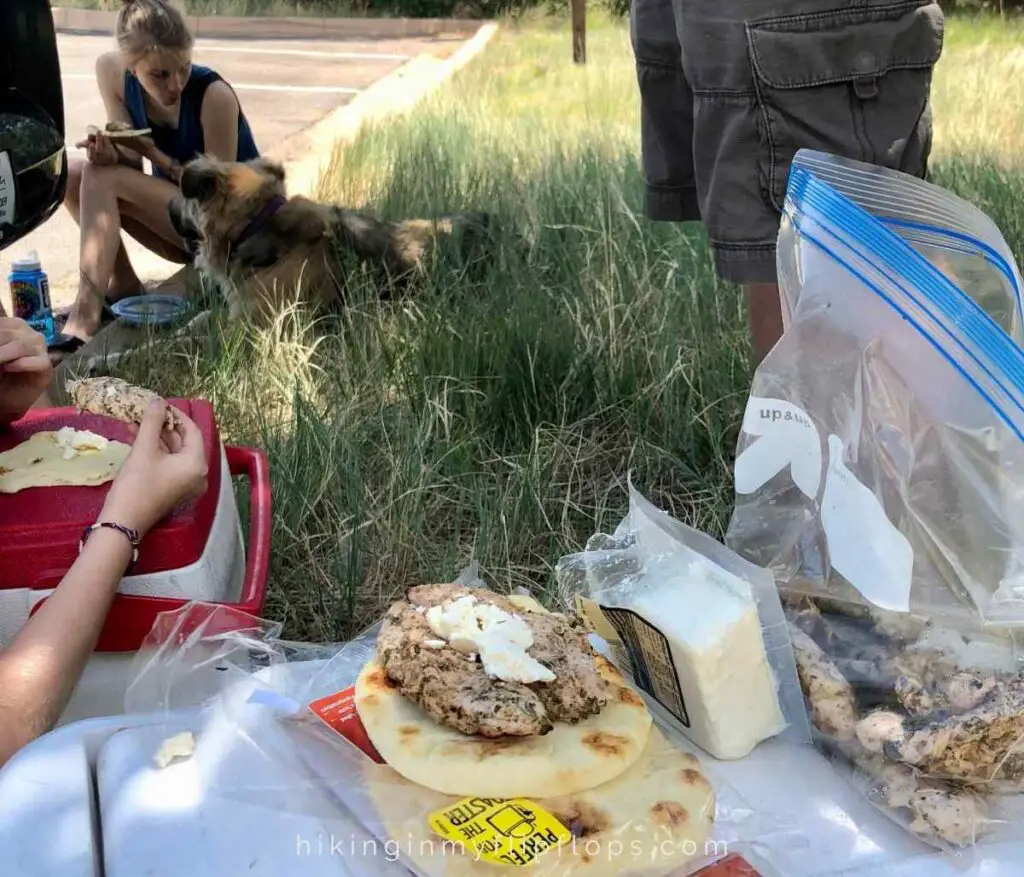 We probably have this more than anything. Grill marinated chicken strips at home for a perfectly packable roadside picnic. Pack naan, pita, or tortillas for serving, along with sliced tomatoes, cucumbers, onion, feta, and tzatziki.
16. Cold Fried Chicken
The classic picnic meal is one of the best road trip lunch ideas. Add it to your road trip food list for restocking at the grocery store and some sides from the deli counter.
17. Burritos
If you like cold burritos, you can eat these make-ahead meals for any adventure. We sometimes serve these for dinner when traveling, heating them in hotel microwaves.
18. Charcuterie and Snack Boards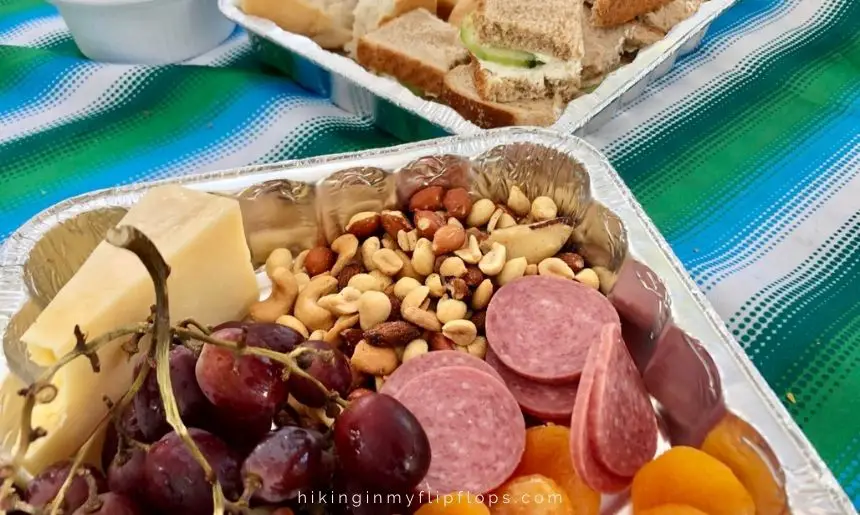 19. Grain Bowls
I've been obsessed with grain bowls lately (thanks to this cookbook) and have been trying them out for make-ahead meals for the road. They've been perfectly portable – and delicious – so far.
20. Tuna Pouches
Tuna salad is one of those road trip lunch ideas you don't want to make too far ahead of time, but it can get messy when draining (and that is not a smell anyone wants in the car!). Pick up pouches to make prep easier.
Ideas for Road Trip Snacks and Sides
These ideas for food to bring on a road trip are great for snacking or pairing with your on-the-road meals. We stock up on a variety so the family can pick and choose what they want to complete their meal or stave off hunger.
We like to have a couple of snacks, both sweet and salty, even for shorter road trips. These easy-to-pack foods also work well as sides to pair with any of the road trip lunch ideas.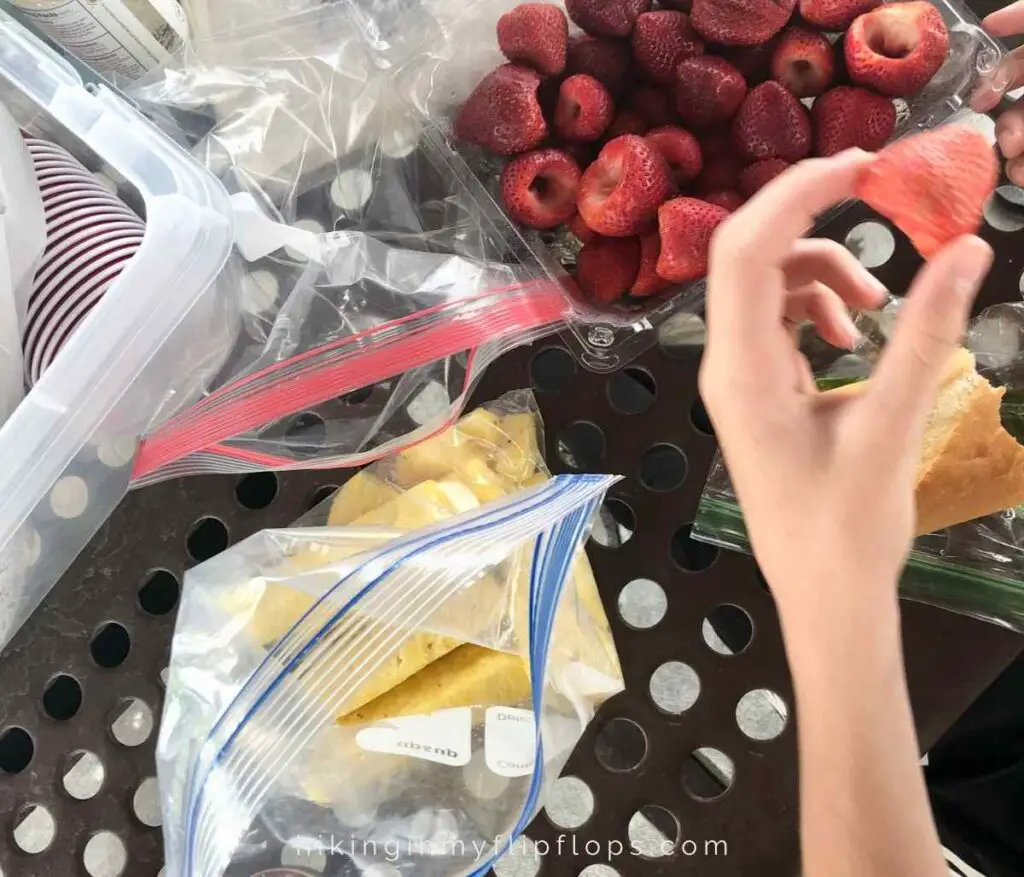 21. Granola Bars
Granola and cereal bars are easy, packable snack for almost any adventure. Avoid crunchy and crumbly granola bars for road trip snacks if you're worried about keeping the car clean.
22. Yogurt
Yogurt has protein and calcium and can be easily packable. Stick with tubes, pouches, and drinkable yogurts, so you don't need to dig out the spoons.
23. Fresh Fruits
Apples, oranges, and grapes pack better than many other fruits and are the easiest to prep. Bananas can quickly brown when packed away but work well for making peanut butter banana wraps. Berries packed in a plastic container also travel well.
24. Dried Fruits
In addition to packing fresh fruits, we also like to bring dried fruits like apricots and banana chips. They have a longer shelf life and aren't as crushable as fresh fruit. Dried fruits are also an excellent way to satisfy that sweet tooth!
You can also pick up a few fruit leathers as an alternative to dried fruits.
25. Jerkies
Beef, turkey, or any of the several options are good, non-perishable snacks.
26. Tortilla Chips and Salsa
You could even add some simple guacamole by mashing an avocado and adding salt and juice from a lime wedge.
27. Cheese and Crackers
Sliced cheese, Laughing Cow wedges, BabyBel, or string cheese with crackers are portable road trip snack ideas.
28. Chips or Pretzels
Salty snacks. Buy cans of travel-friendly Pringles that come packed perfectly for travel. Or try healthier options, like Terra Sweets & Beets Chips made with sweet potatoes and beets.
29. Bagged Salads
If you can stop off for a picnic, bagged salads from the grocery store are a delicious way to get fresh veggies in. Carefully open enough of the top to add dressing, hold it tightly closed, then shake to mix the salad.
30. Hummus & Pita Bread
Hummus is also the perfect dip for veggies (like baby carrots) and pita bread. Go for the individual serving packs, or repack a larger container of hummus into smaller separate containers.
31. Olives or Pickles
These savory treats are a great addition to your road trip meals.
32. Cheese Sticks or Baby Bels
Individually wrapped and high in protein, cheese goes well with lunches or crackers for a healthy road trip snack.
33. Nuts & Seeds
Nuts and seeds are filled with protein and healthy fats, making them essential road trip snacks in our family. We bought a few Planter's Pop & Pour Nuts and refilled the containers as needed. They fit perfectly into cup holders and are easy to fill with more nuts or switch to sunflower or pumpkin seeds.
34. Applesauce Pouches
An easy, no-mess way to get fruit and is a good backup for when the fresh fruit is gone. When our youngest got her braces on, she lived off Noka Superfood Smoothies – which would also make a perfect road trip snack.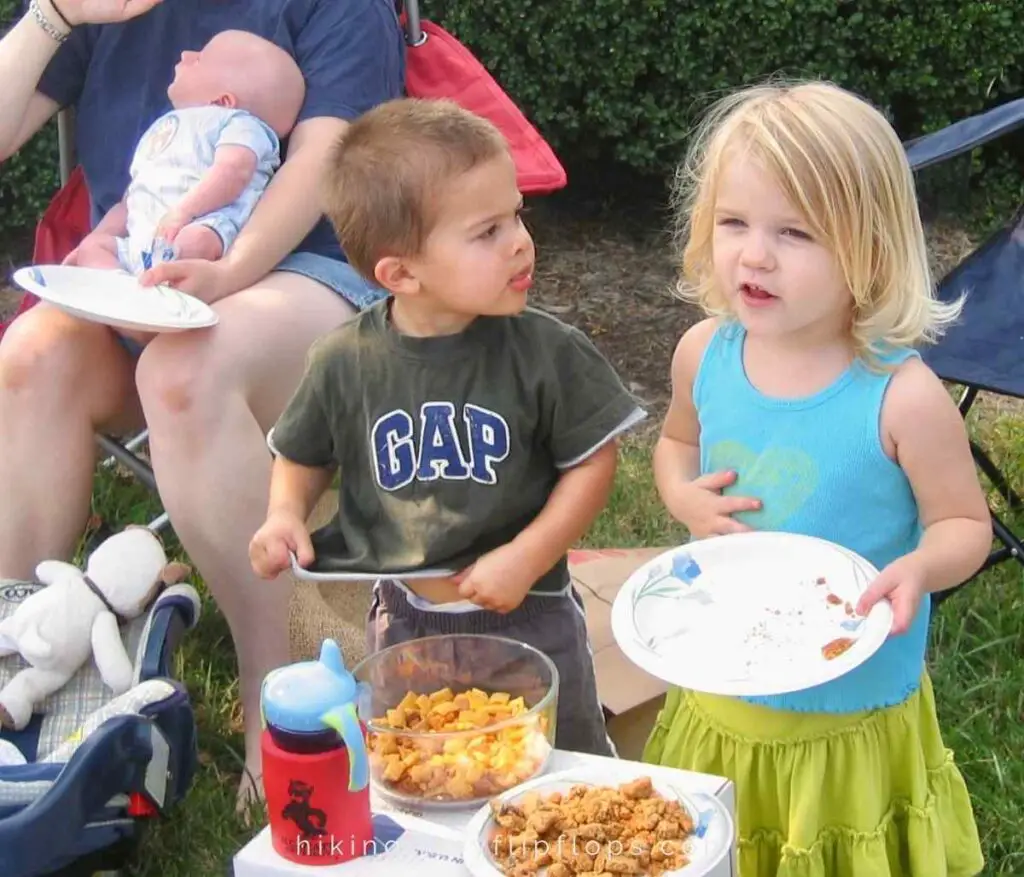 35. Avocado
Cut an avocado in half and sprinkle with salt for a super easy and healthy snack. If you also bring a little lime juice (½ a lime), mash the avocado and add a good splash of lime juice for travel-friendly guacamole.
36. Peanut Butter & Banana Wrap
I love the new squeeze packs of peanut butter from Skippy and Jif for road trips. So much less mess since I don't have to deal with a sticky, peanut butter-covered knife afterward.
37. Popcorn
Our favorite is Angie's Boom Chicka Pop, a healthier alternative to and less messy than potato chips. 
38. Raw Veggies
Veggies like carrots, broccoli, celery, sliced cucumbers, and grape tomatoes are so easy on the road and go perfectly with many road trip lunch ideas.
39. Trail Mix
Sweet, salty, crunchy trail mix is always good when traveling. Our Backpacker Bars make trail mix even easier to eat on the road.
Sweet Treats for Your Road Trip Food List
40. Rice Krispie Treats
Individually wrapped Rice Krispie Treats are a perfect sugar fix on the road. They're not too crumbly or sticky, making less mess than other foods.
41. Skinny Dipped Almonds
Skinny Dipped Almonds are a healthy alternative to many sweet snacks for the road. The thin layer of dark chocolate with just enough sweetness. The cocoa powder coating also makes it less melty and messy in the heat.
42. Pudding Cups
Buy shelf-stable pudding, like the Snack Pack Pudding Cups, if you don't have the extra cooler space.
43. Cookies
Homemade or store-bought cookies are a quick and easy sweet treat on the road.
44. Graham Crackers
If slightly sweet is your thing, add graham crackers to your road trip food list. They are easy to eat in the car, but not too sweet.
Don't Forget to Stay Hydrated
Always have plenty of water with you on the road, but there are other options to mix it up – especially if you need an energy boost.
add a few drops of a water enhancer to your water bottle, like the ones from Mio
iced tea
coconut water
cold brew coffee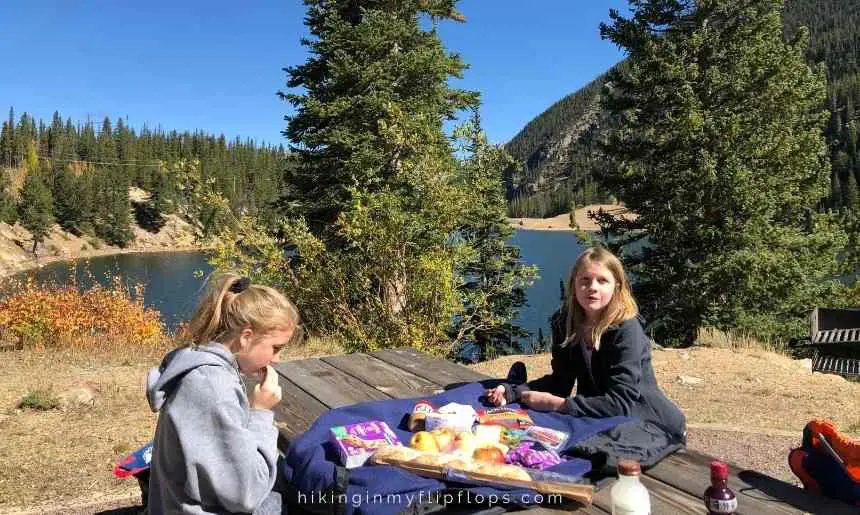 Travel Tips for Packing and Prepping On-The-Road Meals
Successful road trip meal planning includes storing and serving meals and snacks. Here are a few tips for packing, plus some non-food items that will make eating on the road an easy feat.
Stock up on easy prep foods at the grocery store every 1-2 days to keep things fresh and storage needs to a minimum. Pick up items like rotisserie chicken, deli meats, cheese, and bread.
Stay well-stocked on water (we use a 5-gallon water jug to store extra water) and have a reusable water bottle (or insulated tumbler) for refilling.
Tortillas, sandwich thins, and bagel thins hold up better than loaves of sandwich bread, which can easily get smushed in the car.
If you are packing squishable or crushable foods, like loaves of bread and bags of chips, store them in small cardboard boxes that you can toss when no longer needed.
Hotels with microwaves open up a new world of possibilities, with easy mac, steam-in-bag veggies, microwavable meals, and instant oats.
Road Trip Packing List for Snacks and Meals
We pack foods in a set of reusable items to reduce waste along the way. This list includes everything you need to prep and serve your road trip meals, which can be stored in a small tote.
flatware and utensils for eating and serving (reusable items are great if you have an opportunity to wash them before using them next time)
napkins or a roll of paper towels
paper plates
a small cutting board and a paring knife (we use a set with blade covers, like this affordable set from Cuisinart)
dish soap, sponge, and towel for washing dishes
salt & pepper for seasoning when needed
koozies to help fill the gap in car cup holders that are too large for some cans and bottles
microwave-safe bowl for heating foods during hotel stays (or if you need hot water)
a single-burner camp stove is excellent for extended trips (make easy-to-cook foods like quesadillas, grilled cheese, soup, or ramen noodles on a roadside picnic; for safety reasons, do not use propane stoves indoors)
reusable sandwich and snack bags (we like the ones from Stasher) and collapsible silicone containers for storing prepared foods or leftovers
a good cooler to keep cold food cold (we found that the RTIC Soft Pack 30 is the perfect size for road trips), or for frequent or extended trips, consider a small fridge that plugs into the cigarette lighter of your vehicle
wet-wipes for quick clean-up after meals
trash bags to keep the car clean after snacking while driving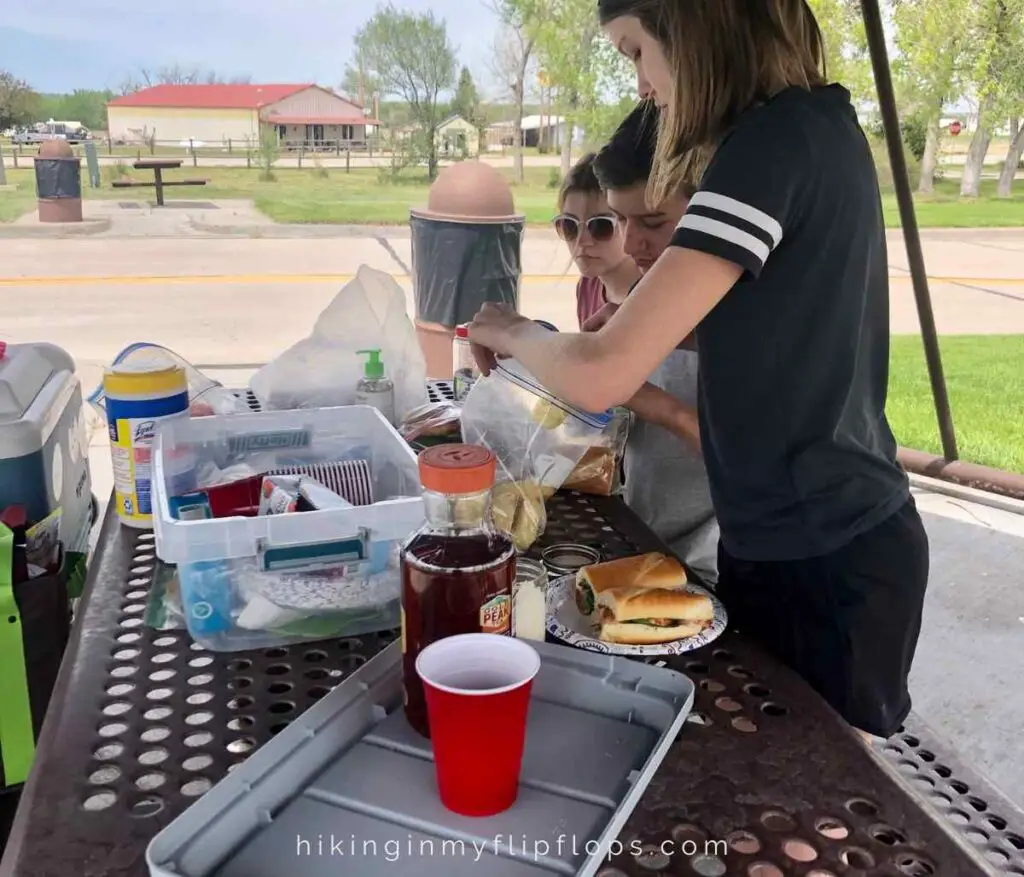 Frequently Asked Questions About Road Trip Meals
---
On-the-road meals and snacks don't have to be unhealthy or challenging to prepare while traveling. You can bring along healthy and delicious options that will keep you fueled up for the drive with just a little planning ahead. Keep these road trip food ideas close so you can be ready for your next adventure!
---
Click below to save these road trip food ideas on Pinterest!