Fairbanks has never been on my list for a winter vacation. Like most people, I usually think of heading south once the temps get low here in Colorado. But when my sister suggested Alaska for a Thanksgiving getaway, we reluctantly agreed. We're never ones to miss out on an adventure, but we didn't think there would be many things to do in Fairbanks in winter other than snuggle up in a cabin or hotel somewhere.
Turns out we couldn't have been more wrong. Yes, it was bitterly and sometimes painfully cold. Yes, there were many things we didn't get to see and do because of the snow. And, yes, we had the best time ever. So if you're looking for a fantastic winter vacation spot, don't overlook Alaska and all the things to do in Fairbanks in winter!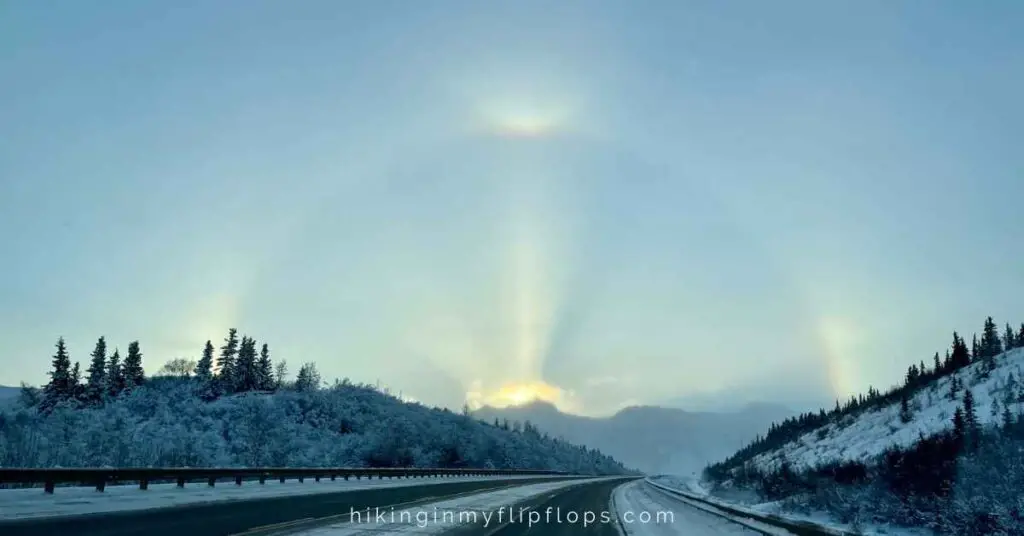 Why Visit Fairbanks in Winter?
It might be colder than anything you've ever experienced. Still, there are plenty of good reasons to head far north to visit Fairbanks in the winter. The most obvious is that it's one of the best places to see the Northern Lights. But there are many things to do in Fairbanks during the winter months, from ice fishing and dog mushing to hot springs and reindeer visits. And they are all outdoors!
The Best Things to Do in Fairbanks in Winter
Fairbanks in the winter months is the best time for dog sledding, ice fishing, and getting a shot at seeing the aurora borealis. Many of these activities and experiences need to be booked in advance but often have generous cancellation policies, so you can modify your plans as needed. 
1. Northern Lights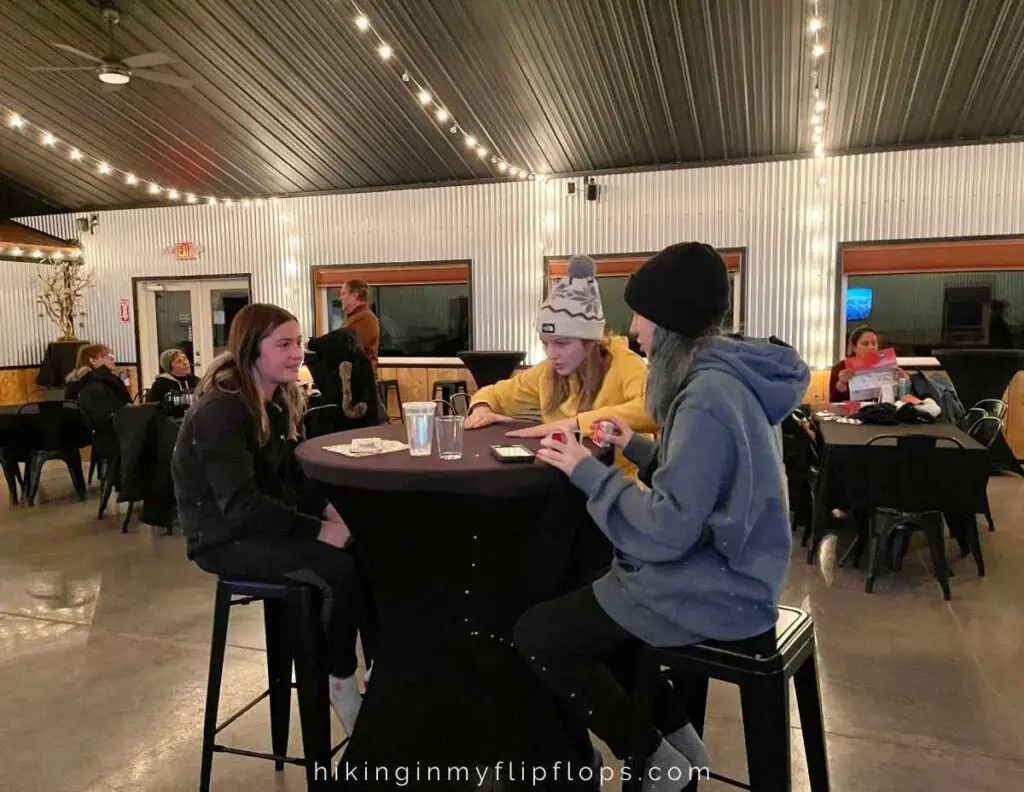 If you are fortunate enough to visit Fairbanks, Alaska, during the winter months, you have the best chance of seeing the aurora borealis. The natural light show is typically visible in late August through early April. There's nothing quite like seeing the swirls of green and purple dance across the night sky. The best way to increase your chances of seeing them is to get out there every night, between 11 pm and 1 am. The more nights you bundle up and head out into the late-night darkness, the more likely you are to catch the dancing lights.
For the best chance at seeing the auroras, head to a spot away from the light pollution of Fairbanks. Rumor has it that Creamer's Field is an excellent viewing spot that is just far enough away from the city lights. Many Aurora viewing experiences have spaces to keep warm while you wait for the northern lights to show up. Try the excursions through Chena Hot Springs Resort, Rod's Alaskan Guide Service, tours through Viator. or Aurora Point (570 Funk Rd).
2. Dog Mushing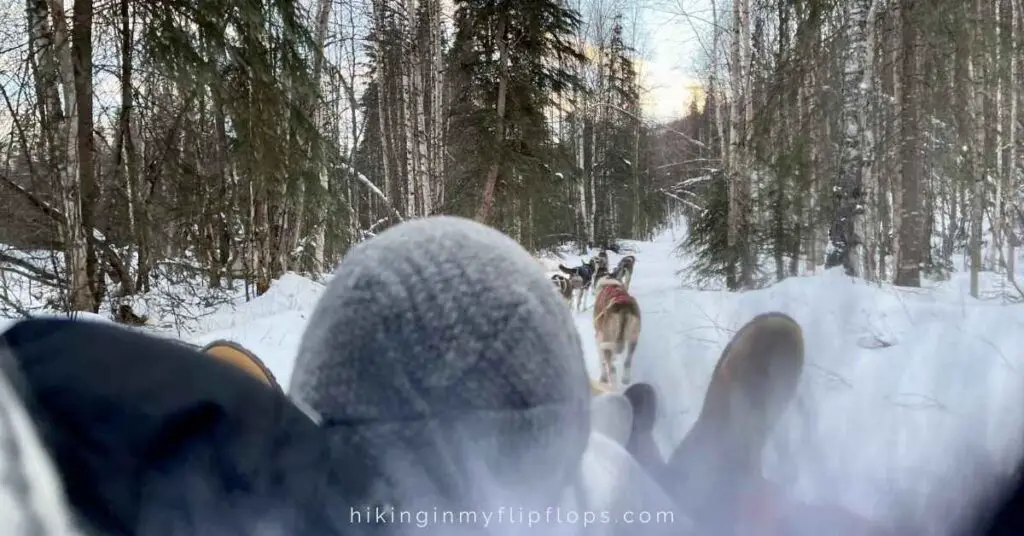 If you're looking for one of the most unique Alaskan experiences, dog mushing is one of the Fairbanks winter activities you don't want to miss! This is a popular activity for the locals who rally around this winter sport. Visitors can take part too with one of the many dog sledding opportunities around Fairbanks. Get to see some beautiful scenery while enjoying the company of furry friends who love the cold weather. Traveling with a sled pulled by adorable dogs is definitely an adventure you'll never forget.
Where to Find Dog Mushing in Fairbanks
3. Snowmobiling
Snowmobiling tours are the best way to explore beautiful and secluded areas of the Fairbanks in the winter. Book a tour with one of many guides for some unforgettable winter fun!
4. Ice Fishing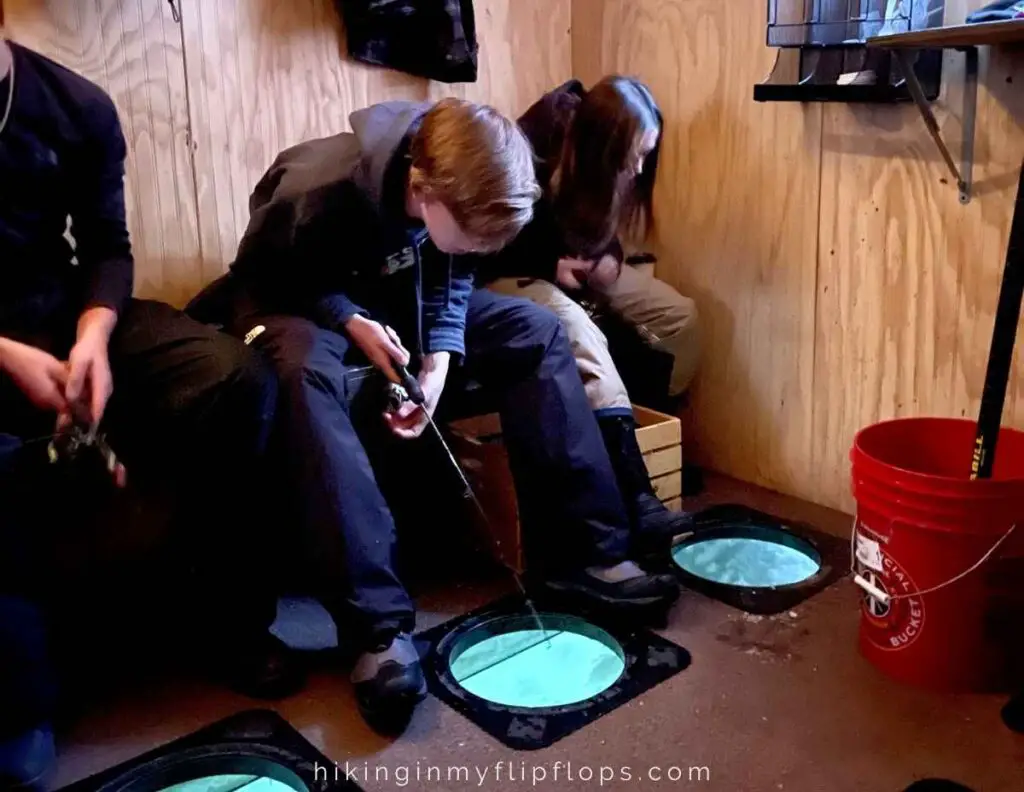 My absolute favorite activity on this trip was ice fishing! We spent Thanksgiving day feasting on fresh-caught (by us!) salmon and tasty reindeer sausage in a heated cabin on Chena Lakes in Chena Lake Recreation Area. The guide will work with you every step of the way to make sure you get at least one catch. We also learned how to clean and gut the fish to get it prepared for cooking over the wood stove in the cabin. We chose Rod's Alaskan Guide Service for this adventure.
What to Bring on an Ice Fishing Excursion
Layers: It get hot in the cabins, so dress in layers that you can shed once the cabin heats up.
Water or other drinks: Some food is provided (fish and reindeer sausage) but we were glad we brought soda for the kids and beer for the adults.
Patience: The fish tend to just keep on biting but it can be some time between catches.
5. Take a Walk with Reindeer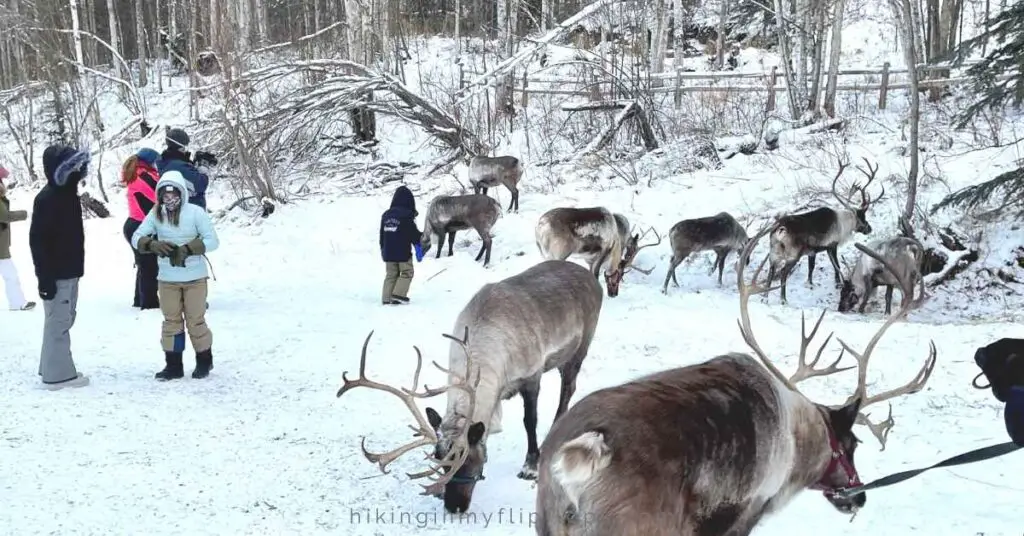 Head out to Running Reindeer Ranch (1470 Ivans Alley), just a 20-minute drive from downtown, for one of the most magical Fairbanks winter activities.
The experience lasts an hour, during which you can pet and walk around the yard with about 20 reindeer. If you're lucky, you might even get to catch the reindeer "fly" as they leap through the air running across the ranch.
6. Soak in Hot Springs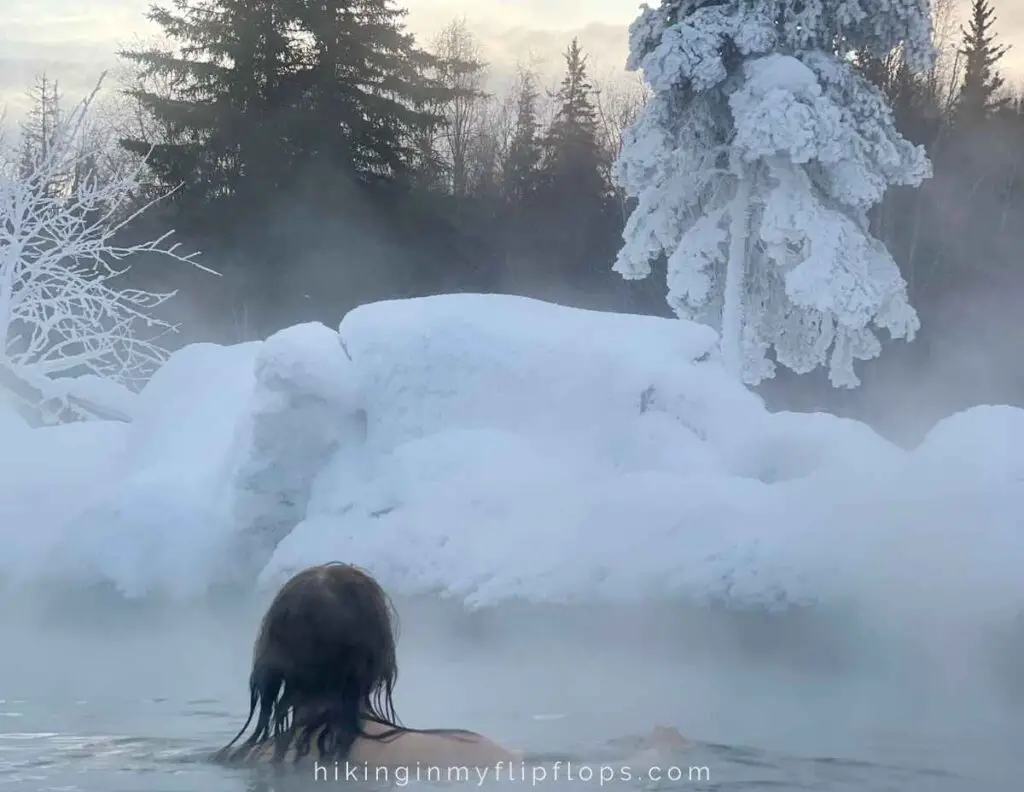 One of the best places for hot springs is Chena Hot Springs Resort. Travel & Leisure actually ranks Chena as one of the top hot springs in the world. Taking a soaks in the large outdoor springs is included with a resort stay. For those visiting just for the day, the cost is $15.
7. Visit the North Pole
Well, not the North Pole. This North Pole is a town in Alaska near Fairbanks where it feels like Christmas all year long. The Santa Claus House (101 St Nicholas Dr, North Pole) is a place where you can visit Santa year-round. Kids not into visiting with Santa? You can also check out the world's largest Santa statue, which stands over 50 feet tall.
Shop the 70-year-old store for ornaments, North Pole gear, and Christmas decor. You can also pick up a few letters from Santa that you can send to little ones back home postmarked with the North Pole!
8. Explore Museums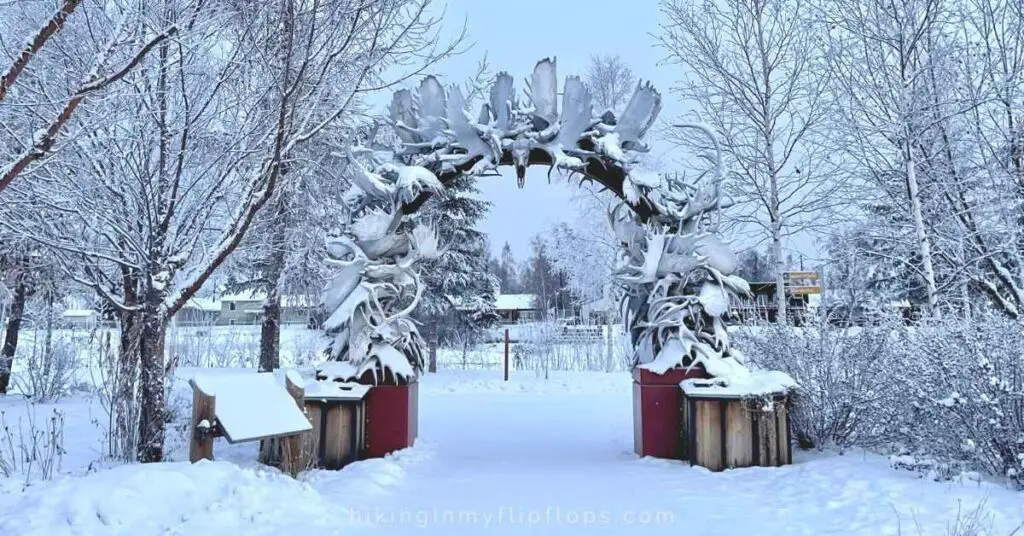 This list wouldn't be complete without getting you out of the freezing cold temperatures of Fairbanks in the winter. Keep warm while spending time in some interesting and unique museums:
The Fountainhead Antique Auto Museum has more than 70 antique automobiles.
Learn about Fairbanks and Alaska at the Morris Thompson Cultural & Visitor Center. While your in the area, stop over to see the Moose Antler Arch and the statue of the "Unknown First Family" in the Golden Heart Plaza nearby
The University of Alaska campus is home to the Museum of the North where there is so much to learn about art, science, and history of Alaska. Fans of Chris McCandless' story will also love that the bus where he took shelter in the Alaskan wilderness will soon be on display at the museum.
9. Denali National Park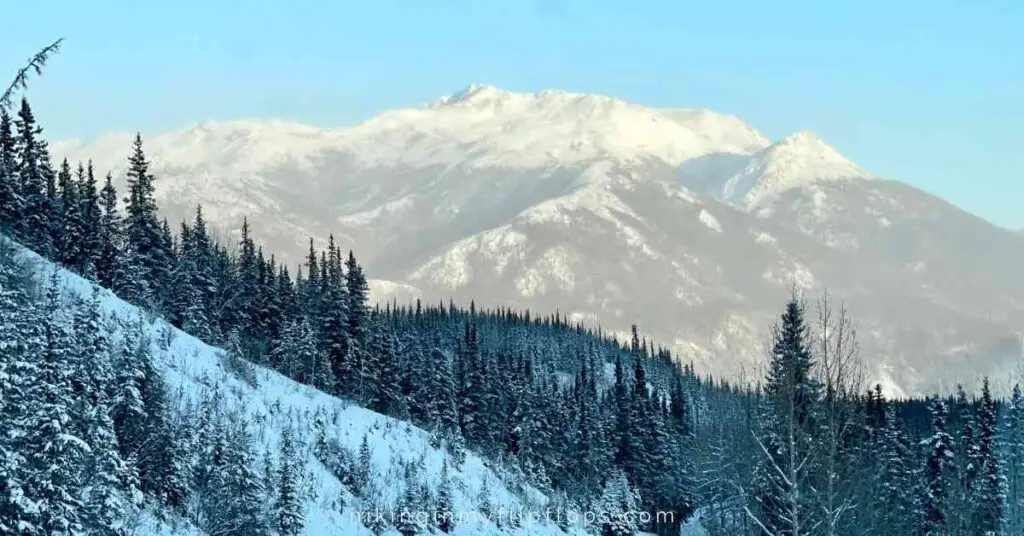 Don't miss the opportunity to check off another national park visit while you're in Alaska! While parts of the park are closed for the winter, visitors can still explore some park areas. We opted for most of our time taking in the views from the car but did spend some time outside with some of Denali's sled dogs.
10. See the Pipeline
This quick roadside stop is a unique chance to see how oil is transported from Prudhoe Bay in the north to the Valdez Marine Terminal, 800 miles south. This stop will probably take no more than 15-20 minutes and is an interesting view of an integral piece of Alaskan history and culture. This impressive 4-foot pipe carries oil across the span of Alaska. It's also a good place for kids to run around and stretch their legs!
11. Ice Museums
Add a stop at one of two ice museums while visiting Fairbanks in the winter. The Fairbanks Ice Museum (500 2nd Ave), located downtown, is a fun spot to see several ice sculptures created by a local ice sculptor. The museum is open daily.
Northwest of downtown, at Chena Hot Springs Resort, The Aurora Ice Museum hosts daily tours of a building mostly made of ice – including the bar and rooms for rent. Reserve spots through Chena Hot Springs with an optional appletini made by the bartender tour guide after the tour.
12. Geothermal Renewable Energy Tour
When most people think of geothermal energy, they picture the explosive eruptions of places like Yellowstone National Park. However, another type of geothermal energy is much more sedate and can be found in many parts of the world, including right here in Alaska. Geothermal resources are simply places where the earth's temperature is warmer than the surface temperature. One of the primary geothermal energy sources in Fairbanks is Chena Hot Springs. They use water from the natural hot spring to provide heat for the buildings and sell some excess energy back to the grid.
Take the free geothermal renewable energy tour at Chena Hot Springs. You can see how this sustainable energy source works during this unique tour. Tour guests learn about the history of geothermal power in Alaska, how the plant works, and even have a chance to check out the turbines up close.
13. Try the Breweries and Distilleries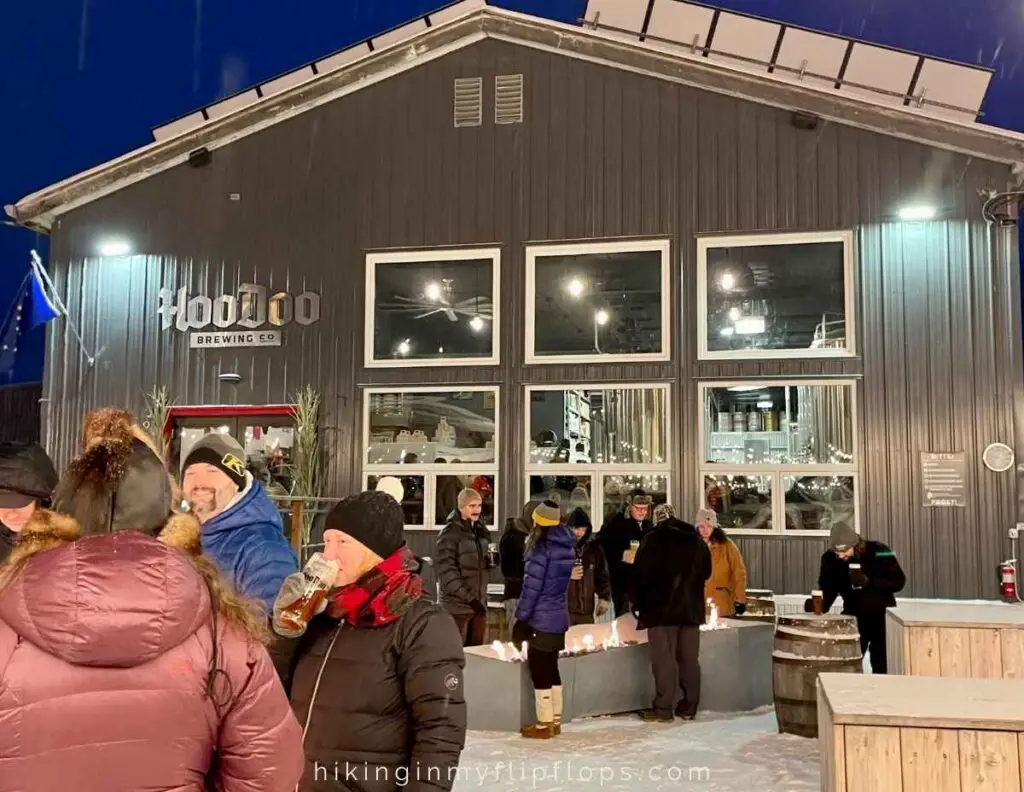 Like many great cities, Fairbanks is home to several breweries and distilleries. We always make a point to visit at least one of the breweries because it's where you often find the locals hanging out and enjoying the afternoon. After seeking recommendations from said locals, we landed at HooDoo Brewing (1951 Fox Ave). Other suggestions included Black Spruce Brewing Company (3290 Peger Rd) and Hoarfrost Distilling (3501 Lathrop St).
14. Shop for Local Goods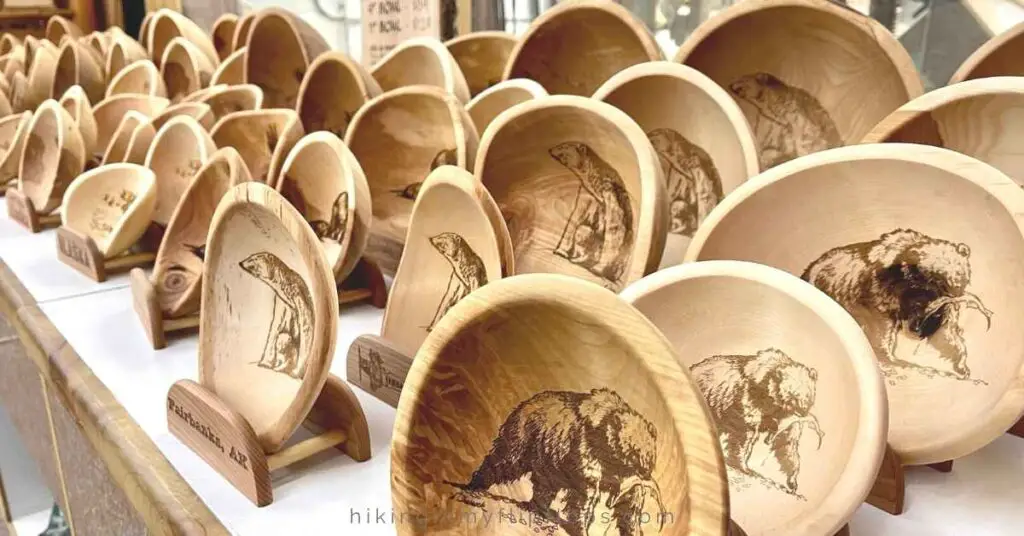 Shop for local goods to bring home from your trip. Our finds included award-winning teas from Sipping Streams Tea Company (374 Old Chena Pump Rd), handmade solid birch wooden bowls from The Great Alaskan Bowl Company (4630 Old Airport Rd), and outdoor gear that the locals wear at Big Rays (multiple locations, including 507 2nd Ave). The Great Alaskan Bowl Company and The Roaming Root Cellar (372 Old Chena Pump Rd) are two shops we found that sell many locally made goods, including reindeer sausage.
15. Arctic Circle Tour
Take a guided excursion up the Dalton Highway, the famous route from Ice Truckers. Opt for a late-night tour for an excellent chance to see the northern lights during the drive.
Where to Stay in Fairbanks in the Winter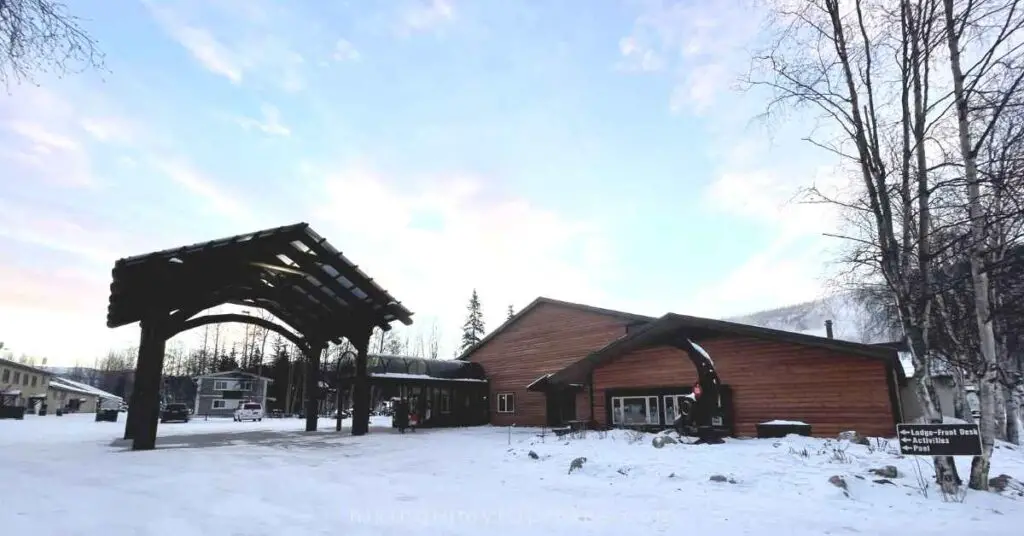 Chena Hot Springs Resort is just northeast of downtown Fairbanks and offers many winter activities
Mariott's Springhill Suites, conveniently located downtown, has spacious rooms with kitchenettes – perfect for families
Borealis Basecamp offers luxury accomodations, but books very quickly and is harder for family accomodations
There are also plenty of Airbnb listings in Fairbanks and the surrounding area
Getting Around Fairbanks in Winter
Like most areas that get a lot of snow during the winters, Fairbanks' roads are well maintained. Since the streets are quickly cleared and treated to prevent issues with driving, renting a car is perfectly feasible in the depths of winter. A few tips and things to expect when driving the wintery road in Fairbanks:
Rental companies do limit where you can drive their vehicles. Roads like the Dalton Highway are off-limits with your rental vehicle.
Temperates can get so low that cars won't start after sitting in the cold for too long, especially overnight. Rental vehicles generally come with a plugin for the cars to use where plugin poles are provided (usually where there is lodging and cars are parked overnight).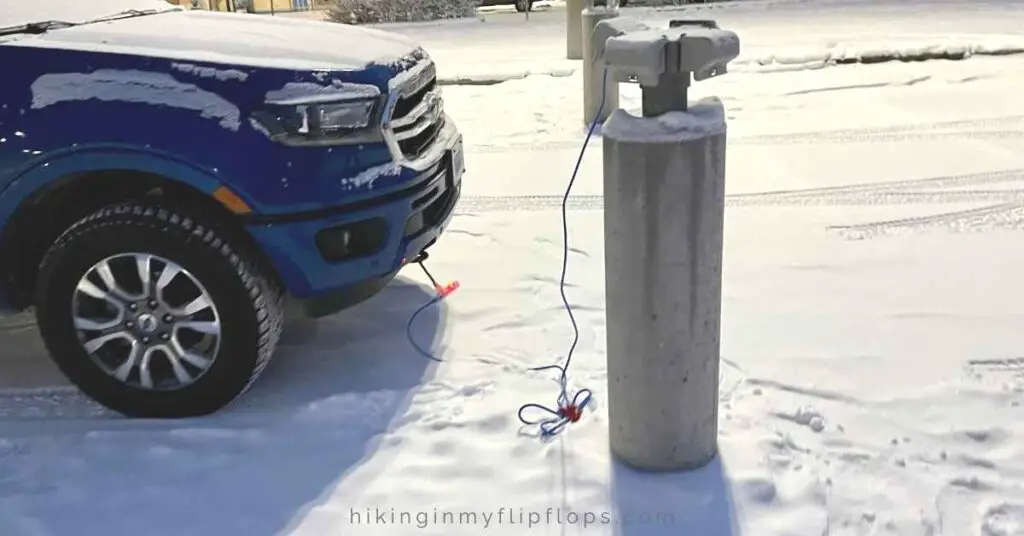 Sample Itinerary
This sample Fairbanks itinerary is how we spent our 5 days in Alaska. We found that it worked out perfectly, keeping us plenty busy but with enough downtime to relax out of the bitter cold. We used Marriott's Springhill Suites in downtown Fairbanks as a home base for our trip.
Day 1: Day Trip to Denali + Aurora Viewing
The morning after our late-night arrival, we headed to Denali National Park for a bit of exploring. Even if there wasn't much to do there, the drive itself was spectacular. We spotted a unique sight in the Alaskan sky: two sun dogs, a halo, and an arc.
After the day trip, we relaxed in the hotel for a bit before heading to Aurora Pointe to see if we could catch the northern lights. Unfortunately, the skies were not clear enough for a sighting.
Day 2: Reindeer Ranch + Alaska Pipeline Viewing Point + Chena Hot Springs
Aurora borealis viewing goes late into the night, so we slept in the following day before heading to Running Reindeer Ranch to hang out with these magical creatures. On the way back, we pulled off for a quick roadside stop at the Alaskan Pipeline Viewing Point to get a glimpse of the impressive structure.
Chena Hot Springs Resort, where many Fairbanks winter activities are found, was where we would spend the next two nights.
Day 3: Chena Hot Springs: Dog Mushing, Ice Museum, Hot Springs
We had a busy day of activities at Chena planned. We started the day in the hot springs, then headed over for dog mushing in the afternoon. After a tour of the Aurora Ice Museum, complete with appletinis served in ice martini glasses, we headed back to the hot springs.
Day 4: North Pole + Museums
We started the day with one last dip in the hot springs, then headed to the North Pole! The main attraction in North Pole, Alaska, is the Santa Clause House, a shop filled with everything Christmas plus a wide selection of chocolates, fudge, and other sweet treats.
After checking in for another stay at the Springhill Suites, we spent the afternoon visiting museums and exploring the University of Alaska campus.
Day 5: Ice Fishing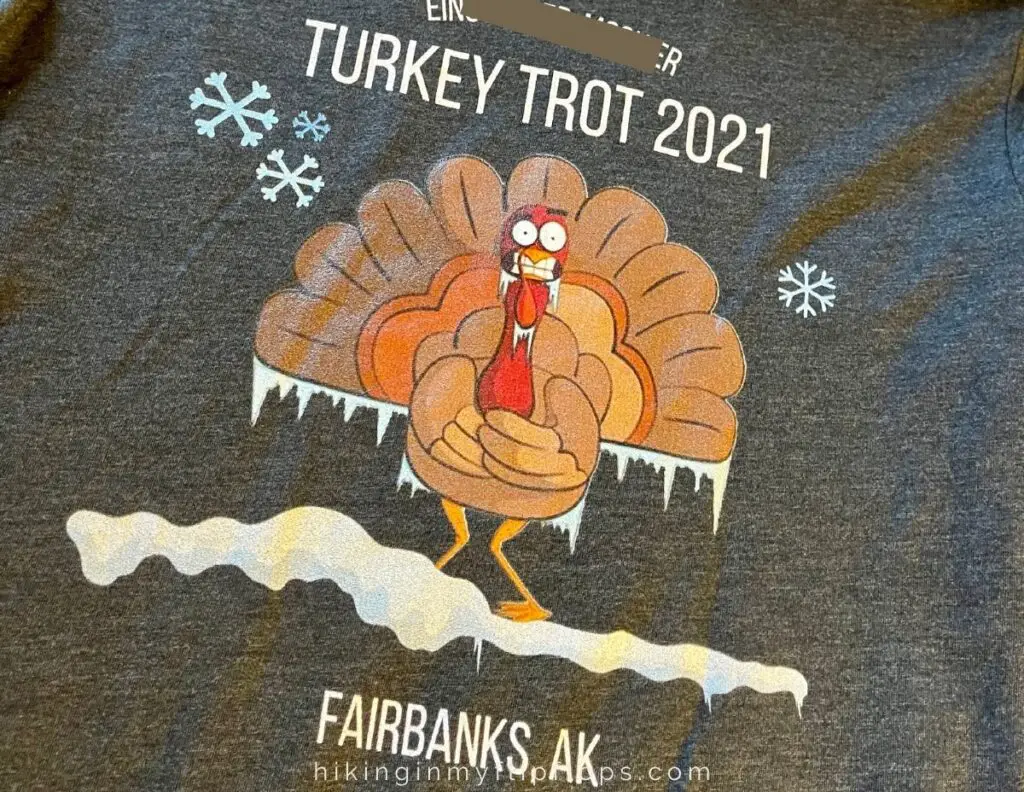 Thanksgiving Day just isn't the same without a Turkey Trot 5k. Even if there wasn't an official race in town that day, my sister and I still set off for a 3.1-mile in -16°F. We were appropriately dressed, so we actually got hot during the run. And since no race is complete without an official t-shirt, we asked our partners at thr33 outdoors to make us two (un)official race tees!
After warming up from our run, we headed to Chena Lakes for an afternoon of ice fishing with our guide through Rod's Alaskan Guide Service, Clarence. We caught about 20 fish, which we cleaned and cooked in foil on the woodstove.
Tips for Visiting Fairbanks in the Winter
The days are very short in Fairbanks in the winter. Plan for starting your day in the dark and for the sun to set well before dinner. If there are any activities that are best done in daylight, plan those accordingly.
It's so cold! Temperatures were down to -30°F while we were there. Our eye lashes froze and moisture from our breath made a thin, frozen layer of ice on glasses. However, the strong winds are rare in Fairbanks, making the frigid temps a little more tolerable.
Fairbanks is not a sprawling city. Most Fairbanks winter activities are within a 30 minute drive from downtown, and the downtown area is walkable.
What to Bring: An Alaska Winter Packing List
The best way to get through the cold weather is to dress appropriately. We spent a lot of time outside, but we were dressed right, so there were few complaints (even from the southerners in our group!)
Baselayers are crucial for layering. We opt for the warm merino wool baselayer, but no matter how soft they claim to be, they are never as soft as those made with other materials.
A good winter coat, preferably a long one.
Thick, warm socks
Plenty of hand and foot warmers. You'll go through a lot of these!
Snow pants that not only insulate, but also keep snow from getting
Warm mittens, or at least good gloves. Mittens keep you much warmer, especially when using the hand warmers.
Winter hats, especially those that cover your ears.
A gaiter or balaclava to keep your face warm.
---
Click below to save these things to do in Fairbanks in winter on Pinterest!
More destinations for families: