A little gem just outside of the heart of downtown Moab may be one of our favorite lodging experiences so far. Searching for where to stay in Moab will give you many hotels and campground options when planning your trip. But for a unique experience, there is one lodging option that offers so much more than your traditional campground. Read on for reasons to book your stay at ACT Campground & Environmental Learning Center for your next visit to Moab.
ACT Campground: 1536 S Mill Creek Dr, just off of U.S. Highway 191.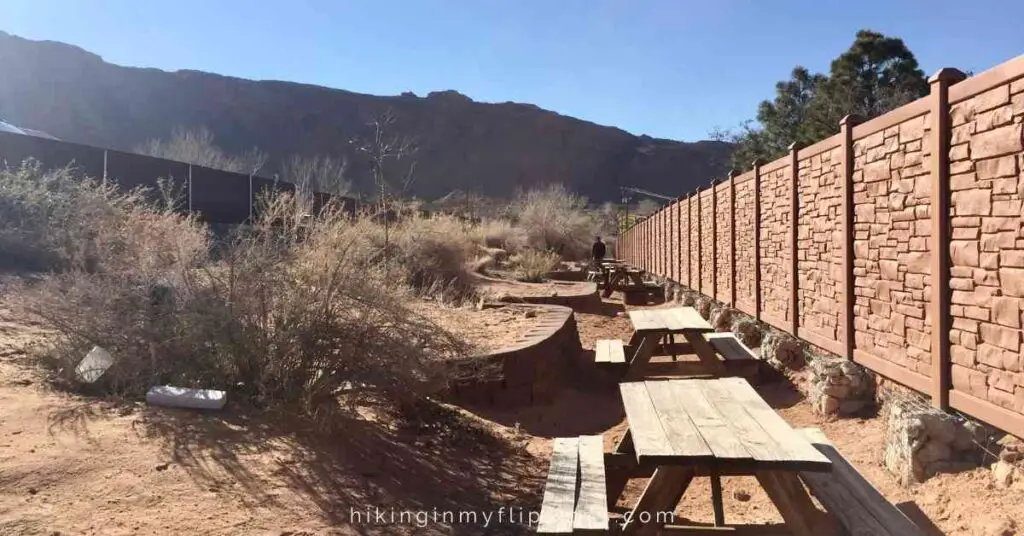 Why You'll Love Staying at ACT Campground Moab
1. It's Not Your Typical Campground 
RV park, lodge, and tent camping mean ACT Campground will have the perfect accommodation for you. We booked three nights in a pet-friendly cabin-style room. The main building has cabin-style rooms, a private residence, the campground office, bathrooms, and the community kitchen.
Cabin Rooms
We have found that lodging options can be more limited for a family of 5, especially when traveling with our dog. Because of this, we turn to Airbnb more and more often, and this is how we found ACT Campground.
A full-size bed and a bunk bed with a futon that folded out to another full-size bed fit the 5 of us comfortably. The small rooms were a tight fit once we got the luggage in the rooms, but realizing it was still more spacious than a tent or camper suddenly made the space feel a bit larger.
The 9 cabin rooms feature a dorm-style fridge and microwave oven but don't limit your meal options to microwavable meals. The community kitchen gives you endless possibilities for meals.
Tent Camping
It might not be the wilderness experience some campers are looking for. Still, it's an excellent glamping accommodation many tent campers will love. Access to the many amenities means your stay will be comfortable for sure.
The tent sites that line the parking lot are small but are equipped with a soft, sandy tent pad, picnic table, and fire ring. The tent sites in the back offer a little more space. 
RV Sites
There are 21 RV sites with full hookups – including WiFi and cable. These sites feature level parking pads with a picnic table on an area covered with wood chips instead of grass.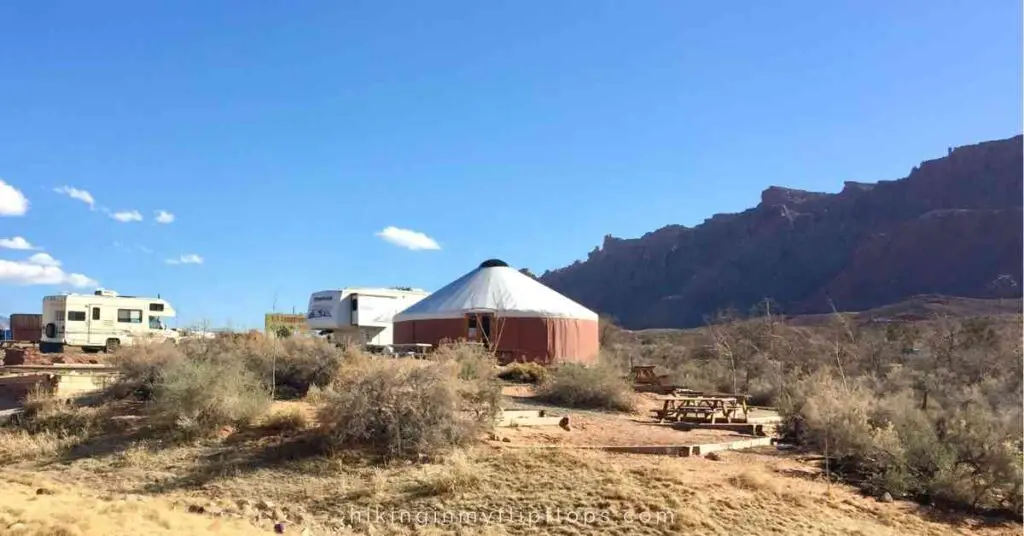 The Yurt
Upgrade from the tent with a stay in the 30-foot yurt that sleeps 10 or more. 
2. An Abundance of Amenities
Community Kitchen
The community kitchen is fully stocked with every appliance, cooking gadget, dish, and silverware you could ever ask for. A large fridge is also available for extra space if needed.
Four long tables give plenty of space for everyone. After dinner, choose from the wide selection of games or grab a book from the bookshelf.  
Outdoor Space
An outdoor kitchen features a gas grill, a pizza oven, and cooktop burners for cooking outdoors on a beautiful desert evening. No camping experience is complete without a campfire. Tent and RV spaces are equipped with fire pits, but a fire pit near the outdoor kitchen is a great space for everyone to gather in the evenings. Tall red rocks and snow-capped La Sal mountains surround the campground. Still, the highway and nearby businesses can detract from the camping experience for some. The community experience, amenities, and proximity to downtown Moab are well worth it.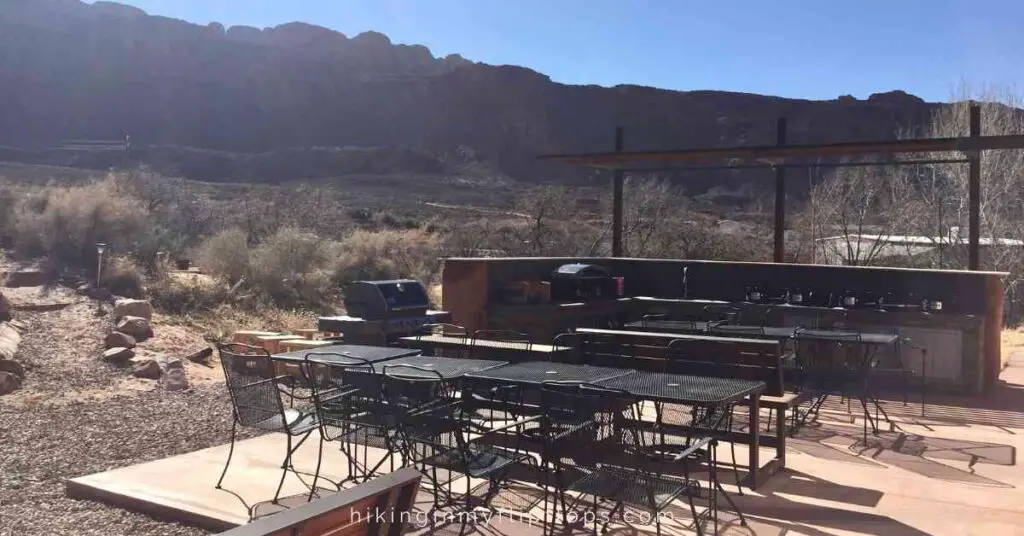 Bath House
Walking to the bathrooms makes it feel closer to an authentic camping experience even when staying in the cabins. Entrances on each side of the building make easy access to the bathrooms anywhere in the campground.
Laundry Facilities
Washing machines and dryers are available for a small fee. The clothesline is a great (and free) alternative to the dryers in warmer months.
3. The Perfect Location to Host Small-Scale Group Events
With all the amenities and lodging options at ACT, it's the perfect, spacious spot to host your small-ish events, like family reunions and group camping with friends.
4. The Unbeatable Location
Just south of Moab on U.S. 191, ACT Campground is the perfect location for visiting Canyonlands National Park, Dead Horse Point State Park, Arches National Park, and many Moab-area hiking trails.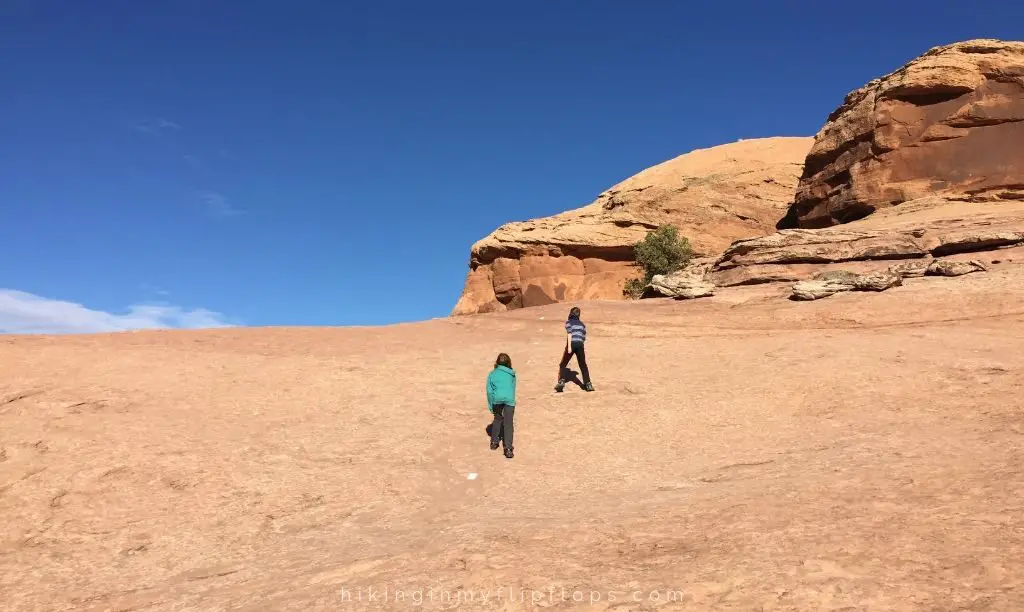 5. The Sense of Community
What really stands out about this campground is the community.
We enjoyed sitting by the campfire with one of the owners, where we learned that the community experience featured at ACT Campground is modeled after traditional Australian lodging options.
And it seems to be an instant success in Moab too. They seem to have thought of everything to make everything run smoothly. Wash your own dishes. Respect the space. Everyone pitches in the kitchen. A community that not only respects but facilitates conversation and community. Kids instantly formed friendships and would instead run around the campground with their friends than explore the nearby national parks.
6. Their Respect for the Environment
Environmental responsibility is important to ACT Campground, which is known as a "green-integrated camp park." Not only is the main building made with recycled and renewable materials, like straw bales, but this Moab campground is also home to The Environmental Learning Center.
The Moab campground runs sustainably too. The environmentally efficient energy systems keep the main building warm (or cool) and well lit. 
Something to Keep in Mind Before Booking Your Stay
While ACT Campground is a great place to pitch your tent, park your RV, or find a comfortable bed for your stay in Moab, it is not the typical camping or lodging experience. It's not exactly a wilderness experience or equipped with all the comforts of a hotel that you may be accustomed to. 
If the noise from traffic on the nearby highway or middle-of-the-night walks to the bathrooms isn't what you have in mind, you may want to consider other lodging options in Moab.
---
We can't recommend ACT Campground enough when you're looking for a great place to stay in Moab. The campground is centrally located, clean, and reasonably priced. But most of all, the amenities and beautiful Moab views are hard to beat.
---
Save this information on ACT Campground on Pinterest for planning your next trip to Moab!