Last weekend, we finally checked something off our bucket list: Seattle, Washington.  A rare trifecta of cheap flights, hotel, and car rental in a city we've never been to was an opportunity we couldn't pass up.  We didn't have a lot of time there though, so we did a lot of research on exactly how we wanted to spend our short trip to the Emerald City.
Our itinerary didn't include the Space Needle because we wanted to make this trip as budget-friendly as possible (spend less = travel more!). But we also learned that it was closed for renovations while we were there, so it wouldn't have happened even if we wanted to do it. (This serves as a good reminder to always check websites to make sure you can actually do the things you have planned.)
Instead, we got our Space Needle experience from our stay at the Best Western Executive Inn.  We had a fantastic view of the Space Needle right from our room, located just about a block away.
Our two days in Seattle were packed with (mostly free!) sights around the city.  Here are highlights from our 7 favorite places around this beautiful city:
The Best Sights to See in Seattle Downtown Area
Plan for a full day to get in all the Seattle sights to see downtown. The area is very walkable, but there are also bike rentals available to zip between areas a little quicker.
1. Seattle Center
Find it: 305 Harrison St, Seattle, WA 98109 
With our hotel just steps away from this area, we made this our first stop.  The Seattle Center is probably best known for the Space Needle, but there is so much more to see and do here.  Other top attractions include Chihuly Gardens & Glass and the Museum of Pop Culture.  If you want to skip entrance fees on these activities like we did, you can also walk through the gardens, check out the art installations, and spend some time at the playground, Artists at Play – a hands-down favorite for the kids.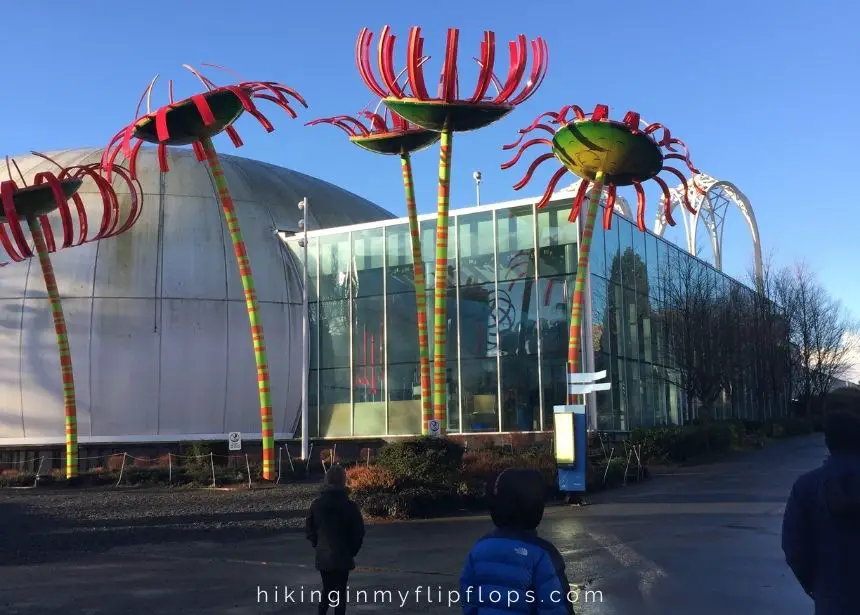 We spent only about an hour here but could have easily stayed a lot longer.  To check out all the events, activities, and attractions, visit the Seattle Center website for more information when planning your trip.
2. Pike Place Market
Find it: the intersection of Pike Place and Pike Street, Seattle WA 98101
Pike Place Market is definitely a sight to see.  Especially when you get the opportunity to see the fish throwing in action (which we are sad that we missed this in each of the three times we went by there). Walk throughout the market to see the fresh seafood and produce, plus other goods for sale. The stop here also gave the kids a peek into the fishing industry that is so important to that area.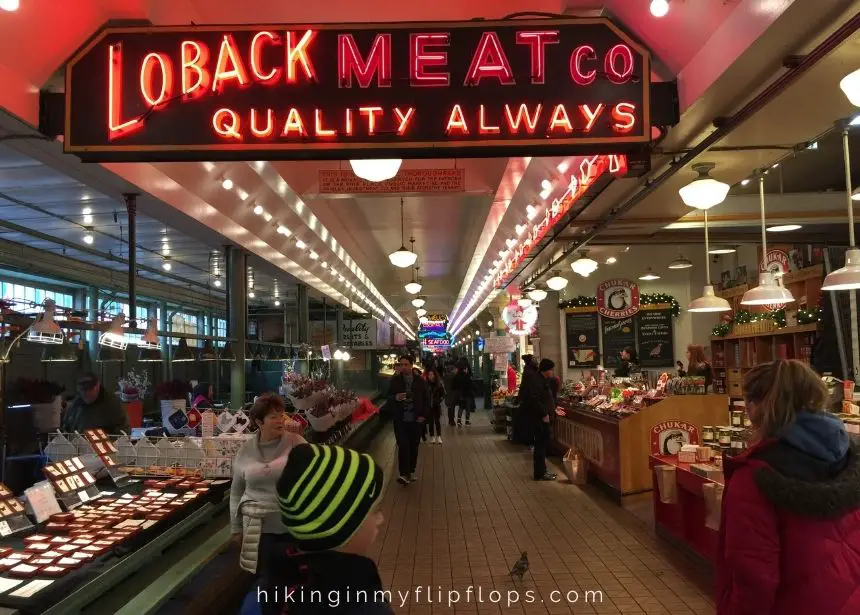 There are a few other fun stops to make in the Pike Place Market area:
The Gum Wall
When you see Rachel the Piggy Bank (you'll know when you see her – she stands right in the corner of Pike Place and Pike Street), take the nearby stairway down to the alley.  Right around the corner you'll immediately see walls covered with ABC (Already-Been-Chewed) gum and smell the lingering fruity scents of all the gum.  It's as gross as it is kind of cool to see, but the kids made their own contribution to the wall anyway.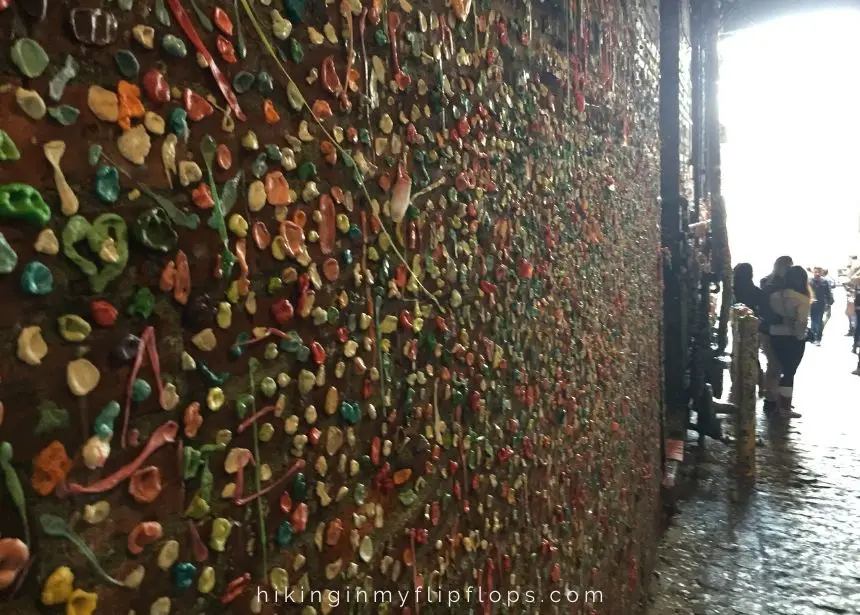 Original Starbucks
Find it: 1912 Pike Pl, Seattle, WA 98101
It took us TWO tries to get this one right.  We knew this was here, but didn't make a note of exactly where before we left.  With iPhone in hand, I was searching for details while we were on-the-go.  The first results from the "original Starbucks" Google search was a location at 1st and Pike, about a block from the Public Market.  But when we stepped through the doors, we were honestly a little disappointed.  It really didn't look any different from all the other Starbucks.
The next day we were strolling along Pike Street and looked up to see a Starbucks that actually looked different – even from the outside.  That was the original Starbucks!  If you go, make a note to visit the Pike Street location, not 1st and Pike!  No food is sold at this location, only beverages, and location-exclusive merchandise.
3. Bell Street Pier
Find it: 2225 Alaskan Way, Seattle, WA 98121
Instead of the sweeping views from the Space Needle, we opted for some still pretty fun views from the Observation Deck at the Bell Street Pier. This rooftop is perfectly positioned for 360-degree views over the water AND of the city.  For even better views of the mountains and islands, there are (coin-free) binoculars positioned across the deck.  It's also a great spot for a picnic lunch at one of the many tables.
The pier can be accessed via the Bell Street Pedestrian Bridge at Elliot Ave or by taking the stairs on Alaskan Way.
4. Bainbridge Island Ferry
Find it: 801 Alaskan Way Pier 52, Seattle, WA 98104 (Seattle Terminal)
The Bainbridge Ferry is a commuter ferry that takes cars, bikes, and people across Elliot Bay to Bainbridge Island. Passenger fares for this 35-minute ride are only collected on the Seattle side, so your ticket is good for a round trip. This was the only thing we did in Seattle that charged a fee, but the total fare for 2 adults and 3 kids was under $30.  For an additional fee, you can bring your car along on the boat for an opportunity to explore further into the island.  We left the rental car at the hotel, opting for a walking tour of the island.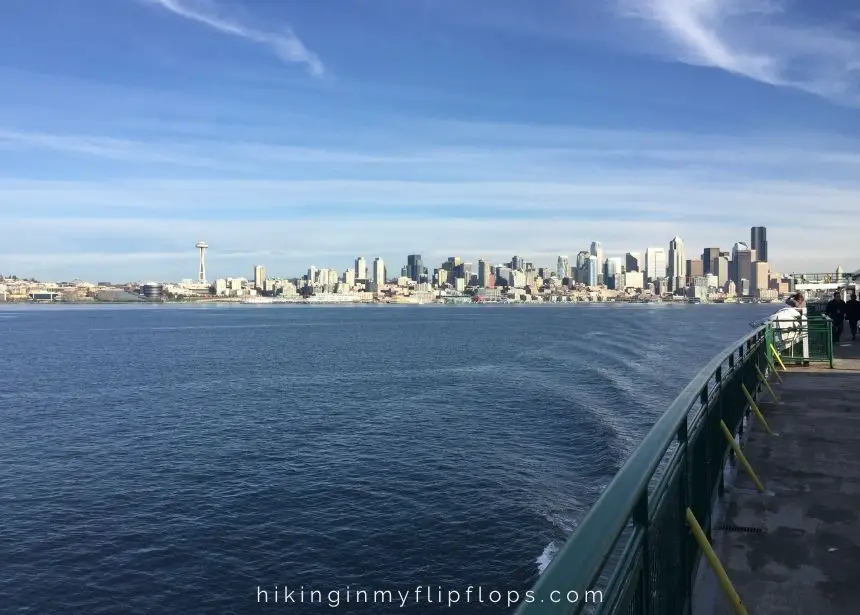 The ferry ride on its own is a fun activity, but there are a lot of great spots around the island to explore. The main street, Winslow Way, is lined with shops and restaurants.  There is also a trail to walk along the water, with a playground nearby.
We spent less than two hours there since we wanted to catch the ferry back in time for the sunset.  We didn't quite see all that we wanted, so we recommend spending a few hours on the island.
Best Sights in Seattle Just Outside of Downtown
We spent another day and a half driving around outside of downtown for more fun sights to see in Seattle that were a little more unique. We also made a last-minute decision to head out of town to Snoqualmie. It's worth the visit if you have the time on your Seattle itinerary.
5. Chittenden Locks and Fish Ladder
Find it: 3015 NW 54th St, Seattle, WA 98107
The best travel experiences are when you learn about something you never really knew existed.  For this trip, it was watching the boats go through the locks.
The locks (also known as the Ballard Locks), we learned, are in place as a way to get boats upstream.   Boats move into the locks, the gates close, and the water level is raised.  Once the water is level with the other side of the locks, the front gate opens and boats make their way to Lake Washington.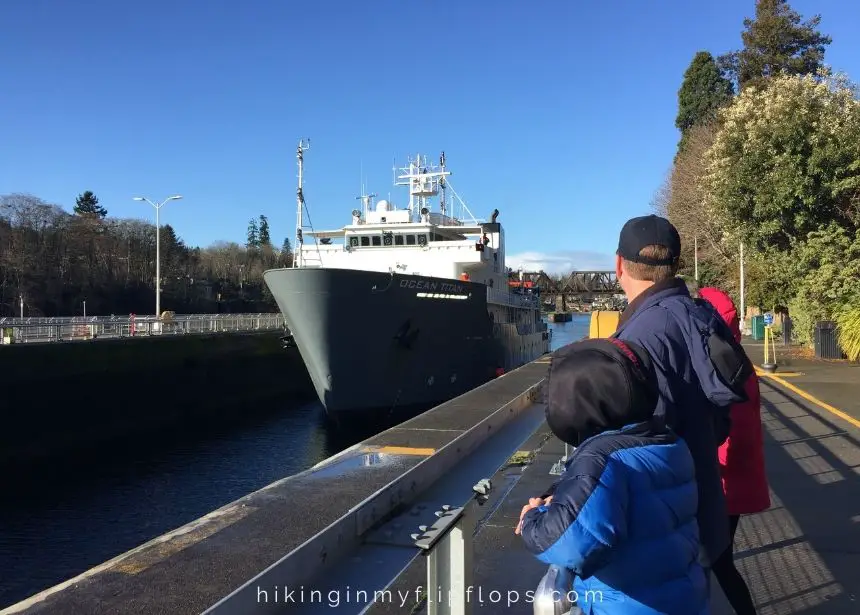 On the other side of the waterway is the Fish Ladder.  With the locks in place for boats, the fish ladder is in place to help the salmon maintain their natural migration patterns.  While they say there is some activity all year long, the best viewing is in late summer/early fall (we didn't see any fish during our January visit).  It was still interesting and we really hope to make it back to see the fish in the peak season.
For more information on the locks and the fish ladder, visit the US Army Corps of Engineers, which maintains both areas.
6. Fremont Troll
Find it: Troll Ave N, Seattle, WA 98103
The troll under the bridge is a fun, but quick, stop.  It's also a unique opportunity for the kids to climb on a sculpture!  Local artists created this sculpture in 1990, which stands almost 20 ft tall.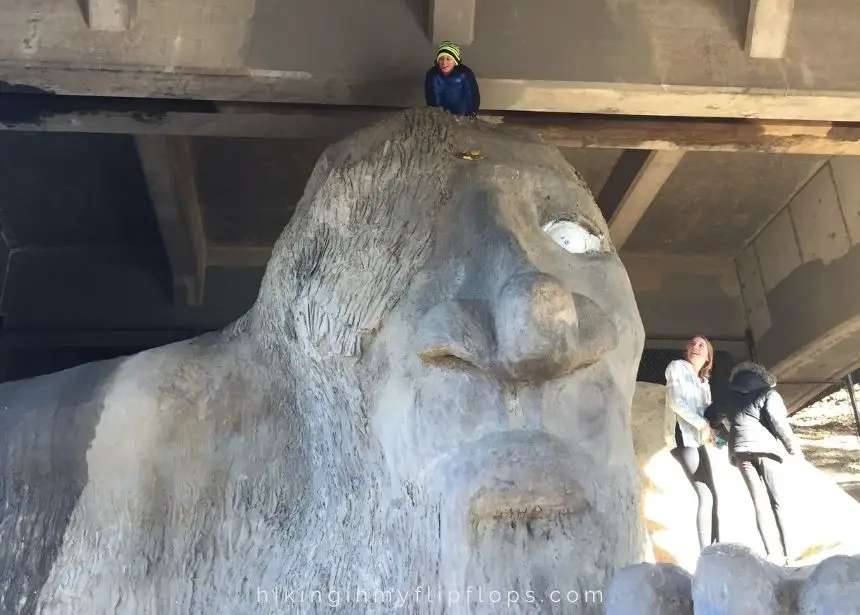 You'll find the troll under the Aurora Bridge, at N. 36th Street at Troll Avenue N.
7. REI: The Flagship Store
Find it: 222 Yale Ave N, Seattle, WA 98109
As an outdoor loving family, we couldn't miss a stop at the biggest location of one of our favorite stores: REI. Even if shopping for outdoor gear isn't at the top of your list, it is still a fun stop. From the parking garage, there is a little "hike" to the store entrance. This location is not only huge but has some unique Seattle branded clothing that I haven't seen in other locations (a perfect souvenir!) AND a playground for the kids.
Find it:  6501 Railroad Ave SE, Snoqualmie, Washington, 98024
This one is a bonus because it's not actually in Seattle. It came highly recommended for a quick adventure outside of the city, and it was the perfect addition to this trip.
It's just a short walk from the parking lot to a viewing area where you can see the falls. For even better views, a 1/2 mile hike leads to the base of the falls. While we were up for a little longer hike, it was just what we needed for that PNW experience.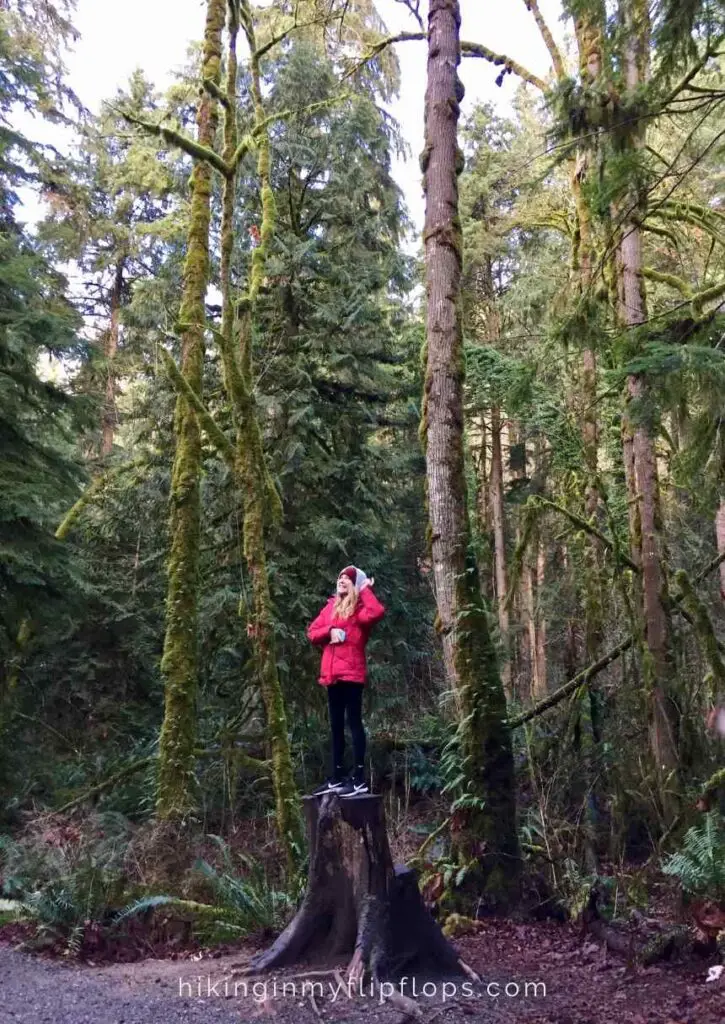 After spending time at the falls, head into the town of Snoqualmie for a local brew at Snoqualmie Brewery and Taproom.  You'll find this unassuming spot on Falls Ave, just one street over from the main street in town.  On your way there, keep an eye out on your right to see the old train cars and engines on an old track along the side of the road.  You can walk the sidewalk there for an up-close view of these old cars. (Check out the video below for a preview of the old train cars you'll see here.)
What are your favorite things to do in Seattle? Let us know what we should add to this list of the best sights in Seattle!
---
Click below to save these ideas for fun things to do and sights to see in Seattle on Pinterest!
Back to the top of 7 Fun Sights to See in Seattle (Other Than the Space Needle)