Las Vegas isn't top of mind for many families when it comes time to plan the next family vacation. A city with the slogan "what happens in Las Vegas, stays in Las Vegas," and dubbed the Sin City, doesn't exactly invoke thoughts of a family vacation. But one shouldn't be so quick to dismiss this desert oasis – you'll be surprised at how easy it is to find many things for families to do in Las Vegas.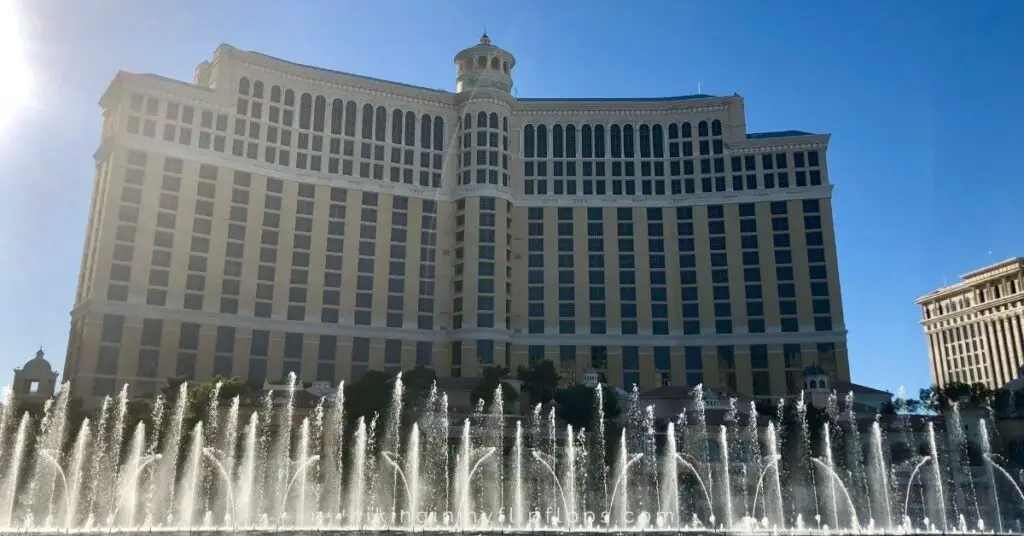 Things for Families to Do in Las Vegas
Before our fall trip to Vegas, we knew we would have to look a little further to find what to do in Las Vegas with kids. We visited 11 family-friendly things to do in the Entertainment Capital of the World in our 4 days in Las Vegas. These can't-miss sights and activities are sure to keep your family busy all weekend long.
Travel the World
When planning what to do in Las Vegas with kids, this should be your number one on the list. Where else can you experience Paris, Venice, New York City, and the beach all in one day? Only in Las Vegas!
There is no cost to explore the many features of elaborately themed casinos that line the Strip on Las Vegas Boulevard. While it might pale in comparison to the real thing, the kids get a little taste of these far-away destinations. They will learn to associate the Eiffel Tower with Paris, gondolas with Venice, and pyramids with Egypt.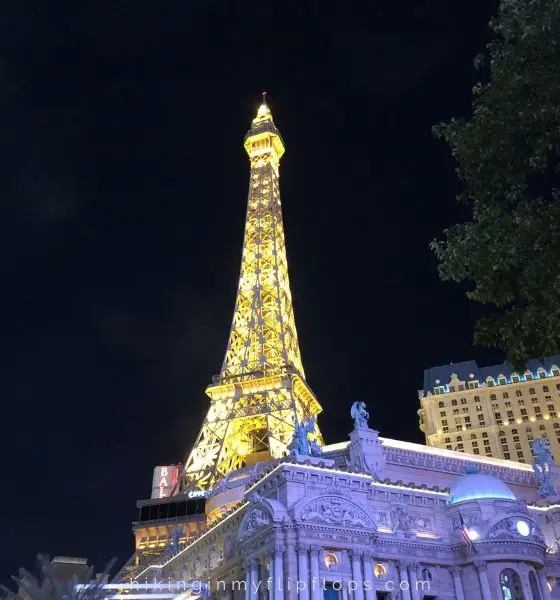 Go to a Show
See Broadway performances like the Lion King or Fiddler on the Roof in Las Vegas or one of the many other live theater performances. Las Vegas is best known for magic, comedy, concerts, and more. Many are family-friendly, but some are not, so check carefully before getting tickets.
If you're traveling on a budget, there are many free options, including:
See Wildlife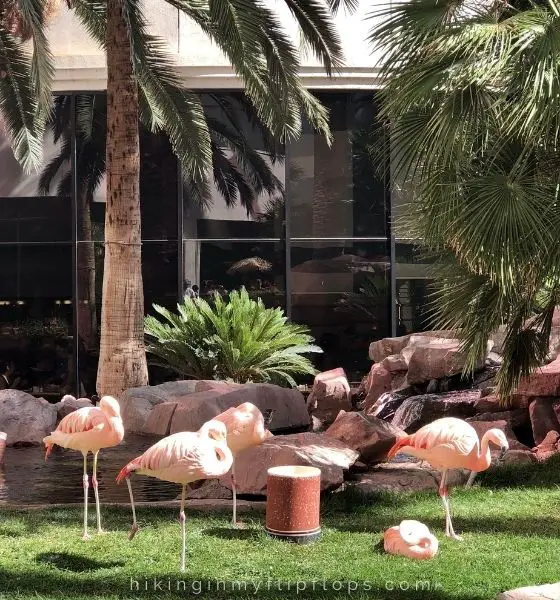 Stop by to see the turtles, ducks, koi fish, and (of course) flamingos at The Wildlife Habitat at the Flamingo Hotel & Casino. Time your visit to watch the pelican feeding (8:30 am and 2:00 pm, but be sure to check their website for schedule changes).
This free exhibit is a perfect little nature escape on the Vegas strip.
Play on an Epic Playground
The kids agreed this was one of their 2 favorite things to do in Las Vegas.
The playground at the Downtown Container Park is no ordinary playground, with a built-in tree house and 3 slides. The play area has plenty of shade to get a break from the desert sun.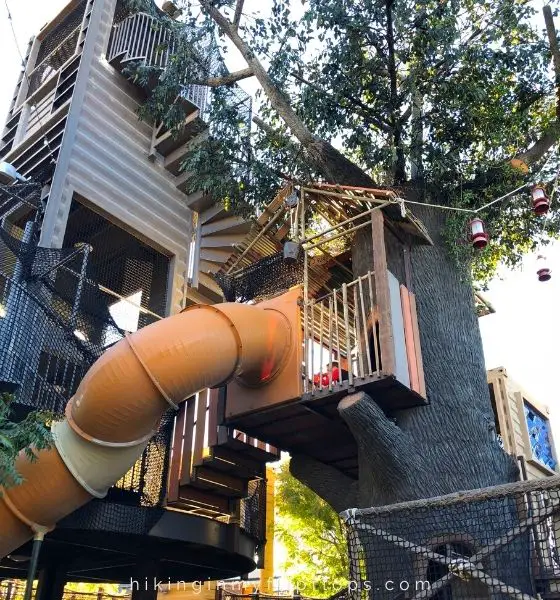 The Downtown Container Park in old Las Vegas (near Fremont St.) is an enclosed area where families can shop, eat, and play. Check the schedule for events and free concerts, or see a show at the Adventure Dome.
Family Friendly Thrills in Las Vegas
Rides were probably the top pick when deciding what to do in Las Vegas with kids. There are many options along the Vegas Strip – from mini amusement parks to gorgeous city views.
New York, New York Roller Coaster
The most anticipated activity on our Las Vegas itinerary was the Big Apple Roller Coaster that runs through New York-New York Hotel and Casino. We love roller coasters, but it ended up being the biggest disappointment.
The good: it's a roller coaster in a fun setting
The not-so-good: we realized it's hard to appreciate the location while tearing through at 67 miles per hour, making it not entirely worth the money
*Note that prices on their website show $15 per rider (for the regular ride). Prices at the ticketing were actually $17 per person (this may have been the dynamic pricing noted on the website).
High Roller Observation Wheel
The High Roller Observation Wheel was a hit with all three kids (it tied with the Downtown Container Park as the favorite family activity in Las Vegas).
This Ferris wheel-like ride is made of fully enclosed cabins, which reach a height of 550 feet in the 30-minute ride. Take a ride during the day to save money and see fantastic views of the mountains, strip, and planes and helicopters – or see all the lights of Vegas from above at night.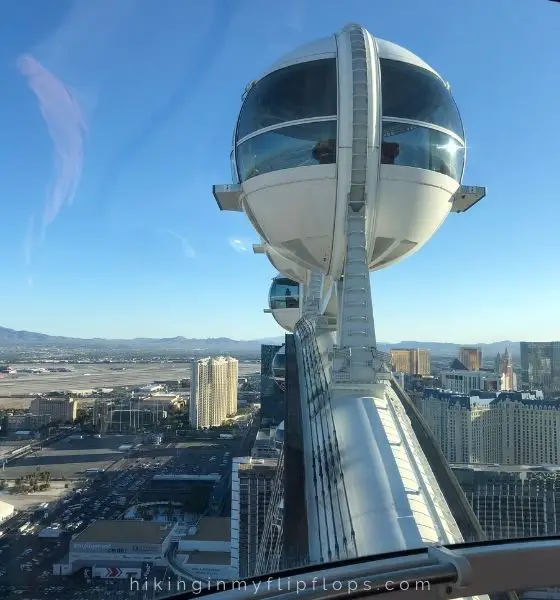 Adult and kid-friendly beverages are available for purchase right before boarding your cabin.
Fremont Street Zip Line
Fly through the Fremont Street Experience on the SlotZilla zipline. Choose from the regular zipline or go super-hero style (for an additional fee).
*Kids can ride but must weigh at least 50 lbs.
Browse Sweet Souvenirs
We do love our sugar here at Hiking in My Flip Flops, so we wouldn't dream of missing Coca-Cola, Hershey's, and M&Ms in Las Vegas.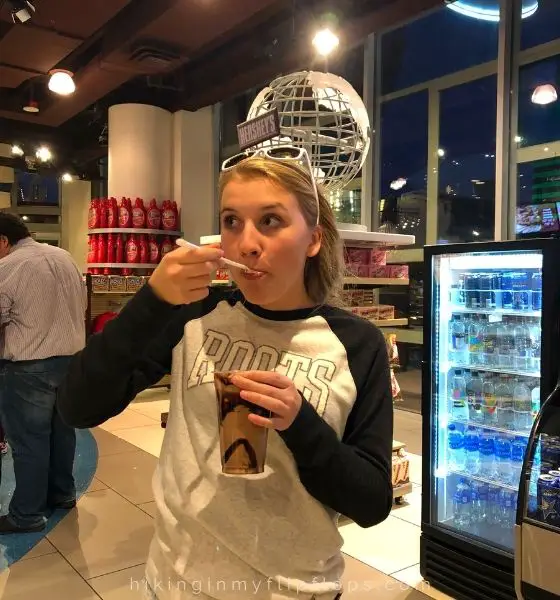 Shop for souvenirs and sweet treats from these brands in their giant Las Vegas Boulevard locations.
Kid Zones: Arcades and More
The kids don't have to completely miss out on slot machines' bright lights and sounds in the casinos.
Find arcades and kid-friendly games in the Excalibur, Circus Circus, and other casinos.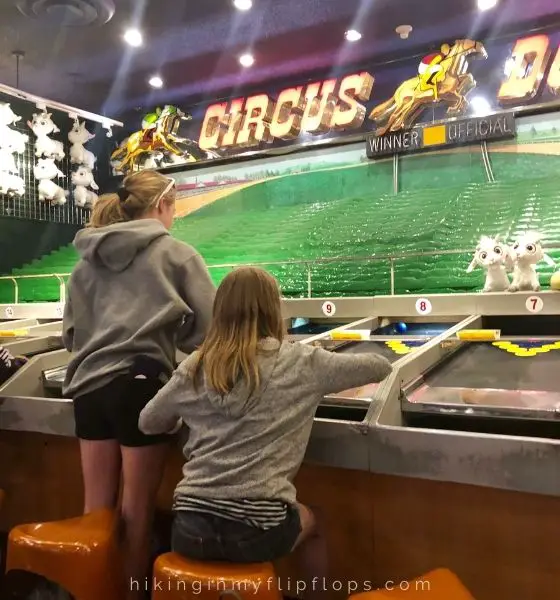 Swim at the Hotel
Your Las Vegas will involve walking, and lots of it. Treat sore feet with a dip in the hotel pool. Vegas pools are not ordinary hotel pools: beaches, sharks, or city and mountain views make many of the pools in Vegas an experience.
Make sure to check the hours of your hotel pool as you are planning your family itinerary. Many close for the day in the late afternoon/early evening.
Visit the Museum
Las Vegas has art, children's, and natural history museums like most US cities. But if you want the Vegas experience, visit the Neon Museum, The Mob Museum, or Pinball museums. Each gives a unique look into the culture and history of Las Vegas.
What to Do With Kids Around Las Vegas
There are a lot of amazing sights to explore just outside of the city. Choose from the many car rentals available along the strip and take a break from the city lights and sounds. We found this side-trip the perfect addition to the many things to do in Las Vegas.
We started out around 8:00 am and drove about an hour to the Valley of Fire State Park in Overton, NV. This park is filled with short hikes (roughly 1 mile or less) that are all unique in their own way. These hikes were short enough to fit in 5 trails during our 1/2 day visit.
Mouse's Tank:  An out-and-back trail, about 0.75 miles round trip. This sandy trail features prehistoric petroglyphs along the way and a natural basin (the 'tank') at the end of the trail.
Fire Wave: About 1/2 way into this 1.25 mile (out-and-back) trail, the terrain turns into wide-open slickrock with stripes of beige, orange, and red.
White Domes: Walk through a slot canyon and see the remnants of a 1960's movie set on this 1.1-mile loop.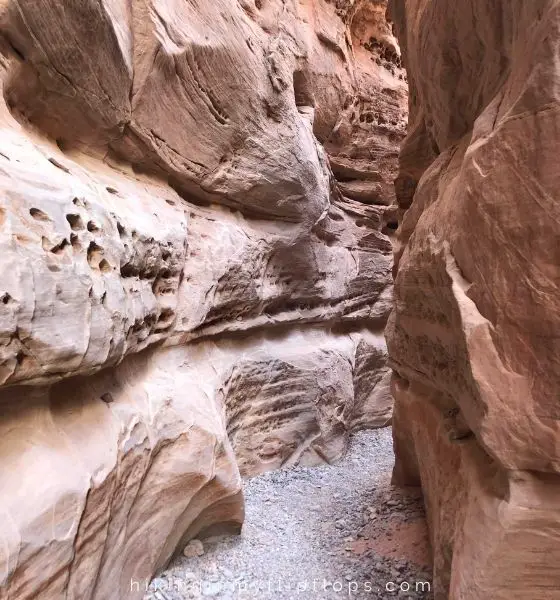 Petrified Logs: There are two spots to see these 100+ million-year-old logs in the Valley of Fire State Park. We stopped by the one near the east entrance on our way out of the park. See the log enclosed in a chain-link fence via a very short (0.25 miles round trip) hike.
Elephant Rock: You'll know this one when you see it! There is a long and a short way to get to this sandstone formation that resembles an elephant. Walk the trail along (not on!) the road for the short version of this hike.
The Hoover Dam
The Hoover Dam offers tours, but there is plenty to see on your own to make it a quick stop before heading back to Las Vegas.
Walk along the top of the dam by taking the Hoover Dam Access Road (Hwy 173). Or, stay on Hwy 93 to see the views from the Mike O'Callaghan–Pat Tillman Memorial Bridge.
Have you brought your kids on a Vegas vacation? Give us your favorite tips on what to do in Las Vegas with kids in the comments!
---
Click below to save these ideas for what to do in Las Vegas with kids.