2022 update: we've made more trips to Las Vegas and discovered so much more since we've first posted about kids' activities in Vegas, so we've expanded our list to 21 fun things to do in Las Vegas with kids!
Las Vegas isn't top of mind for many families when it comes time to plan the next family vacation. A city with the slogan "what happens in Las Vegas, stays in Las Vegas," and dubbed the Sin City, doesn't exactly invoke thoughts of a family vacation.
But one shouldn't be so quick to dismiss this desert oasis. So can kids go to Las Vegas? Absolutely! You'll be surprised at how easy it is to plan a Las Vegas itinerary for kids.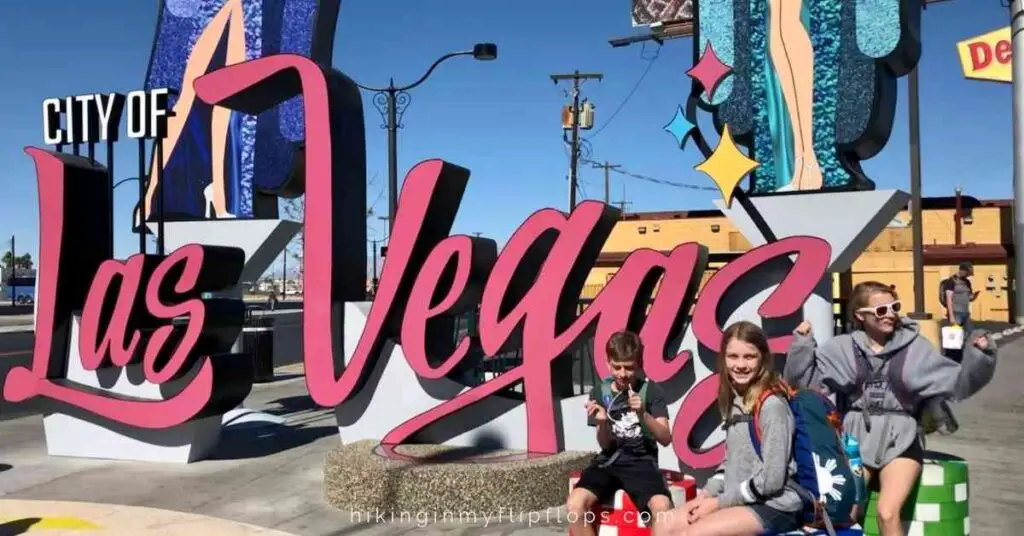 The Best Things to Do in Las Vegas with Kids
Before our fall trip to Vegas, we knew we would have to look a little further to find what to do in Las Vegas with kids. We found more kids' activities in Vegas than we ever expected. Without a doubt, the Entertainment Capital of the World is filled with sights and activities that are sure to keep your family busy all weekend long.
Family-Friendly Activities At the Casinos
When planning a Las Vegas family vacation, time at the casinos that line the Strip should be number one on your list. Where else can you experience Paris, Venice, New York City, and the beach all in one day? Only in Las Vegas!
There is no cost to explore the many features of elaborately themed casinos that line the Strip on Las Vegas Boulevard. While it might pale in comparison to the real thing, the kids get a little taste of these far-away destinations. And each one is filled with family-friendly activities and attractions. See a kid-friendly show, take on the thrilling rides, or visit wildlife, all in Las Vegas!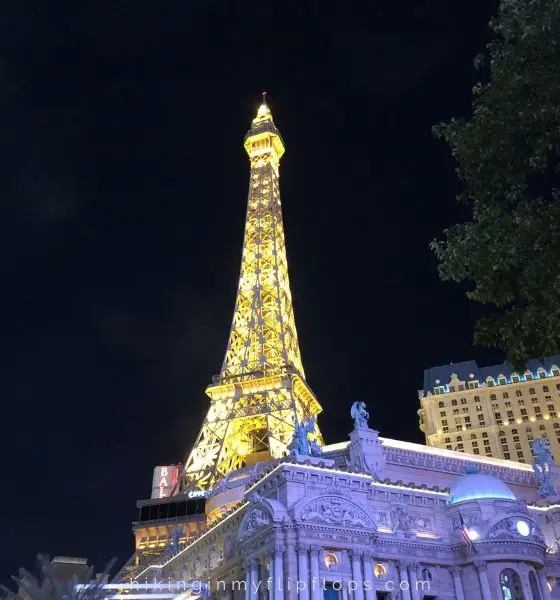 1. Shark Reef Aquarium at Mandalay Bay
See a golden crocodile, sawfish, and manta rays (3950 S Las Vegas Blvd)
2. Observation Deck at The Stratosphere
Get epic views of Vegas – and way beyond (2000 Las Vegas Blvd S)
3. Gondola Ride at the Venetian
Enjoy a relaxing ride through the canals at the Italian-themed casino (3355 S Las Vegas Blvd)
4. Siegfried & Roy's Secret Garden And Dolphin Habitat At The Mirage
Visit this sanctuary to see bottlenose dolphins, panthers, and white tigers (3400 Las Vegas Blvd S)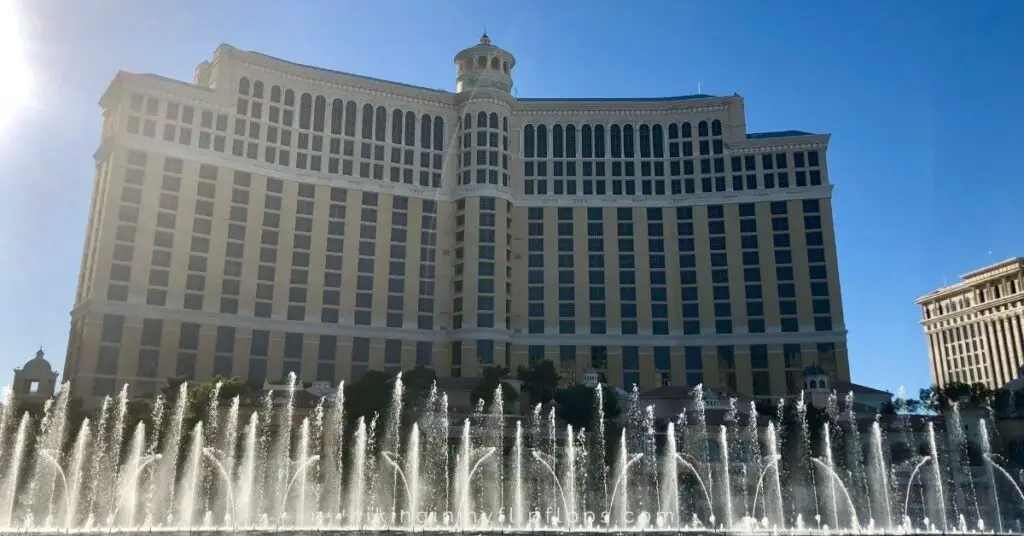 5. Take a tour of all the free shows and attractions: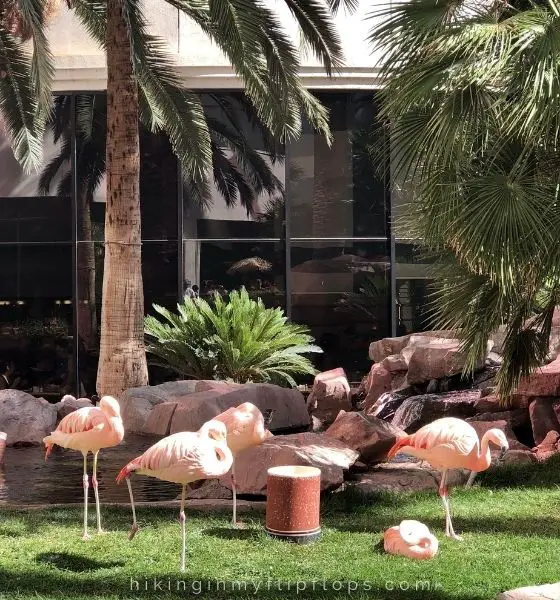 Rides were probably the top pick when deciding what to do in Las Vegas with kids. There are many options along the Vegas Strip – from mini amusement parks to gorgeous city views.
6. Adventuredome Indoor Theme Park at Circus Circus
Hit this theme park on the Vegas Strip, where you'll also find lots of arcade games for the kids (2880 S Las Vegas Blvd)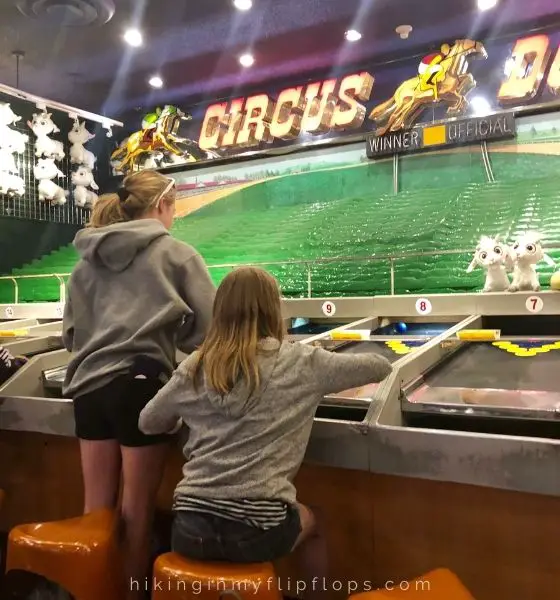 7. High Roller Observation Wheel at The LINQ Hotel
Take a spin on this Ferris wheel-like ride, made of fully enclosed cabins. It's the second tallest observation wheel in the world, reaching a height of 550 feet. See fantastic views of the mountains, the Strip, and planes and helicopters on the 30-minute ride during the day (plus, ticket prices are lower). A night, the views of Vegas lit up is a sight you won't forget. Adult and kid-friendly beverages are available for purchase right before boarding your cabin. (3545 S Las Vegas Blvd)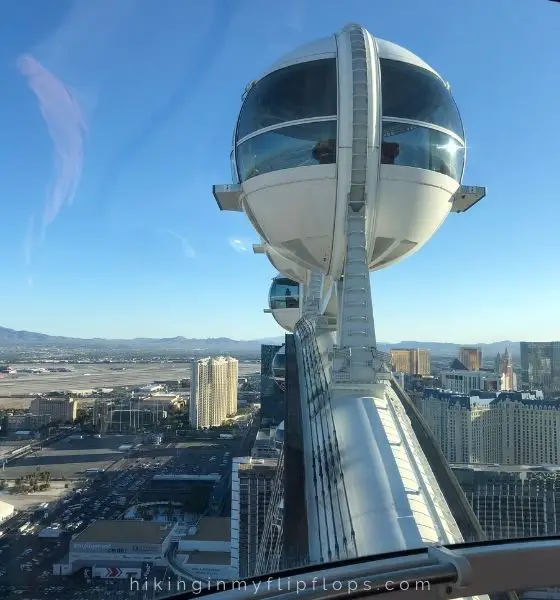 8. The Big Apple Coaster at New York New York Hotel & Casino
Ride this thrilling coaster that goes through and over the New York themed casino, then stop at Hershey's Chocolate World for some sweet treats afterward (3790 Las Vegas Blvd S)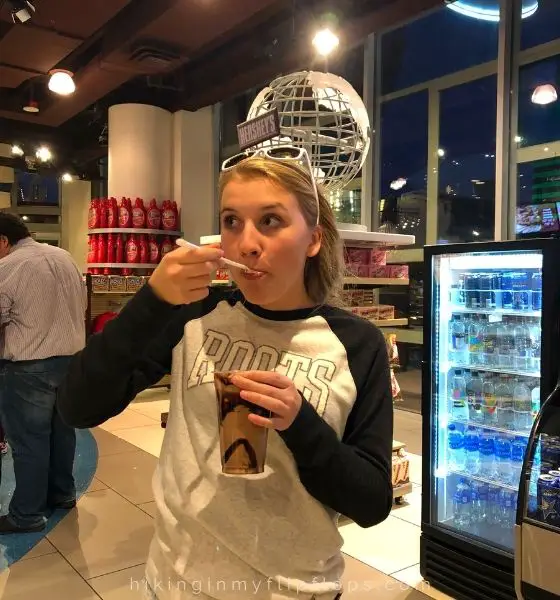 If your family loves sugar as much as we do, visit the Coca-Cola Store (3785 S Las Vegas Blvd) and M&M's Las Vegas (3785 S Las Vegas Blvd) right across the street. Shop for souvenirs and sweet treats from these brands in their giant Las Vegas Boulevard locations.
9. Blue Man Group at the Luxor
Not only is this show funny, but the interactive format keeps kids' attention (3900 S Las Vegas Blvd)
10. David Copperfield at the MGM Grand
Experience a magical, kid-friendly show by one of the world's most iconic illusionists (3799 S Las Vegas Blvd)
11. Cirque du Soleil Mystère at Treasure Island – TI Hotel & Casino
Cirque Du Soleil is well-known for its imaginative and mesmerizing shows (3300 Las Vegas Blvd S) – or try Michael Jackson at Mandalay Bay Resort & Casino
Getting Away From the Strip
12. Botanical Gardens at Springs Preserve
Spend the afternoon away from the city, with 180-acres of trails, a butterfly habitat, and more. (333 S Valley View Blvd)
13. Cowabunga Bay Water Park
Cool in the wave pool and the waterslides. There is also a kid's area for the little ones. (900 Galleria Dr, Henderson)
14. Area 15 and Meow Wolf's Omega Mart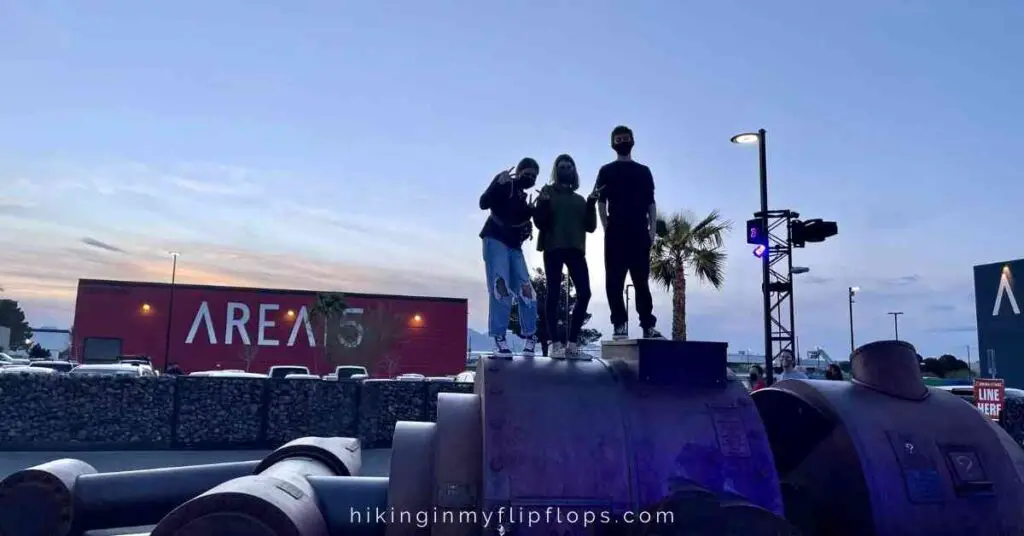 There is so much to do at Area 15 in Las Vegas, and it is a must on your list of things to do in Vegas with teens. It's home to the weird, cool, and fun, with axe throwing, a flight simulator, and VR experiences. Plus, it's where you'll find Meow Wolf's second location, Omega Mart. One of our trips to Vegas was just for Meow Wolf! (3215 S Rancho Dr)
15. Ethel M Chocolate Factory and Cactus Garden
Take a tour of the chocolate factory, then explore the garden that contains over 300 species of cacti (2 Cactus Garden Dr, Henderson)
16. Downtown Container Park
Play on an epic playground with plenty of shade, a built-in treehouse, and 3 slides at this urban park. Families can also visit shops and restaurants built into shipping containers. (707 E Fremont St)
17. SlotZilla zipline
Fly through the Fremont Street Experience on the SlotZilla zipline, choosing from the regular zipline or go super-hero style. Kids can ride but must be at least 50 lbs. (425 E Fremont St)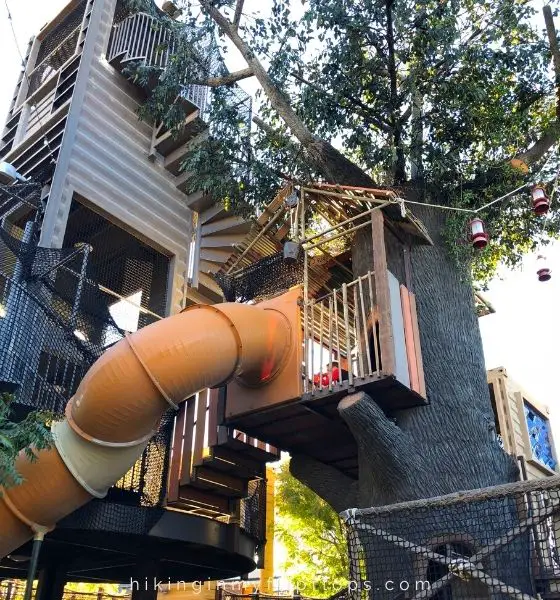 18. Visit a Museum
Like most larger cities in the US, Las Vegas has art, children's, and natural history museums. But if you want the Vegas experience, visit the Neon Museum (770 Las Vegas Blvd N), The Mob Museum (300 Stewart Ave), or Pinball Hall of Fame (4925 Las Vegas Blvd S). Each gives a unique look into the culture and history of Las Vegas.
Day Trips from Vegas
There are a lot of amazing sights to explore just outside of the city. Choose from the many car rentals available along the Strip and take a break from the city lights and sounds. We found this side trip the perfect addition to our Las Vegas itinerary for kids.
19. Seven Magic Mountains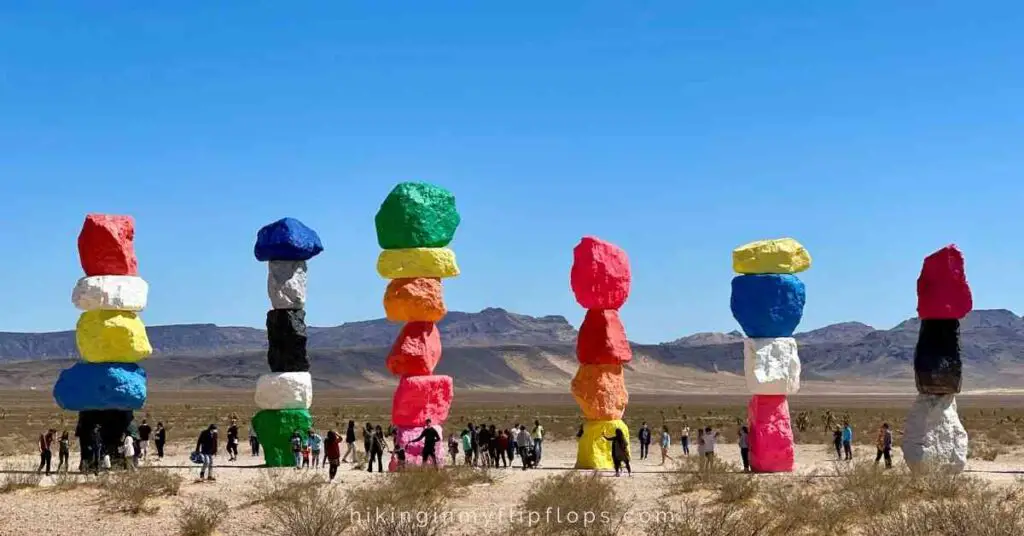 A vivid art installation in the heart of the desert is just a 25-minute drive from the Vegas Strip. 7 brightly colored totems by artist Ugo Rondinone stand out against the beautiful blue Nevada sky.
20. Hoover Dam
The Hoover Dam offers tours, but there is plenty to see on your own to make it a quick stop before heading back to Las Vegas.
Walk along the top of the dam by taking the Hoover Dam Access Road (Hwy 173). Or, stay on Hwy 93 to see the views from the Mike O'Callaghan–Pat Tillman Memorial Bridge.
21. Get Some Outdoor Time
Las Vegas is close to some spectacular recreation areas, including Red Rocks Canyon National Conservation Area (30 minutes from the Strip, 1000 Scenic Loop Drive), Valley of Fire State Park (1 hour from Vegas, 29450 Valley of Fire Hwy, Overton), and Lake Mead (about an hour drive, check out spots like the Sunset View Scenic Overlook on Lakeshore Road in Boulder City).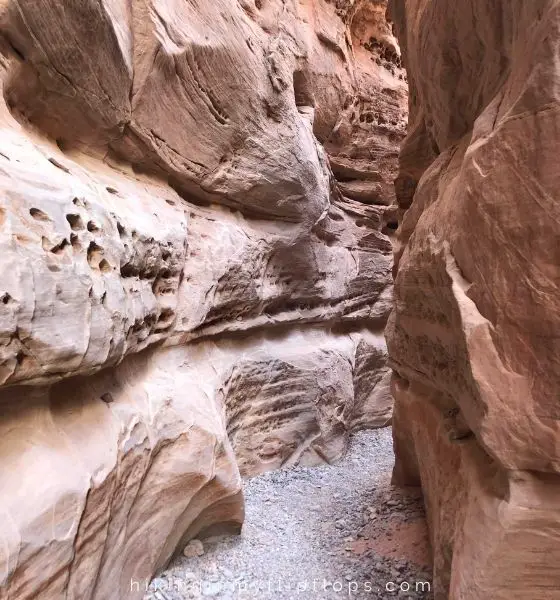 Planning a Las Vegas Family Vacation
So can kids go to Las Vegas? They sure can! Las Vegas packs in many family-friendly sights, attractions, and activities in an area that covers just a few miles. But there is a reason it's also called "sin city," so plan around the areas that are not so kid-friendly, like Fremont Street and the Vegas Strip after dark. We found that things are pretty tame during the day, but once the sun goes down, that can all change.
The Layout of Las Vegas
The infamous Las Vegas Strip is a 4 mile stretch along S Las Vegas Boulevard with Mandalay Bay Resort & Casino on one end and the Stratosphere Casino, Hotel & Tower on the other. Most of the activity stops at the Encore, about 3 miles from Mandalay Bay.
Fremont Street is the heartbeat of this historic area. Find classics like the Golden Nugget and the Fremont Hotel and Casino are highlights of Old Vegas. While there are some family-friendly activities in this area, it isn't somewhere you want to bring the kids at night.
Getting Around Las Vegas
Taxis or Ubers are the easiest way to reach your hotel from the airport. They are readily available to get you along the Strip. To get a ride, go to the rideshare area of any casino.
The Las Vegas Monorail runs along the east side of S Las Vegas Boulevard, with seven stops between MGM Grand and SLS Las Vegas Hotel & Casino. One ride is $5, with additional options for all-day unlimited. Monorail tickets can add up quickly for families, so we found Uber more cost-effective.
There are free trams connecting some of the casinos. They won't get you far, but it's an easy way to hop through the enormous casinos. The trams run between Treasure Island and Mirage, Bellagio and Monte Carlo, and Excalibur and Mandalay Bay.
But we love how walkable Las Vegas is. Whether or not you're up for putting on some miles, it is the easiest way to get around. Be prepared to walk a lot. With the enormous casinos and limited pedestrian traffic crossing Las Vegas Blvd, it's tough to avoid a lot of walking. On one of our visits to Las Vegas with kids, we tracked 35 miles of walking over four days!
Where to Stay in Las Vegas
It's not difficult to find a kid-friendly hotel, and you'll find restaurants, an outdoor pool, and plenty of activities within the themed resorts.
On the Las Vegas Strip
Any of the casino hotels & resorts that line S Las Vegas Boulevard are family-friendly. Many are filled with restaurants, shopping, swimming pools, theaters, and other attractions. And Vegas pools are not ordinary hotel pools: beaches, sharks, or city and mountain views make many of the pools in Vegas an experience.
Make sure to check the hours of your hotel pool when planning a Las Vegas family vacation. Many close in the late afternoon/early evening.
Off the Strip
Many recognizable hotel brands have locations in Las Vegas, close to (if not on) the Strip. Check Marriott, Hilton, and other familiar hotel brands.
We opted for a nearby Marriott for two reasons. One was that the pool had later hours, so the fun didn't need to end when the sun went down, and the kids could swim after a long day of touring Vegas. We also chose this because the Strip and the casinos can be sensory overload, especially for the kiddos. It was good to get away from the city noise and flashing lights for the night.
Best Times of the Year to Visit
If you're planning on a lot of indoor time on your trip to Las Vegas with kids, any time of year is fantastic in Vegas. But if you are outside a lot, you may want to avoid the summer months when it gets uncomfortably hot in the desert.
---
If you're looking for a fun-filled vacation with your kids, look no further than Las Vegas. There are plenty of activities to keep everyone entertained, from roller coasters and shows to swimming and shopping. And don't worry – even though Sin City is known for its nightlife, there are plenty of family-friendly options. So get planning a Las Vegas family vacation and get ready for some unforgettable memories in the Entertainment Capital of the World!
---
Click below to save this list of ideas for Las Vegas with kids on Pinterest!