Asheville, North Carolina, is a vibrant city with a strong arts community and outdoor enthusiast culture. It's easy to plan your Asheville NC itinerary around plenty of natural attractions like waterfalls and national parks. There are also some fantastic things to do that will make for an unforgettable experience and allow you to explore every corner of the city.
We find ourselves in the luckiest of situations because we have family that lives right in the heart of Asheville. Whenever we plan a trip to Asheville, NC, our itinerary is filled with activities and food recommended by my sister and her family. Everything on this list is either one of our favorite things to do in Asheville whenever we're in town or tops the list of the locals.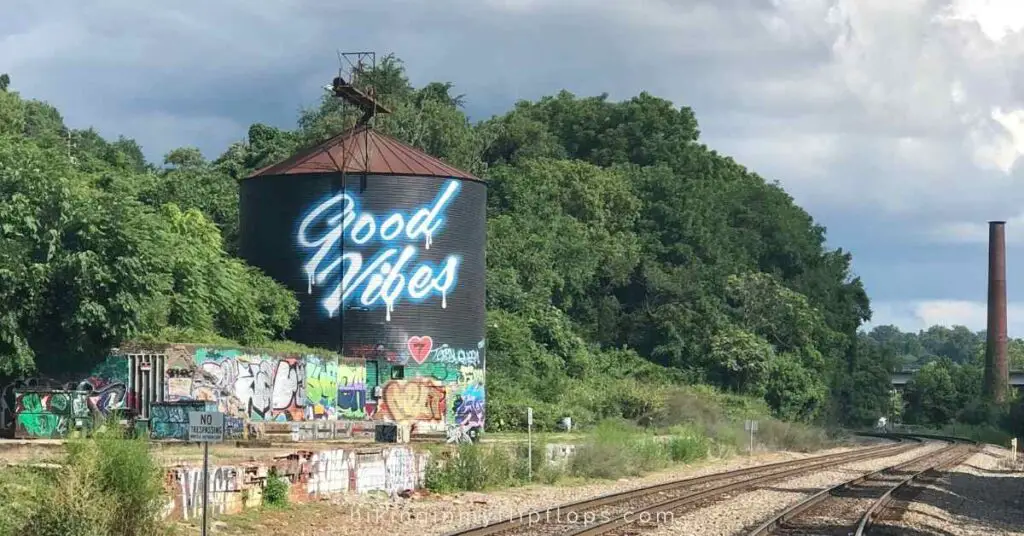 Why Everyone Loves Visiting Asheville
Many travelers are drawn to Asheville to visit the Biltmore Estate, America's largest home. But this North Carolina mountain town is also known for the vibrant art culture, craft brews, and outdoorsy adventures. Whether you have a week or weekend, we have a list of sights and activities that deserve a spot on your Asheville, NC, itinerary.
Want to stay up to date on everything Asheville? Subscribe to the AVLToday email newsletter, which comes filled with events, updates, and information on everyone's favorite North Carolina mountain town.
How Many Days You Should Plan to Spend in Asheville
You can easily hit the highlights of Asheville and get a sampling of the best restaurants over a long weekend in Asheville. Spending time downtown, in the River Arts District, and exploring Biltmore Estate will give you a flavor of the Asheville experience.
Add on activities like tubing, zip-lining, and hiking if you have more time.
Getting Around Asheville NC
The different areas of Asheville are very walkable, but you'll need a car to get from one location to another. If you plan a trip to Asheville beyond just the Biltmore or downtown, plan to Uber if you won't have a car.
The Best Sights and Activities for Your Asheville NC Itinerary
1. Visit Some of the Best Craft Breweries
Asheville has a vibrant and thriving craft beer scene, sharing some of Colorado's local craft brewing scene with additional locations popping up in the North Carolina mountain town. New Belgium Brewing is the largest producer of craft beer in Asheville. Their tour options include the underground cellar where the craft beers are aged. Colorado native Oskar Blues has a location just down the road in Brevard, NC, offering tours of their brewery and specialty beers on tap. One of my personal favorites is Asheville Brewing Company for their 828 Pale Ale, named for the local area code.
Or head over to Salvage Station for food, fun games, and live music in their backyard, sitting right on the French Broad River.
Other local favorites are The Wedge Brewing Company, Archetype Brewing (we always go to the West Asheville location), Wicked Weed Brewing in downtown Asheville, and Urban Orchard Cider Company in West Asheville.
And yes, they are all kid-friendly spots with most offering alcohol-free options.
If you're lucky to be in Asheville during the third weekend of September every year, don't miss Oktoberfest Beer Fest. With over 100 different breweries from all over America pouring samples of their finest craft beer, this is a must-visit for any beer enthusiast. Update for 2021: The annual Oktoberfest is on pause during the pandemic. Visit their website for updates.
2. UNC Asheville
We love college towns and often stop by the local campus for fun little discoveries (like the big tree swings at Wake Forest or University Pond on the University of Colorado campus in Boulder). The UNC Asheville campus has fun little finds like the Botanical Gardens and a bee hotel!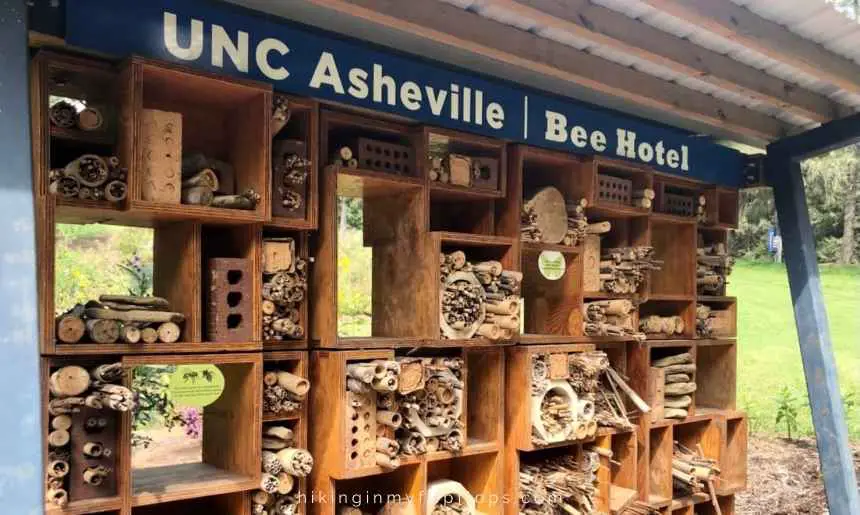 3. Omni Grove Park Inn
The elegant hotel is situated on 27 acres overlooking downtown Asheville. The hotel was built in 1913 as one of America's most luxurious resort destinations. The Omni Grove Park Inn has been restored to its original beauty and charm. It's an iconic symbol of Asheville history and is now listed on the National Register of Historic Places.
This stunning mountain lodge features 89 guest rooms with views overlooking lush gardens or downtown Asheville. The Omni Grove Park Inn Spa will give you just the pampering you need in a space filled with water features and mineral pools.
Check out season events, like the annual National Gingerbread House Competition during the holiday season – the kids will be more than impressed at the magnificent creations.
4. River Arts District
Spend an afternoon exploring the River Arts District. You can head to a studio and watch artists work or browse boutiques from local craftspeople and artisans. This is the perfect way to explore some of Asheville's most vibrant creative communities.
5. Tubing on the French Broad River
The French Broad River is a beautiful river that runs through the heart of Asheville. If you're looking for an outdoorsy yet relaxing afternoon, grab your bathing suit and tubes and head to the river. The wide river flows calmly, making it a great family activity. The waters were so calm that we floated along with a group who had a tube set up with wine and a cheese board spread!
French Broad River Adventures and Zen Tubing are two popular outfitters for tube rentals and transportation to and from the river.
6. Drive the Blue Ridge Parkway + Craggy Gardens
The scenic drive along the Blue Ridge Parkway is a must-do for anyone visiting Asheville. The route offers panoramic views of North Carolina's mountains and valleys and the opportunity to see some of the most beautiful overlooks in America.
You Might Also Like: The Complete Road Trip Food List: 44 Road Trip Meals + Snacks for Your Next Adventure
The drive is a little over 200 miles long, and many of the sections are open year-round. It's a perfect way to see more of Asheville from a higher altitude, something you don't get when exploring on foot or by car.
Pack up a picnic lunch and hop onto the scenic drive near the Biltmore Estate or the Western North Carolina Nature Center and take the scenic route to Pisgah National Forest. Make a stop at Craggy Gardens to see the rhododendrons blooms in the summer and hike the 1.4-mile trail to Craggy Pinnacle for breathtaking views of the Blue Ridge Mountains.
7. Explore Downtown Asheville
Downtown Asheville is filled with activity, from visiting the iconic Basilica of Saint Lawrence to dining at one of many delicious eateries (like Tupelo Honey, an Asheville staple and one of the best places to go for Southern comfort food). This mountain town does not have any prominent attractions or museums. Still, it's an excellent place for locals and visitors to grab a bite to eat, take in some art on display in local galleries, or just people-watch.
Pack Square Park
Head over to Pack Square Park, where locals are often found playing pickup games, kids playing in the fountains at Splashville, and street performers. It's also a superb spot for live music performances by local musicians in the summertime.
Friday Night Drum Circles
Nearby Prichard Park is home to the Friday night Drum Circle, a free event that generally runs from late spring to early fall. It's one of the most unique things to do in Asheville – and anyone is welcome to join in!
Asheville Pinball Museum
This fun museum is one of the most unique attractions in town and is a fun spot for kids (of all ages) to spend some time playing. Adults love to revisit some of their childhood favorites at the Asheville Pinball Museum.
The Asheville Art Museum features rotating contemporary exhibits and permanent collections on display. Grove Arcade is home to more than 30 local shops that cater to locals and visitors alike.
Malaprops Bookstore and Café
Book lovers won't want to miss a stop at Malaprops on their Asheville NC itinerary. The unique bookshop focuses on uncommon books and carries titles from major publishing houses and independent presses. The store also has an extensive selection of rare, out-of-print, and used books.
Mast General Store
There are a few locations around North Carolina, but it's fun to stop in any one of them. Mast General Store is filled with souvenirs, home decor, clothing, toys, and barrels of bulk candy. When you plan a trip to Asheville, NC, with kids, this is one stop we highly recommend.
8. State Parks and National Forests
Asheville is well-known for its outdoorsy culture. And why wouldn't they be with those beautiful Blue Ridge Mountains and plentiful opportunities for outdoor adventures at nearby state parks and national forests? Favorites are Pisgah National Forest (about 40 minutes from downtown Asheville) and DuPont State Recreational Forest (about 50 minutes from downtown).
Pisgah National Forest
Catch the Pisgah National Forest for some of the best hiking in Asheville. The forest is perfect for those who want to spend hours on a trail, but there are also opportunities for a quick day hike with shorter trails and views at all levels.
DuPont State Recreational Forest
Find your way deep into DuPont State Recreational Forest. You'll find 20 miles of hiking trails that range from easier terrain to more challenging hikes for those who want an extra challenge.
9. Zip Line
This recommendation is from my niece, who has lived all of her 12 years in Asheville. Her new favorite spot is the Asheville Treetops Adventure Park, where she spent her last birthday zip lining with her friends. They have lots of outdoor adventures just 5 minutes from downtown.
10. Biltmore Estate
No matter what you read or hear about things to do in Asheville, the Biltmore Estate always gets a spot on a recommended Asheville NC itinerary.
The Biltmore Estate is a collaboration between George Vanderbilt and Frederick Law Olmsted, Jr., America's foremost landscape architect of the 19th century. The National Historic Landmark spans 175 acres with over 250 rooms.
The magnificent home of the Vanderbilt Family is always a draw to the city, and for good reason. The 8.000-acre estate is filled with outdoorsy activities like hiking, biking, horseback riding, and fishing. Indulge yourself with a spa day, a wine tasting at Biltmore Winery (made from grapes grown on the estate), and, of course, a tour of the Biltmore House, which features guided tours led by costumed actors that take visitors back in time to experience Vanderbilt's world at Biltmore Estate.
Add the Antler Hill Village (also commonly known as Biltmore Village), a quaint downtown area with boutique shops, exceptional dining options at more than 10 restaurants and eateries, and several events to all there is to do at the Biltmore and you'll quickly realize your Asheville weekend itinerary could be only at the Biltmore Estate. The kids will love to run, play, and visit with the farm animals at The Pisgah Playground and The Farmyard in Antler Hill Village. 
Related Reading: Unexpected Adventure: Things to Do With Kids in Charlotte North Carolina
Bonus. Smoky Mountains National Park
If your Asheville NC itinerary allows for a day trip, drive to the Great Smoky Mountains National Park. The country's busiest of the US national parks is filled with hiking and other outdoor adventures. The drive from Asheville is just 2 hours, making it an easy day trip with plenty of scenery along the way.
The Best Places for Food in Asheville
Where the Locals Eat
We know the West Asheville eateries the best and can't wait to try my sister's favorite new spots each time we visit.
The best spots for breakfast on your Asheville weekend itinerary is Sunny Point Café and Biscuit Head for a delicious southern breakfast, where you can pick up a few bottles of their sauces to bring home with you. Both are located in West Asheville with additional Biscuit Head locations in East and South Asheville.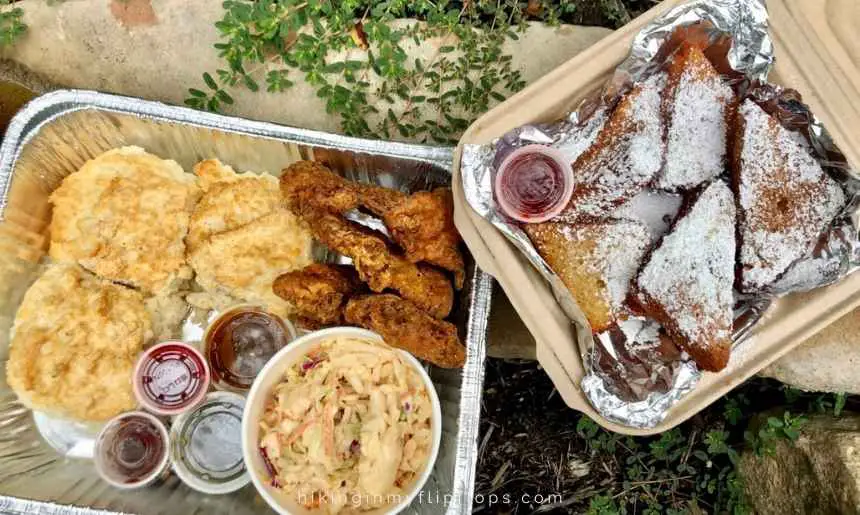 White Duck Taco Shop is the must-try on your Asheville NC itinerary in the River Arts District. Or grab a bite from one of the food trucks at The Wedge while sampling some beers. Love BBQ? Then Smokey Park Supper Club is the place to go (or head to 12 Bones Smokehouse, which is also a favorite of the Obama's, who have stopped here a few times over the years).
On your way to the Biltmore Estate, stop at Juicy Lucy's Burger Bar and Grill for one of the most incredible burgers in town. Universal Joint in West Asheville (or UJ as the locals call it) serves traditional pub fare with a rotating selection of local craft beer. Haywood Common has a seasonal selection of American dishes from locally sourced food (and local beer selections, of course).
Two of the best spots in downtown Asheville are upscale Cúrate for delicious tapas and the southern staple (and Asheville original) Tupelo Honey.
Have you visited Asheville? We'd love to hear the top spots on your Asheville NC, itinerary!
---
Click below to save these ideas for your Asheville weekend itinerary on Pinterest!