Alabama is known for many things – like football and the rich history in Civil Rights – but not many realize it is also a fantastic family beach destination. Who knew there would be so many things to do on Dauphin Island, Alabama's sunset capital?
It's been almost 15 years since someone in my family suggested we go to Alabama for our annual family vacation. At first, I thought the idea was crazy (why weren't we looking at North Carolina or Florida?). But we've been back every year since then and have explored every corner of the island and beyond. We've pulled together the very best of things to do on Dauphin Island.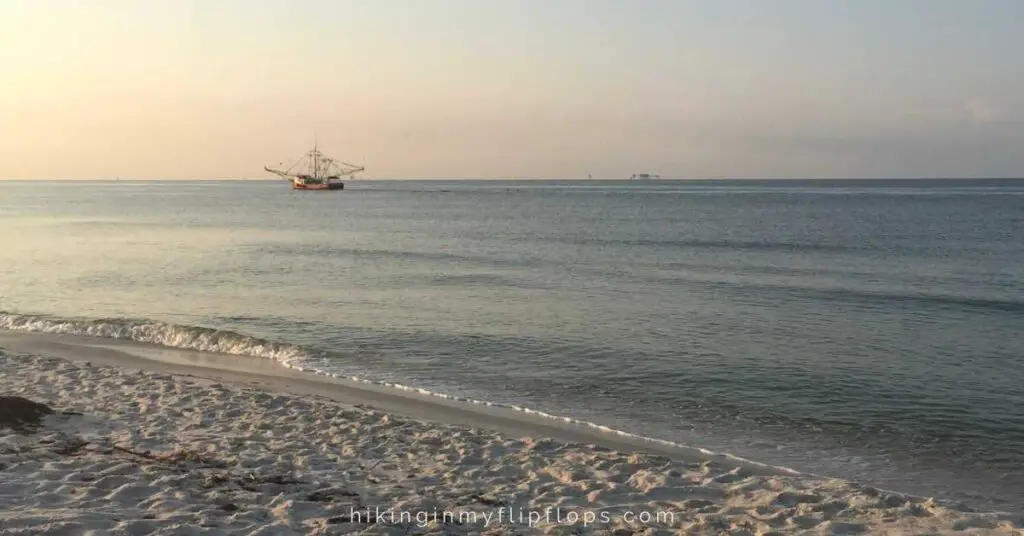 About Dauphin Island, Alabama
Often mistaken for "Dolphin" Island, the small island about an hour south of Mobile, Alabama, has quiet beaches and a relaxing atmosphere. While plenty of dolphins are found in the gulf waters, the island's name is rooted in French royalty. Read more about the island's history here, including why it was initially called Massacre Island.
Dauphin Island is a wide but short barrier island that spans 7 miles east-west. The island's northern side is the bay, a favorite spot for fishing. The southern half is the gulf, lined with beaches and rental houses.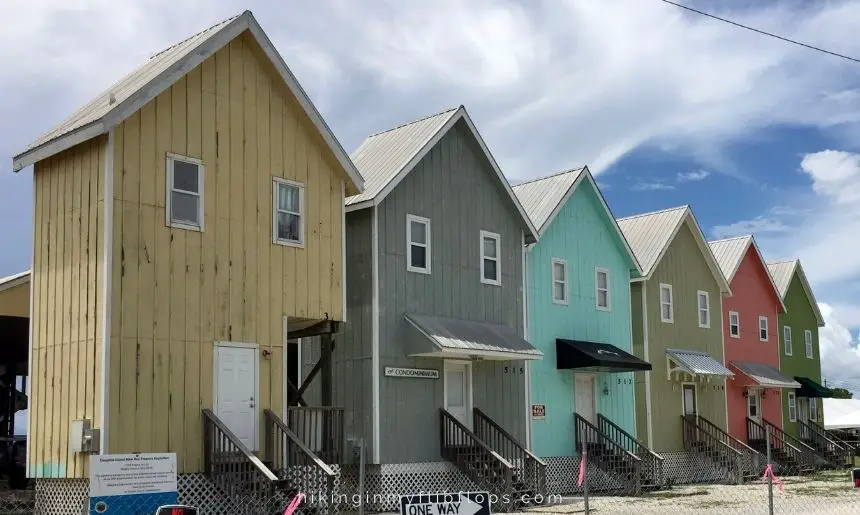 Can You Drive to Dauphin Island?
Yes! In fact, one of our favorite moments each year is crossing the 3-mile long Dauphin Island Bridge that connects visitors to the island. You can reach Dauphin Island from Mobile by car in about 45 minutes.
Why We Love Dauphin Island
The lazy days with family, spent watching the waves and all the little sea creatures. The local adventures, like the one we had on an airboat while scouting out alligators at a nearby swamp. And pulling up a chair for a dinner of the freshest shrimp, crab, and oysters you can find.
But most of all, it's the small town, family-friendly feel to the island that makes Dauphin Island our summer destination year after year. No over-crowded beaches or heavy traffic every time you venture out, and every minute here feels like island time. As relaxed as it is, there is so much activity on the island, and adventure is never far away.
15 Fun Things to Do on Dauphin Island
Hit the Dauphin Island Beaches
1. Swim and Play in the Gulf
Spend the day swimming in the Gulf of Mexico tops our list of things to do on Dauphin Island. The gulf waters are much calmer than ocean waves but still have plenty of waves to jump. This makes it the perfect place for little ones to get used to waves without it being too overwhelming for the kids and parents.
We pack up snacks for the day (we take a few ideas from our favorite road trip meal and snack ideas that pack well), so we're not running back and forth to the house all day. And don't forget to bring all your favorite beach gear for the water too. We anchor a giant float to lounge in the water (though we have our eye on these floating water mats for next year), catch the waves with a boogie board, or glide along the water's edge on a skimboard.
2. Take a Kayak or SUP Out on the Water
We pack up our inflatable kayaks to paddle around the island. (We have the super-portable Intex Kayaks: Intex Challenger K1 Kayak, 1-Person Inflatable Kayak Set with Aluminum Oars and High Output Air Pump
). You can also get out onto the water on jet skis, pontoons, or SUPs – all are available for rent on the island.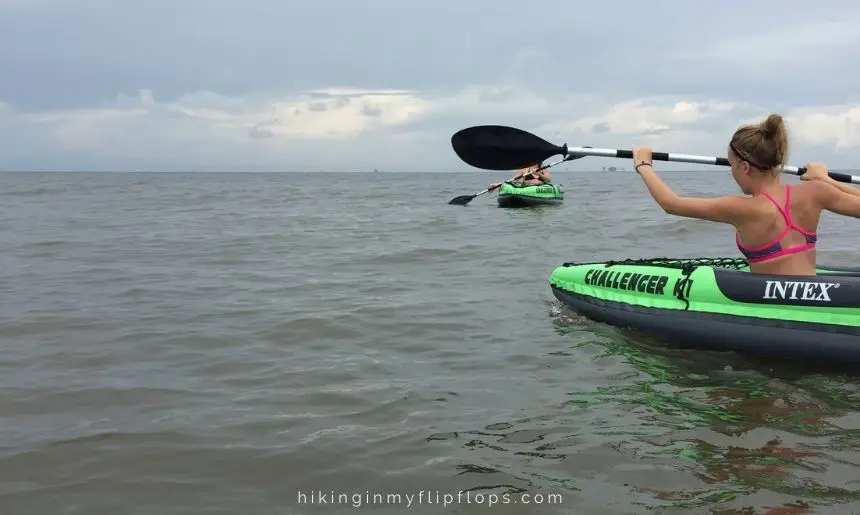 3. Go Fishing
Dauphin Island is one of the most epic fishing destinations and a great outdoorsy activity for families. Anyone who enjoys fishing should have this on their itinerary of things to do on Dauphin Island. The island's bayside is set up for quick boat access out into the waters for a day of fishing. People line the beach on the gulf side in the mornings with their fishing poles propped up for a big catch.
Want to fish with the pros? Take a chartered boat out into deeper waters with experienced fishermen (and women) at outfits like SickleFin Charters and Get Tight Charter Fishing.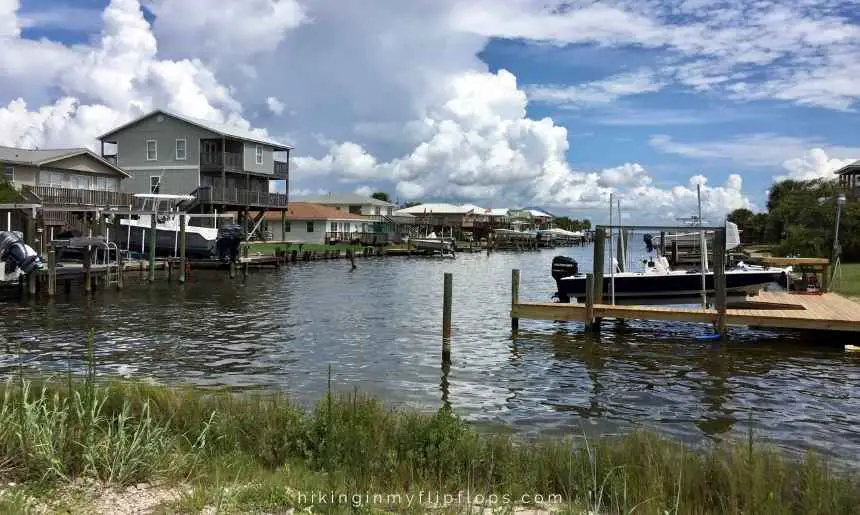 4. Take a Stroll and Search for Wildlife
Walk anywhere along the 4 mile stretch of beach on the gulf side of the island, and you'll most certainly come across all sorts of beach critters and wildlife. We've found tiny little clams that dig their way back under the sand after waves of water recede back into the gulf. Sand crabs scurry away and back into their holes in the sand. Pelicans and seagulls dive-bombing the water, catching their lunch. And out on the water, you'll often catch the dolphins playing in the water (tip: when you see the shrimp boats out, there are almost always dolphins following along).
Keep in Mind: Summer is turtle hatching season on the island. Baby turtles will make their way into the water, guided by the light of the moon. It's tempting to check out the beach critters after dark, but lights from flashlights confuse the baby turtles. Any turtle nests on the beach will be well marked.
5. Check Out the Local Events
There is often something going on around town. From the free family movies nights at West End Beach. Epic fireworks on the 4th of July. And, most notably, the Alabama Deep Sea Fishing Rodeo, which is recognized as the world's biggest fishing tournament. The calendar of events and other things to do on Dauphin Island can be found on the town's website.
Learn About the Rich History of Dauphin Island
There was a time when we thought the island was all about going to the beach. Over the years, we discovered all the things to do on Dauphin Island to experience the area's rich history. Learning might not be on the list of things to do on Dauphin Island – or any beach vacation, really -but these interactive experiences are well worth it.
You know the phrase "Damn the torpedos! Full speed ahead!"? That came from Admiral Farragut, right here at Fort Gaines. Located on the most eastern point of Dauphin Island, the fort is most well-known for the Battle of Mobile Bay. Stroll the fort's grounds and explore around the original cannons, tunnels, and living quarters of the soldiers from 150 years ago.
7. Indian Shell Mound Park
Shell Mound Park is another shady spot to explore on the island. See the remnants of oyster shells and fish remains that are estimated to date all the way back to as early as 900 BC.
At the 11 acre park, you can explore the shell ridge and the shell ring. These two features are thought to be seasonal gathering sites for the indigenous people that lived in the area.
8. Visit the Little Red School House
The Welcome Center on Dauphin Island, Alabama, has a museum where you can learn all about the island, its history, and the points of interest around the island. There is also an art display, a library with books and games, and a gift shop to pick up some unique Dauphin Island souvenirs.
The Nature-Based Things to Do on Dauphin Island
9. Visit The Sea Lab and Estuarium
On the way into Fort Gains, you'll pass the Dauphin Island Sea Lab. This state-run research facility focuses on oceanic and coastal research and offers educational programs. Mobile Bay, the body of water northeast of the island, is the fourth largest estuary in the US. The Estuarium at the Sea Lab lets visitors learn all about it.
Even when you aren't on the island, you can still participate in the Dauphin Island Sea Lab virtual programs.
10. Hike through the Audubon Bird Sanctuary
We stumbled across this one year and loved the little escape from the sun and sand. The Audubon Bird Sanctuary covers 164 wooded acres and is home to hundreds of bird species. The 1/2 mile nature interpretive trail and educational signage around the park teach visitors about the area's ecosystem.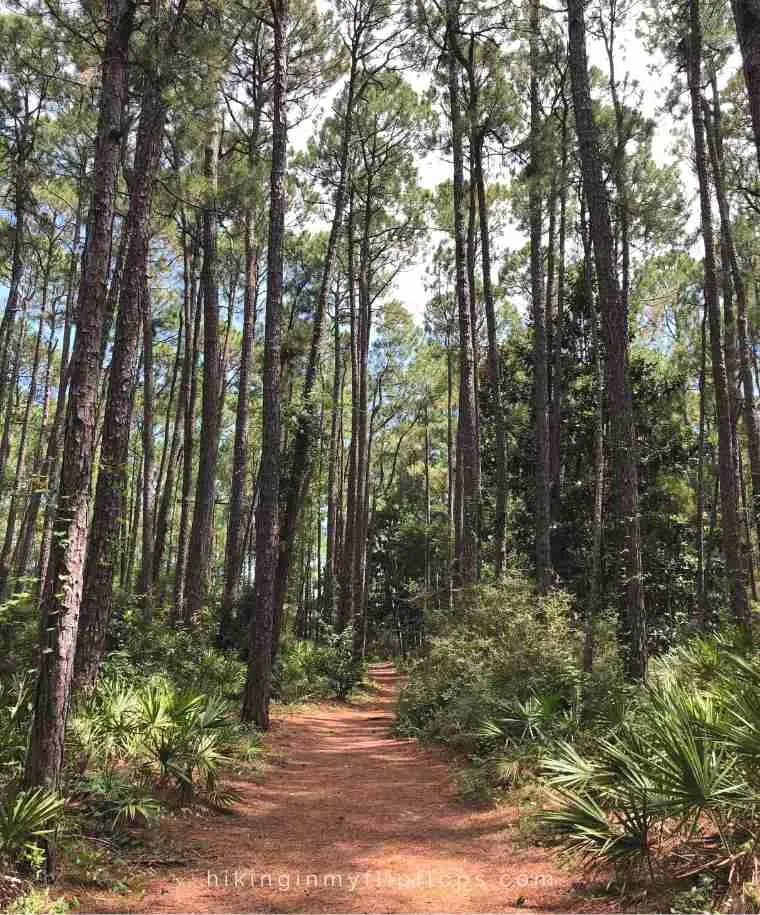 11. Go on a Dolphin Watching Tour
Book a dolphin-watching tour on The Duke with Action Outdoors if watching dolphins from afar isn't enough. The tour includes an up-close view of the Sand Island Lighthouse and an opportunity to touch shrimp and other critters caught in the shrimp net during the tour.
Exploring Around Dauphin Island
12. Take a Bike Ride
Nearly everywhere on Dauphin Island is bike-friendly. Bienville Blvd is a stretch of road that runs almost the entire length of the island, with a lane designated for bikes to safely travel from many of the beach houses into the center of town. You don't even need to bring your own bikes – there are plenty of rentals on the island.
13. Play a Round of Golf
Have golfers in your group? Check out the 18-hole Isle Dauphine Golf Club that sits right by the water. It's part of the Isle Dauphine Complex, where the non-golfers can relax at the pool and cabana while the golfers play a round.
14. Shop the Island Boutiques for Souvenirs
Shop at one of the boutiques and souvenir shops on the island. Our favorite is the Happy Octopus for cute clothes and jewelry. You'll find shops along Lemoyne Dr. and Bienville Blvd.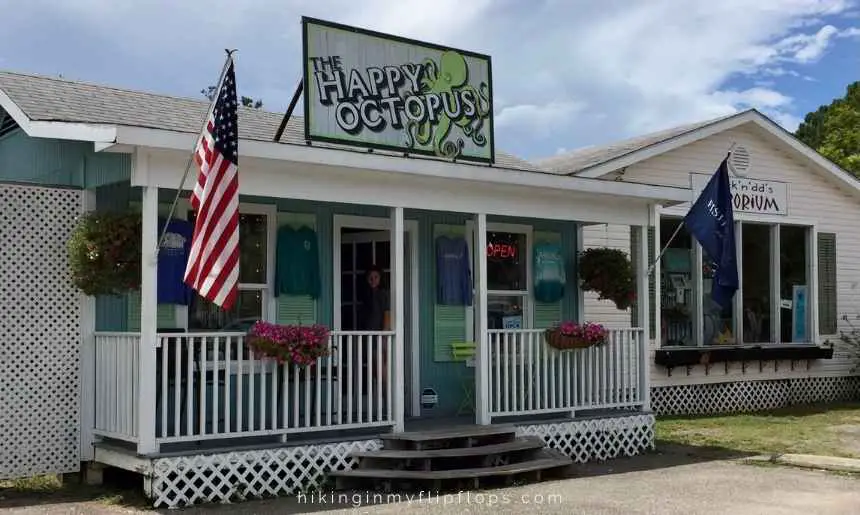 15. Ride the Ferry
Near Fort Gaines, you can hop on the ferry to Gulf Shores. The kids have always loved this one because this ferry carries cars too. The line for the ferry can get long in the peak season, so plan this for a day when you have nothing else scheduled. The 45-minute ride across Mobile Bay drops riders off at Fort Morgan, another historic site that is fun to explore.
The ferry departs about every 90 minutes from both ports and costs around $50 for a family of four (round trip). Check their website for current ticket prices and schedules.
Day Trips From Dauphin Island
Over the years, we've made many day trips from Dauphin Island to experience areas beyond the island. While there are plenty of things to do on Dauphin Island to keep us busy, there is a lot to do nearby too. These are a few of our favorite adventures over the years.
New Orleans
New Orleans is just 2.5 hours from Dauphin Island, making a great day trip to the Big Easy. Walk along the streets of the French Quarter and through Jackson Square. If you want to venture over to iconic Bourbon Street with the kids, we recommend going during the daytime when it's a little more kid-friendly. Make sure to stop for beignets (Cafe Du Monde is THE place to go) and at any one of the many restaurants serving up a bowl of gumbo.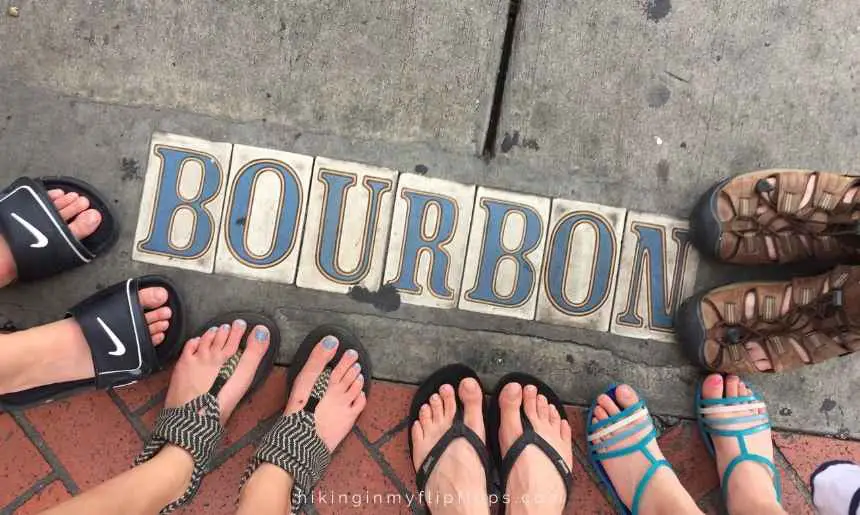 Visit a Gator Farm
Up for some real adventure? Head just over the Mississippi border to visit The Gator Ranch for an airboat tour and see the alligators. The tour guides take visitors on a ride through the swamp while pointing out gators lurking in the water. When you spot one, there will be plenty of marshmallows on board to toss the gators a snack.
Word of warning: when the tour guide tells you to secure all small items (like wallets and phones), take them seriously. One of our riders ended up with credit cars and driver's license shredded up in the fan of the boat!
Gulf Shores
Make it a day with the ferry ride to the other side of the bay. Gulf Shores is the more traditional beach town, with lots of shops, restaurants, and activities to pack in a full day. Our favorite spot to visit is Lulu's, a restaurant owned by Jimmy Buffet's sister. This restaurant is growing into a small chain, but the food is delicious, and the restaurant has a fun, beachy vibe.
Explore all the things to do during your visit to Gulf Shores here.
Where To Eat on the Island
One of my favorite things to do on Dauphin Island is to eat! We're always on the island for the entire week, so we like to mix things up while we're there. We always stop at our favorite restaurants, pick up local seafood to cook at home, or catch some of our own.
The Best Restaurants on Dauphin Island, Alabama
Where to Get Fresh Caught Seafood on Dauphin Island
There are 3 things you must order when dining at one of the many restaurants on Dauphin Island: fresh-caught fried oysters, fried crab claws, and steamed royal reds (shrimp). And we always get them from two of our favorite spots: JT's Sunset Grill and Capt'n Snapper's.
JT's can be a little tricky to navigate: no alcohol is served here, so you'll have to head upstairs to the Pelican Pub for a beer with your fresh seafood. Once you place your order at JT's, they'll deliver it to you up at the Pelican Pub. Kids aren't allowed in the pub, though. It's taken us a few years to figure it all out, but it's either bring the kids or go out for crab claws and a beer – but not both.
Capt'n Snapper's seems to have a new name every few years but is consistently pretty darn good.
The Lighthouse Bakery
This is a must-stop for cinnamon rolls! They have so many other baked goods and delicious coffee in a historic home just off Chaumont Ave. The family-owned and operated bakery is closed on Mondays and Tuesdays.
Pick Up From a Local Fisherman
This is by far my favorite. After watching the shrimp boats trolling the waters all day long, hit the local seafood shops to buy the day's catch. We make a stop at Skinner's on Bienville Blvd for a few pounds of fresh shrimp for our annual shrimp boil. It's an effortless meal to make and easily feeds a crowd.
While Skinner's isn't technically one of the restaurants on Dauphin Island, the team will cook the seafood for you if you don't want to or can't cook it at home. They also carry some groceries for simple seafood dishes.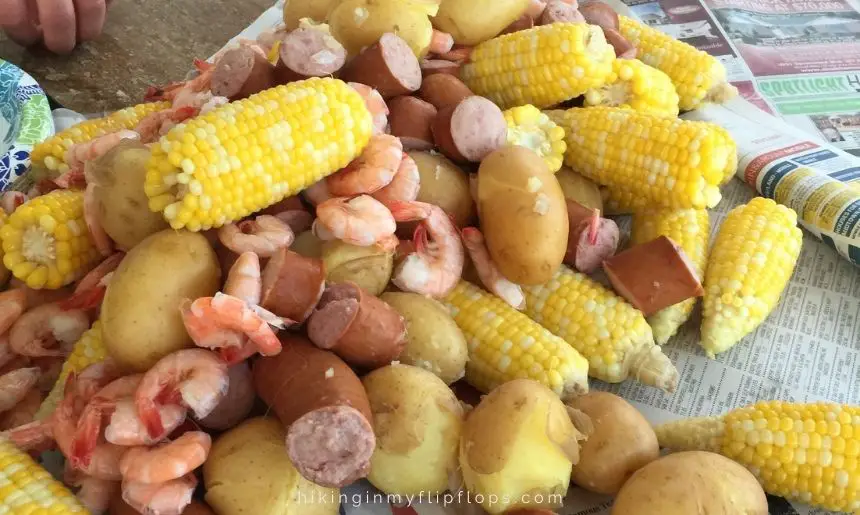 Catch Your Own Seafood
With all the fantastic fishing spots on the island, this is an excellent chance to catch your own seafood to cook at home. This is one unique experience you won't want to miss on the list of things to do on Dauphin Island.
We picked up a crab trap a few years ago and set that out one or two days to catch some fresh crab during our visit. Pick one up at Ship & Shore on the island. The peak season for crabs is March through November, so you're sure to find a least a few in your trap.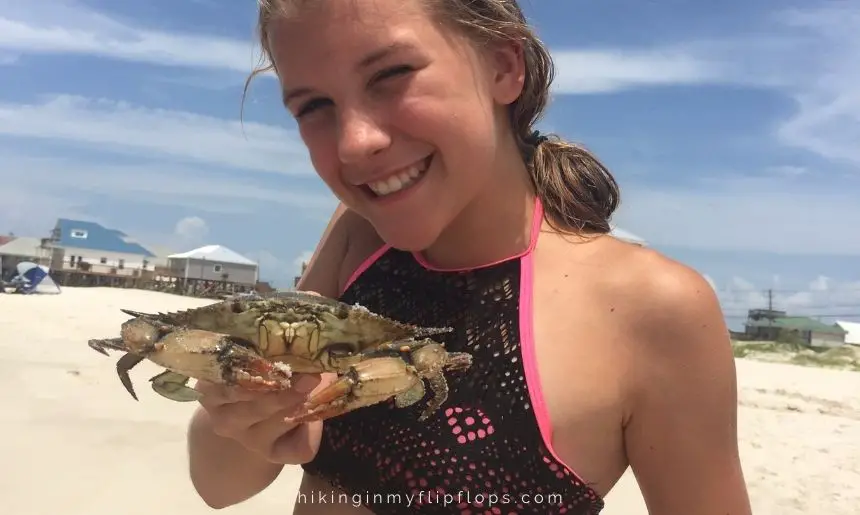 Where to Find Groceries on the Island
Grocery stores are pretty limited on the island. Ship & Shore is well stocked (with groceries and seemingly everything else) but isn't cheap. For a better selection, especially fresh produce and meats, head off the island to Greer's.
Dauphin Island Lodging
The best way to experience all the things to do on Dauphin Island is to stay at least a few days on the island. There are a few options for accommodations that fit almost every need.
Beach House Rentals
The best Dauphin Island lodging is at one of the many beach house rentals. Because of the island's shape, there are a lot of rentals that sit right on the water's edge and are large enough to hold the entire family. Choose either the bayside (north) or gulf side (south).
With many of the rental houses are right on the water, you'll get easy access to the beach. And this means you'll get to leave a lot of your beach gear there throughout the day, or even overnight – no need to pack up and haul everything back and forth. This was a lifesaver when the kids were too little to haul all their sand toys in each night.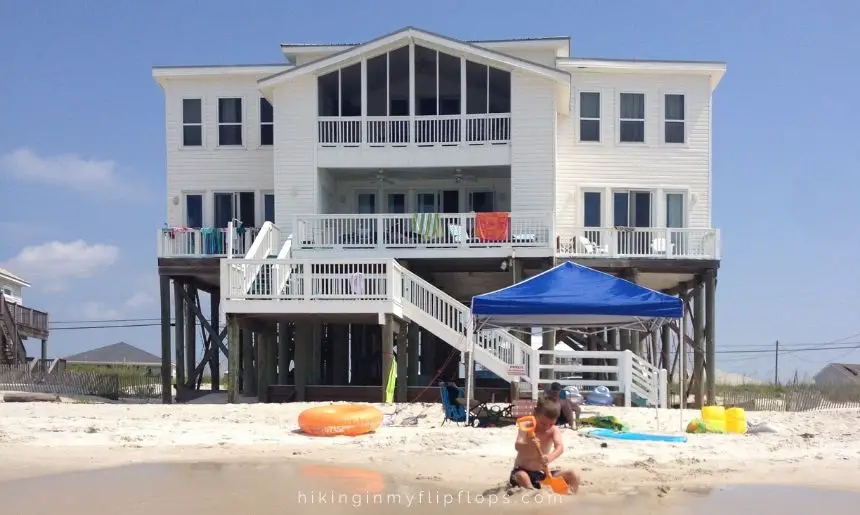 Hotels on Dauphin Island
Hotels are very limited on the island, but we think this is how Dauphin Island keeps its low-key charm. For something smaller than renting a whole house, the Inn At Dauphin Island has privately owned units but often rented out. Visit their website for available rental units.
The other option is the cutest little motel: the Gulf Breeze Motel. Guests at this family-run motel have access to a boat launch and slip. Some units also have kitchens, so you can still enjoy some of that fresh-caught seafood.
Camping on Dauphin Island
Turn your annual camping trip into a beach trip too! There are not one but two campgrounds on Dauphin Island.
The Dauphin Island Campground has 150 campsites to accommodate tents and RVs (with full hookups). There is private beach access, a full-service camp store, and easy access to sights like the Audubon Bird Sanctuary and Fort Gaines.
The Pelican Nest RV Resort & Campground is a small campground that caters to RV camping. It is conveniently located close to restaurants, shops, and the beach, and there is also a pool onsite.
---
Make sure you check out this little piece of paradise when planning your next beach vacation. Or, if you are looking for west coast beach destinations, check out this post from Henry and Andrew's Guide on a family weekend in Santa Cruz.
Have you visited Alabama's best beach getaway? Let us know your favorite things to do on Dauphin Island in the comments!
---
Click below to save these ideas for things to do in Dauphin Island on Pinterest!