If you've never spent time in Galena Country, this is one town you are missing out on. One of the most charming towns in the midwest is filled with everything you could ask for on a weekend getaway. Main Street is often brimming with groups celebrating their bachelorette party. Whether it's a family vacation or a couple's weekend getaway, these are the best things to do in Galena, IL.
When I married a native Galenian, I had no idea how lucky I would be to visit the historic town so often. We visit a few times a year for holidays and family gatherings, so we're always looking for what to do in Galena on our next trip. Grandparents, cousins, and siblings who still live there have all helped make these recommendations for your Galena IL itinerary.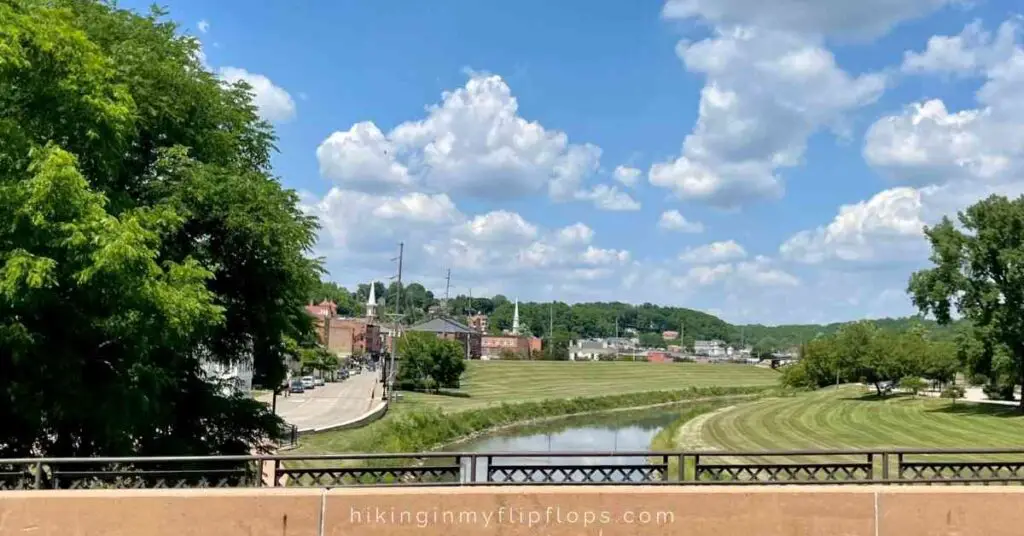 Things to Do in Galena for a Glimpse of History
 A weekend trip to Galena is more than just the historic sites. Sweeping views from the hilly landscape are an unexpected treat in this part of the country – a welcome break from the flat landscapes to the east.
1. Long Hollow Scenic Overlook
Start your weekend visit off with panoramic views of Galena and the surrounding area from the Long Hollow Scenic Overlook in Elizabeth, just east of the historic town.
2918 US Hwy 20 W, Elizabeth, IL
2. Ulysses S. Grant Home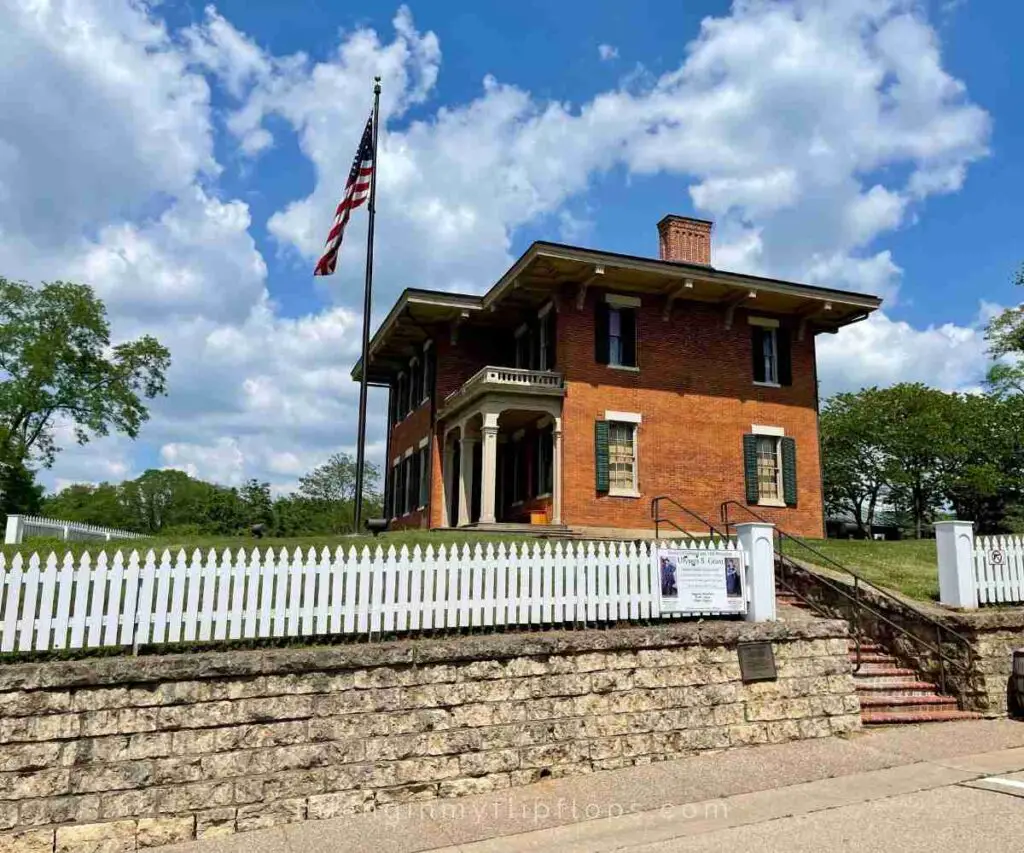 Take a tour of the home that once belonged to the 18th President of the United States. Though Grant and his wife first came to Galena in 1860, they didn't live in the home until 1865, when he returned from the Civil War. They stayed for a few years before his election into office, making occasional visits after that. The Ulysses S. Grant Home was given to the City of Galena by his children in 1904.
Grant's historic house is closed Mondays and Tuesdays. Admission is $5.00 for adults and $3.00 for children.
500 Bouthillier St
3. Ghost Tours in Galena IL
Taking a ghost tour with all the historic buildings in town is often the first response when asked what to do in Galena, IL. If traveling with young kids, it's probably not something to add to your Galena itinerary. However, older kids will appreciate the area's history with the scary spin on the stories. And there is no shortage of places that offer tours:
4. Tour the Historic Town on a Trolley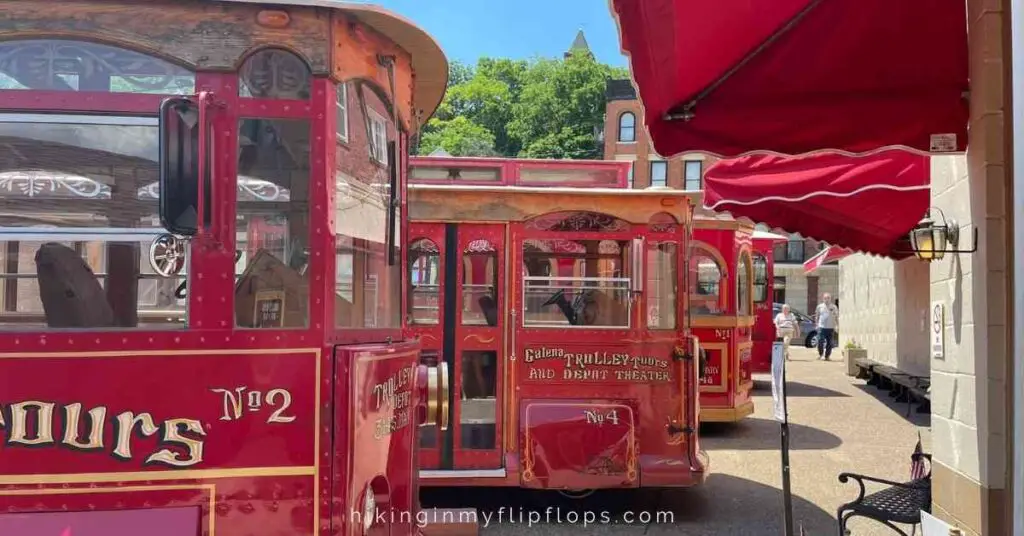 Get all the best highlights of the town's rich history from Galena Trolley Tours. We finally had a chance to ride the trolley last summer with family born and raised in Galena, IL (and still lives there today!) and loved reliving some of his childhood memories through the tour guide's stories.
While you wait to board the trolley, browse the gift shop for souvenirs. After the tour, refuel with coffee, tea, or even snacks next door at Trolley Depot Coffee & Tea Co (315 S Commerce St).
314 S Main St
5. Historic Downtown and Main Street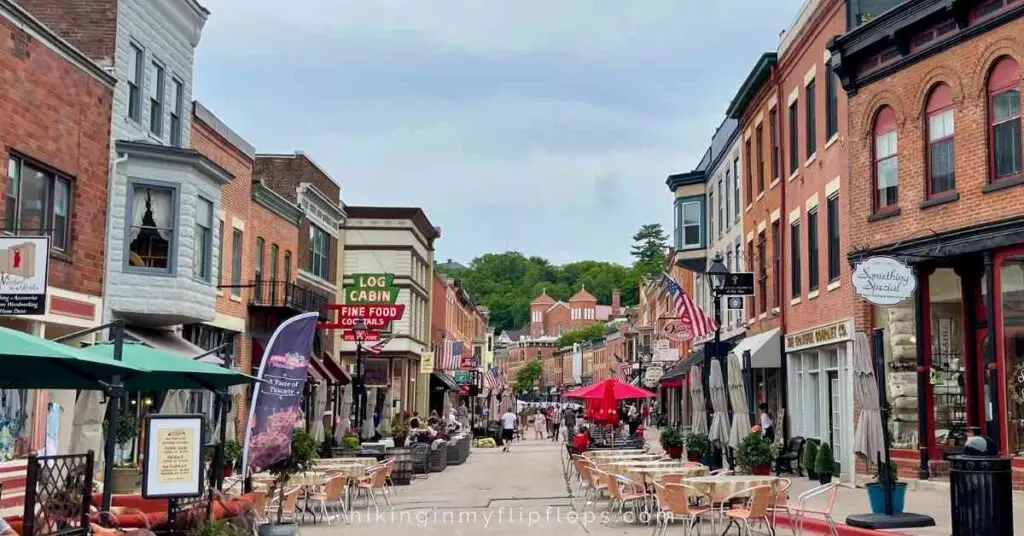 We spend more time strolling Main St in downtown Galena than anything else when we are in town. The quaint street is lined with historic buildings filled with more than 100 locally-owned shops and restaurants. I'm sure we've been into every single one over the years, but we have a few favorites we stop at each time. 
Local Shops
Galena Canning Company (106 S Main St), where Chef Ivo cans his delicious creations, including jams, salsas, and an impressive selection of other condiments and dips. They also carry a wide variety of hot sauces, and we stock up on his queso every time we go.
Poopsies (402 S Main St) for fun and unique gifts and toys, and their sister store Spotsies specializes in fair trade products (across the street from Poopsies)
Restaurants & Treats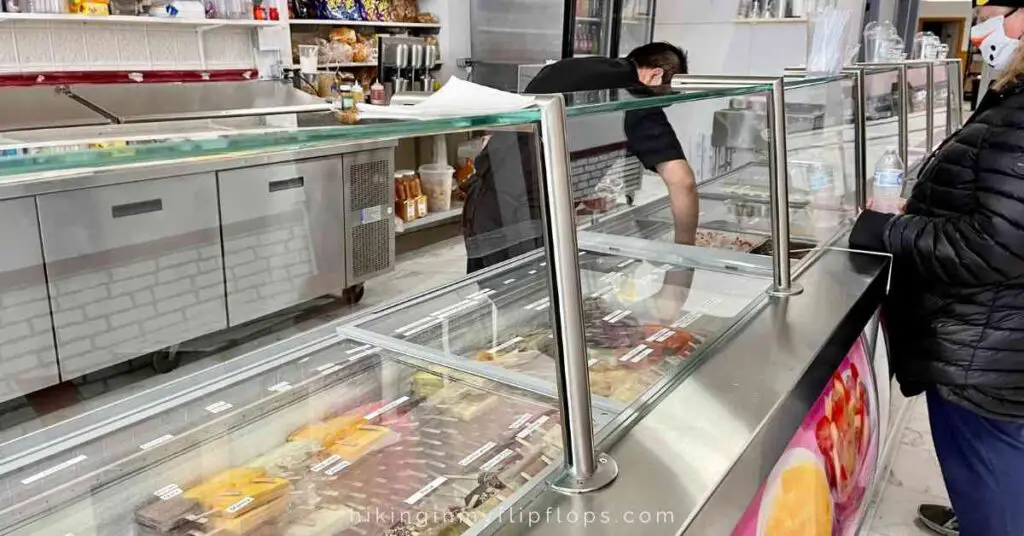 Galena Brewing Company (227 N Main St) is the perfect place to take a break from all the walking. We might be a little partial to Boulder's breweries, but always make a point to grab lunch and a beer at Galena's local brewery.
The kids love the Great American Popcorn Company (115 N Main St) for more varieties of popcorn flavors than you could ever imagine. Still, I always stick with the sweet and salty Galena Mix. 
Ice Cream from Galena Kandy Kitchen (100 N Main St) or, our new favorite that recently opened, La Michoacana Irmanaju (110 S Main St)
Art Galleries
Carl Johnson Gallery (208 Perry St, at the intersection of Main St), River Bend Gallery (112 N Main St), Outside the Lines Art Gallery (101 S Main St), and Skidmore Art Gallery (319 S Main St).
6. Catch a Magic Show
Main Street is home to P.T. Murphy Magic Theater. This impressive magic show is great for most ages (the shows are not recommended for infants and toddlers). While the show isn't about history, the building is undoubtedly historical. The small, 180-year-old theater seats only 24 people who enjoy an hour of a traditional magic show with a uniquely entertaining twist. Wednesday – Sunday; tickets are $30.
204 Hill St
7. Browse Antique Stores
Historic towns are fantastic places to browse antiques. Red's Antiques & Wholesale has two locations in town. One is found on the country roads outside downtown Galena (11658 W Red Gates Rd), and the other is located on Main St (308 S. Main St).
The Galena Antique Mall (8201 US Hwy 20) is another popular spot for hidden gems. Its location on Highway 20 makes it an excellent stop as you get into town.
8. Old Blacksmith Shop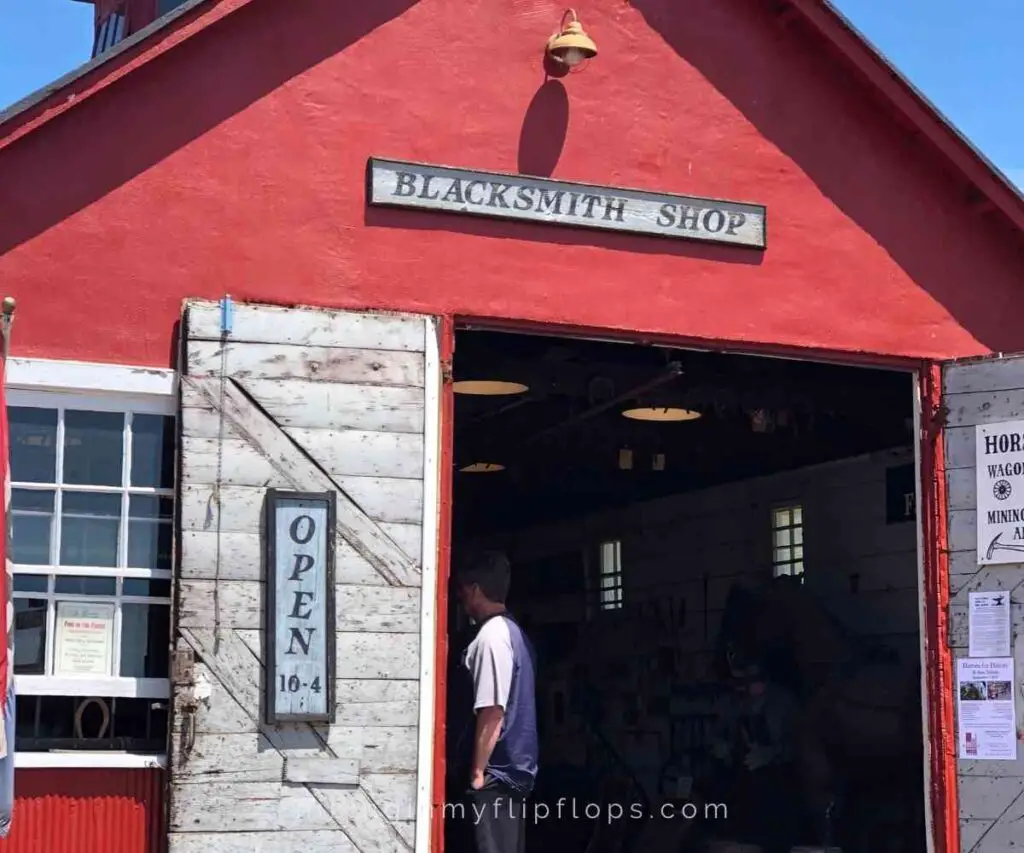 The working forge in downtown Galena is over 100 years old. There are blacksmiths and a historian on-site for visitors to get an authentic look into this part of history. After exploring the historic building, visit the gift shop for local souvenirs. The Old Blacksmith Shop is open seasonally, and admission is $5-15 (kids under 10 are free). 
245 N Commerce St
9. Explore Historic Sites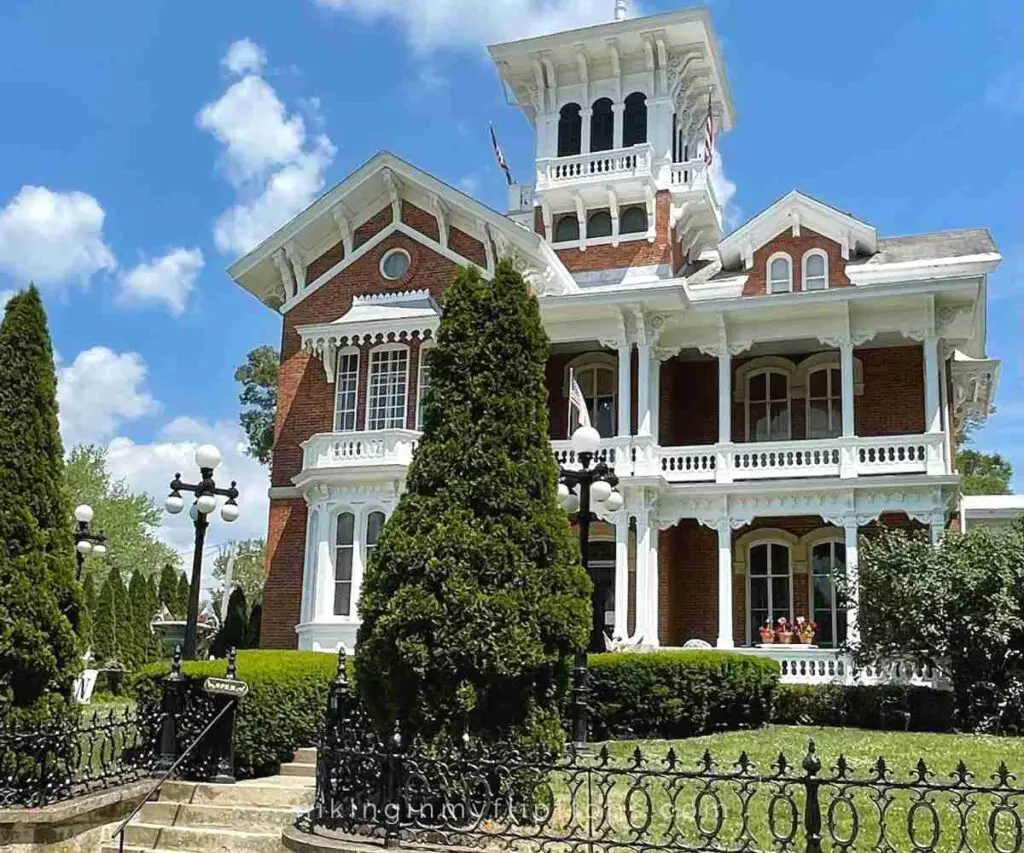 There's more than one historical building in town. History buff or not, if visiting the Ulysses S. Grant Home left you wanting more, see these historic homes in Galena.
The Dowling House (220 Diagonal St) is Galena's oldest house, built by John Dowling in 1826.
Belvedere Mansion and Gardens (1008 Park Ave) is an Italianate mansion built shortly after the Dowling House and is considered the "finest mansion in Galena."
The Elihu B. Washburne House (908 3rd St), the former home of Washburne, an attorney, U.S. congressman, political advisor to Abraham Lincoln, and ambassador to France. The house is open seasonally for tours.
The one-time largest hotel in the west is found in downtown Galena. The DeSoto House (230 S Main St) was built in the mid-1800s and still operates as a hotel today.
Outdoor Things to Do in Galena
It should be no surprise that we would uncover all the best outdoorsy activities in Galena. There are plenty of family-friendly things to do outdoors in Galena, from picnic spots to downhill skiing.
10. Hang Out with Goats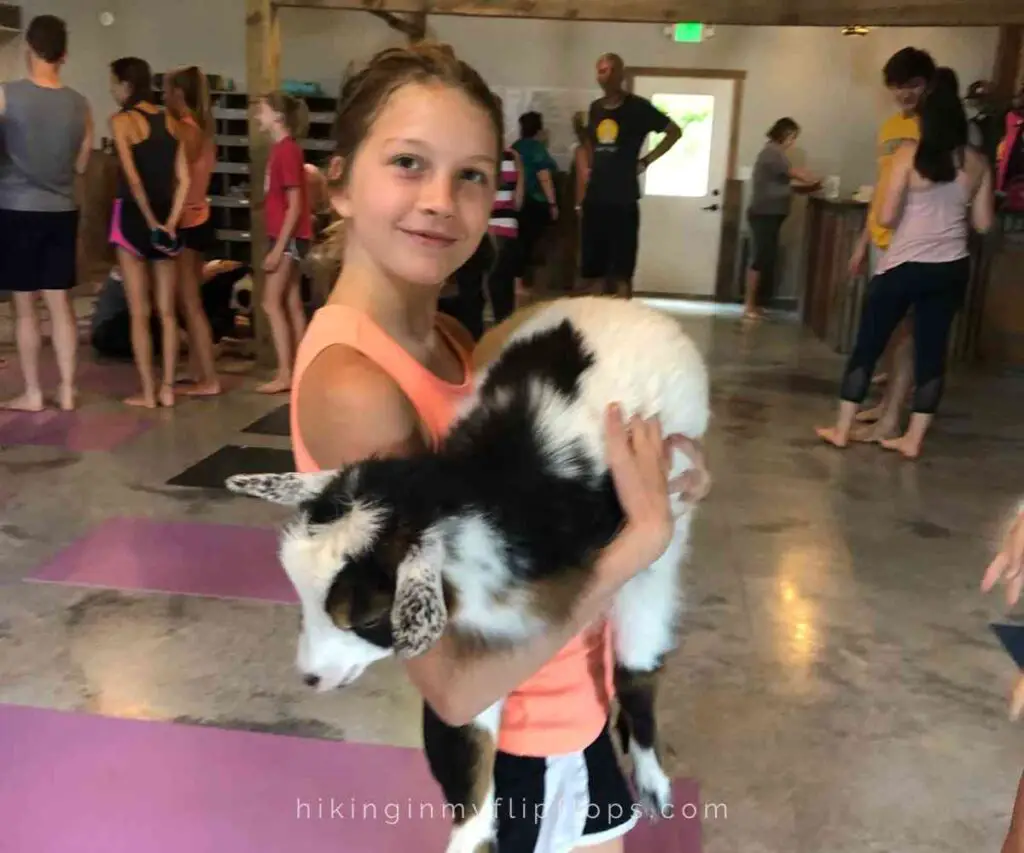 Yes, goats! Two of our favorite activities – yoga and hiking – can be done with goats in Galena, IL. Both are family-friendly activities and make for a very memorable visit.
Book a yoga class (or just have coffee with the goats) online at Galena Goat Yoga (7306 US Hwy 20) or visit HoofIt Galena to schedule a hike or other goat experiences (616 S Devils Ladder Rd)
11. Long Hollow Canopy Tours
Anyone looking for an adrenaline rush should add Long Hollow Canopy Tours to their list of what to do in Galena. The zip lines and an aerial adventure course found on the edge of town are an adventure like no other. It's family-friendly, but check the website for age, height, and weight requirements for going on this adventure.
3247 W Longhollow Rd
12. Play and Picnic at Grant Park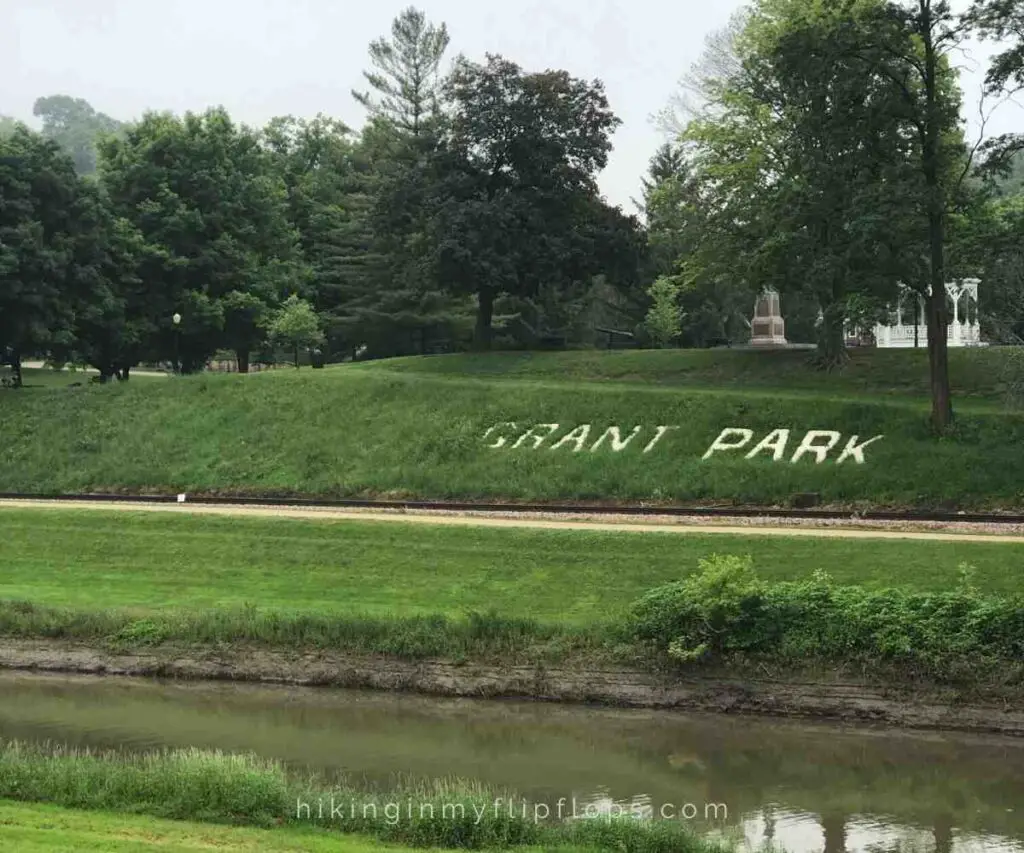 Pick up sandwiches from Bread and Vine Bakery (217 S Main St) and or treats from Galena Bakehouse (421 S Main St) and take the bridge over to Grant Park for a picnic. There are a few historical landmarks in the park and plenty of ways for the kids to burn off some energy. You'll also get great views of downtown from there.
13. Ski at Chestnut Mountain Resort
Galena's own little ski area is a short drive from downtown. While it's no match for Colorado's ski resorts, this midwest mountain is an unexpected spot for some skiing and snowboarding. Its 19 runs (ski lingo for trails) are fantastic for new skiers and boarders.
Chestnut Mountain (8700 W Chestnut Mountain Rd) also has a zipline, segway tours, and an alpine slide making this mountain a year-round destination that overlooks the Mississippi River.
14. Bike the Galena River Trail
Bring your bikes to town for a family biking adventure along the 7-mile Galena River Trail. The paved path is also excellent for walking or running. If you can't get your bikes to town, rentals are available at Nuts Outdoors (336 1/2 Spring St) or Galena River Outfitters (527 S Main St). Find a pdf version of the trail map here.
15. Kayak on the Galena River
You can also rent kayaks from Galena River Outfitters and Nuts Outdoors to explore Galena from the water. Kayak along the calm waters of the Galena River – or get out for a little more adventure on the Mississippi River.
16. Hike at Horseshoe Mound Preserve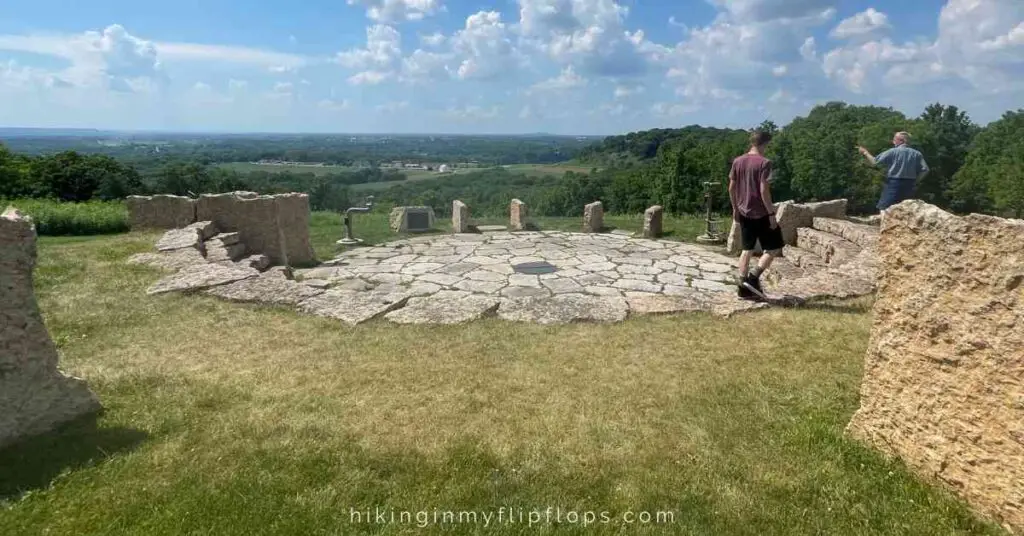 Another excellent spot for breathtaking views of Galena and beyond is from Horseshoe Mound. From this scenic viewpoint, you can see Illinois, Iowa, and Wisconsin. Kids will love learning about the history and natural area from the Dorte Breckenridge Children's Adventure. While the highlight is the views from the main council ring, there are hiking trails to explore more of the 200-acre preserve.
1679 N Blackjack Rd
17. Explore West Street Sculpture Park
Explore the 2-acre unassuming park filled with steel sculptures at West Street Sculpture Park (620 S W St). Galena artist John Martinson has been adding to his collection of impressive works of art since 1986. Take a self-guided tour year-round, from dawn to dusk.
18. Climb the Stairs to the Old High School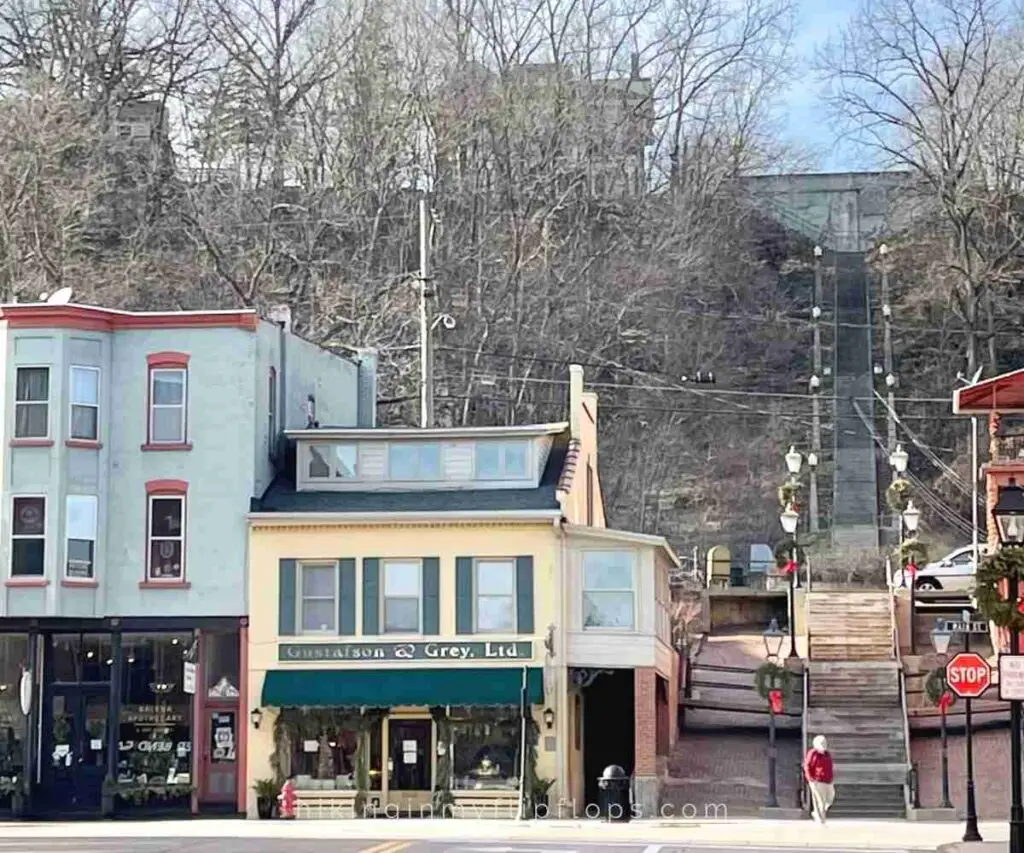 One of my personal favorites! This epic staircase is a physical challenge but is a climb to some great views of downtown. The steep set of stairs, known as the "High School Steps," starts at Main St and reaches Prospect St at the top, where Galena's original high school (where my mother- and father-in-law went to high school!)
19. Linmar Gardens
The privately-owned Linmar Gardens (504 Prospect St) is open for tours. Guests are invited to explore 3 acres of beautiful gardens while the owners speak about the history.
A Few More Ideas for What to Do in Galena
This is just a sampling of all the best things to do in Galena. If you have more time to spend in this beautiful city, here are a few more things to add to your Galena IL itinerary:
Wine Tastings
Galena is a well-known destination for regional wines, with several options to add a bit of wine tasting to your Galena itinerary.
Galena Cellars Winery & Vineyard (4746 N Ford Rd) or visit their tasting room in historic downtown (111 N Main St)
Massbach Ridge Winery Tasting Room (117 N Main St)
Galena Wine Tours (110 Green St)
Galena Center for the Arts
Browse the exhibits or perhaps put an art class on your Galena itinerary at the Galena Center for the Arts (971A Gear St). History buffs will enjoy the historical images of Galena on display, and art lovers will love the collection of works by regional artists. You may even catch one of the live performances hosted by the art center.
Blaum Bros. Distilling Co.
If beer nor wine is your thing, you might enjoy spirits from Galena's own distillery. Take a tour and sample some creations from Blaum Bros. Distilling Co. (9380 US Hwy 20).
Planning Your Trip and Galena IL Itinerary
Complete your Galena itinerary by finding where to stay in Galena and choosing from all the best places to eat in Galena IL. There are many options for both, but we have some favorites.
Where to Stay in Galena IL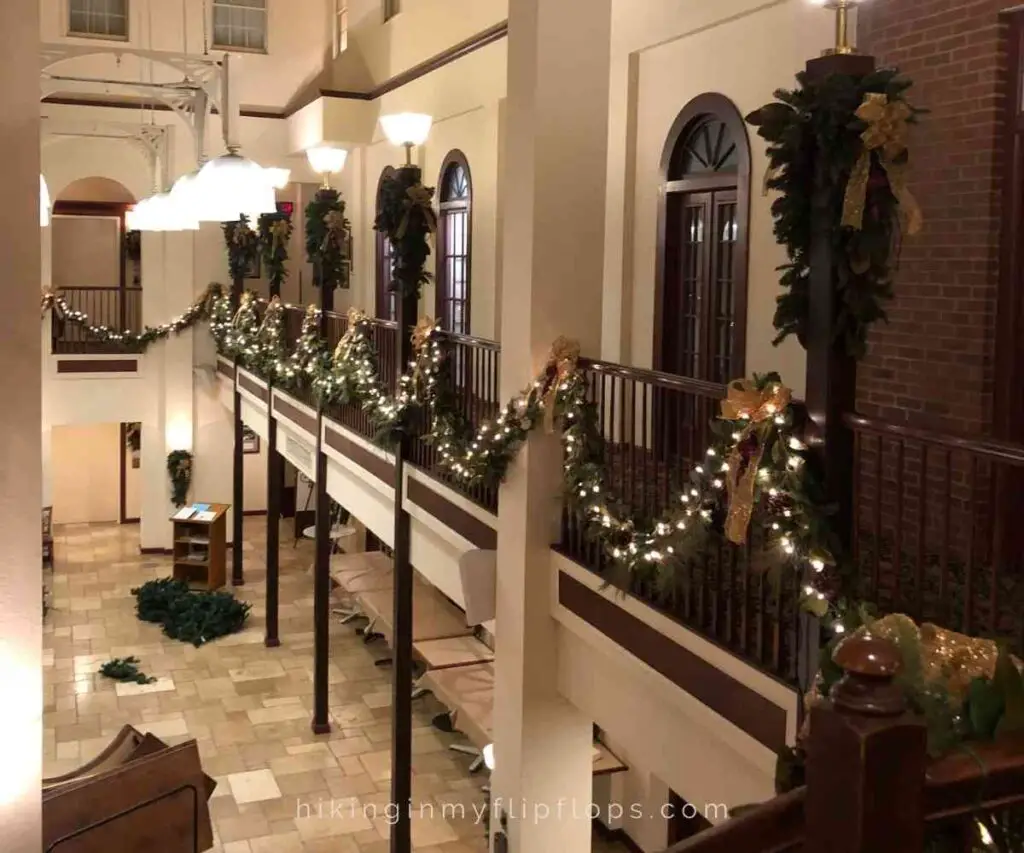 There are several lodging options for your weekend in Galena, IL. From historic to outdoorsy to traditional, here are some of the best places to stay in town.
The DeSoto House Hotel isn't the only historic hotel downtown. The Jail Hill Inn (319 Meeker St) is not only a historical place to stay but a luxury option to save for when you are not visiting with the kids. 
When we're in town, we usually stay with family. However, we'll stay at a local hotel for some pool time every now and then. When finding where to stay in Galena with a pool, we turn to the Stoney Creek Inn (940 Galena Square Dr) and Country Inn and Suites (11334 Oldenburg Ln). The indoor pools here are kid favorites.
Find tent and RV campsites at Palace Campground (11357 US Hwy 20) for a little outdoor adventure during your visit to Galena country. Or skip the tent and book a stay at Galena Log Cabin Getaway (9401 W Hart John Rd)
The Best Places to Eat in Galena IL
In addition to a beer tasting at Galena Brewing Company, it's also one of our favorite stops for lunch or dinner when we're in town.
Grab burgers and other traditional pub food for lunch or dinner at Gobbie's Sports Pub & Eatery (219 N Main St) or Durty Gurts (235 N Main St), located in downtown Galena.
Log Cabin Steakhouse (201 N Main St) is a Greek family-owned restaurant that serves some of the best steaks and delicious Greek food – and one of the best places to eat in Galena. Make sure to order the Flaming Saganaki! 
With Galena's proximity to Chicago, you can also find some excellent Italian cuisine downtown. Two local favorites are Fried Green Tomatoes (213 N Main St) and Vinny Vanucchi's (201 S Main St).
Visiting with the kids? Take them for pizza at Happy Joe's (9919 US Hwy 20). They'll love playing at the arcade while waiting for dinner and one of the famous ice cream sundaes afterward. While there, make sure to try their taco pizza, a Galena favorite.
---
If you're looking for a fun destination with several sights and activities, historic Galena Country is a place where there is something for everyone, from outdoor adventures and sightseeing to shopping and dining – a getaway that the whole family can enjoy. This midwest town is one you don't want to miss on your next weekend away. Use this guide to start planning your Galena IL itinerary today!
---
Click below to save these things to do in Galena, IL, on Pinterest!