The more you hike with your kids, the more you learn about what motivates them on the trail. We know our kids don't hike well when they are hungry. And even if they are not, stopping for water and a snack is a quick distraction to get them going again. One of our go-to trails snacks is granola bars (what's more iconic than eating those crunchy Nature Valley granola bars in the woods??). Still, I wanted to change it up for something different – healthy snack bars that we could make at home. That's when I pulled out this recipe for Backpacker Bars.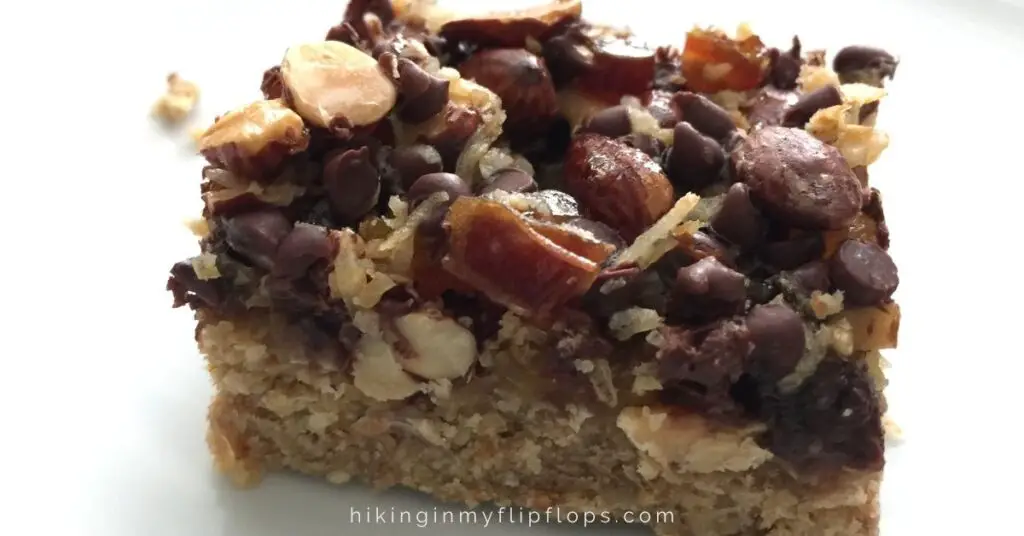 A Throwback Recipe
I'm not really sure where the recipe came from, but I remember my mom making them when I was a kid. The trail mix-like topping isn't as messy as trail mix (seriously, trail mix seems to spill everywhere). The crust is packed with good-for-you whole wheat flour and wheat germ.
Make Them with the Kids
Yes, there are a lot of ingredients in this recipe, and I'm more of a 5 ingredients or fewer kind of girl. So when we whip up a batch of Backpacker Bars for the trail, the kids jump right in to help.
Related Reading: The Best Snacks to Bring on a Day Hike
One calls out the ingredients while another collects them all. The oldest does the chopping, and we all do the measuring and mixing – and maybe even a little lesson in fractions thrown in there too (there were a few close calls with 1/2 vs. 1 1/2, but we got through it!)
These bars will come together before you know it.
Just Mix, Bake, and pack them up!
The crust is like a cookie meets pie, with orange zest mixed in. Just a little bit of orange zest brightens the flavor of the dense crust so much.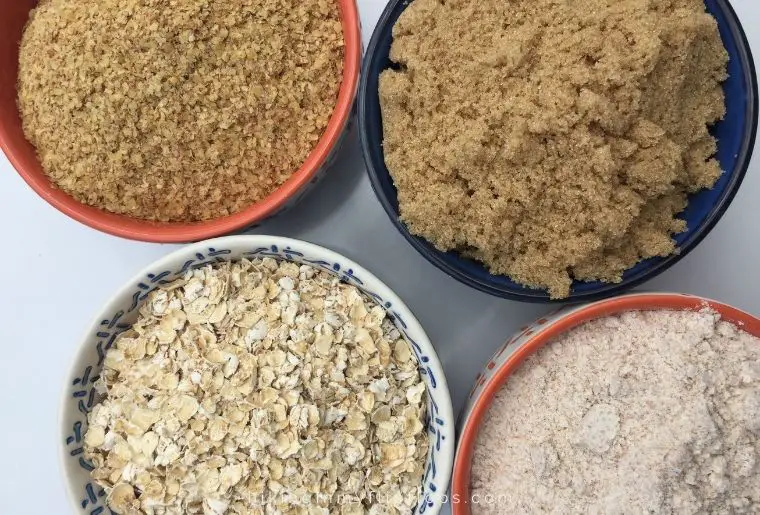 After mixing the crust, pour the mixture into a 9×13 pan (I'm in love with my stoneware baking dish from Pampered Chef). Make sure to press firmly on the crust to pack it down well, so it doesn't get too crumbly after baking.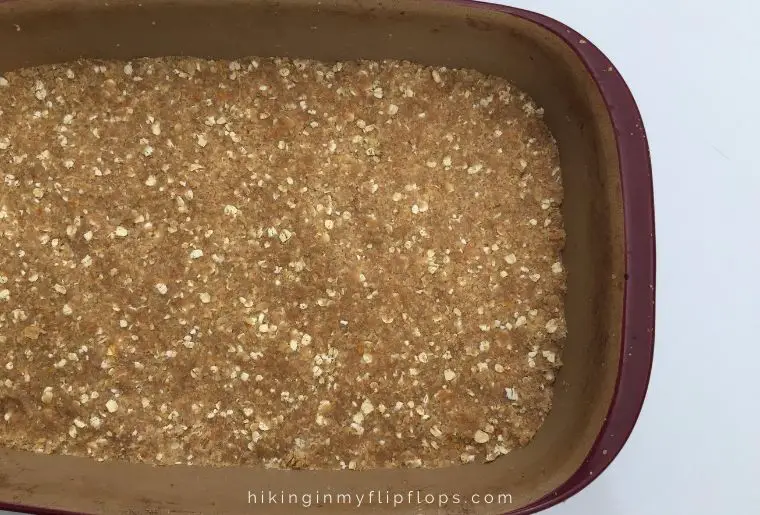 The dried fruits and nuts in the topping are like a trail mix baked right in. The perfect snack for camping and hiking.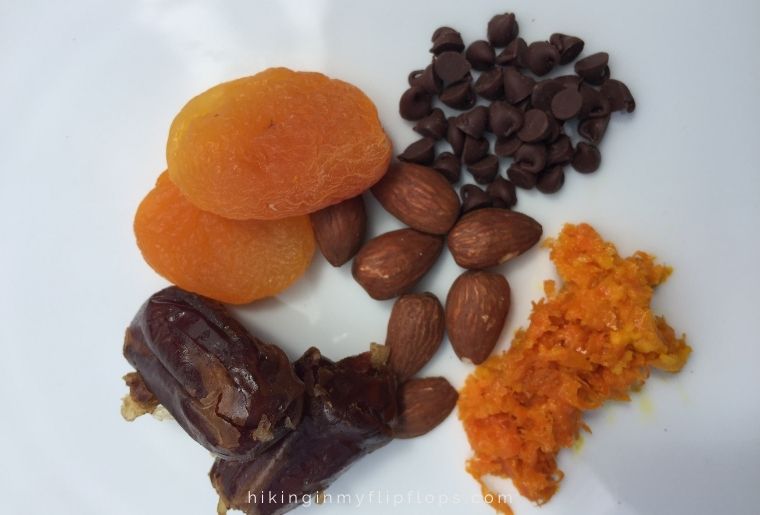 After baking, the chocolate will be really gooey, so don't skip the cooling. Once cooled, cut into small bars. These are thick and rich, so I cut them pretty small. One-inch squares are the perfect size to grab 1 or 2 for a snack. Make them extra-portable by individually wrapping the cut squares and drop into lunch boxes, picnic baskets, or backpacks.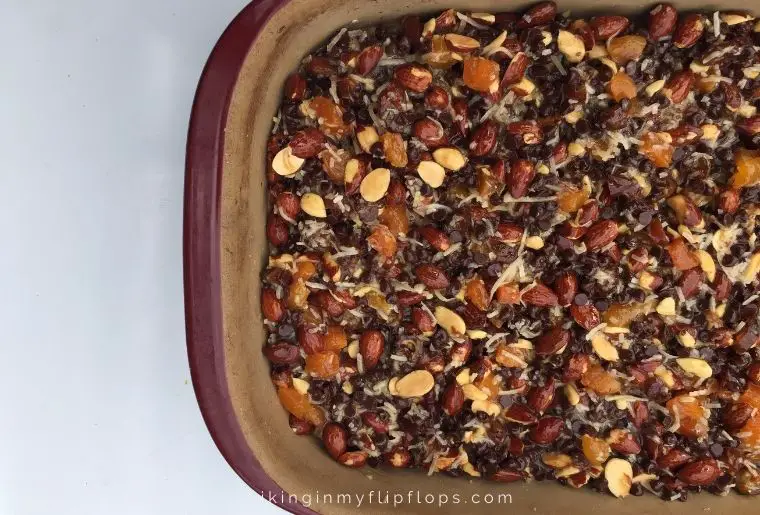 These healthy snack bars are great for breakfast – and even dessert!
The Recipe for Backpacker Bars
Backpacker Bars
Ingredients
1 cup butter
1 1/2 cups brown sugar (divided into 1 C and 1/2 C)
1 cup quick-cooking oats
1 cup whole wheat flour
1 cup all-purpose flour
1/2 cup wheat germ
4 tsp orange zest
4 eggs, beaten
2 cups whole almonds
1 cup chocolate chips
1/2 cup dates, chopped
1/2 cup dried apricots, chopped
1/2 cup flaked coconut
Directions
Preheat oven to 350° F
Mix the butter and 1 cup of brown sugar in a large bowl, until well blended
Add the flours, oats, wheat germ, and orange zest, and stir until well mixed.
Spread mixture into 9×13 pan and press with your hands or flat-bottomed glass until well packed down. If not well packed down, the bars will be a bit crumbly.
Mix the remaining ingredients together in a medium bowl and spread evenly over the crust.
Bake bars for 30-35 minutes, until browned
Let cool, then cut into bars.
Have you tried this recipe for Backpacker Bars? Let us know what you think in the comments!
---
Click below to save these ideas for easy and healthy snack bars on Pinterest!