Visiting a National Park is a fantastic experience for families. Whether you are visiting to embark on an outdoor adventure or just to check out the natural wonders, our National Parks have some incredible sights and activities. So much to offer, in fact, that it can be overwhelming on your first visit.
Like any national park, we know that coming up with a Canyonlands National Park itinerary can be daunting. With so many amazing sights to choose from, where do you start? To help make things a little easier, we're sharing our list of the 19 best sights in the park from our visits to one of the most impressive national parks.
Whether traveling with the family or on a road trip with friends, the towering rock formations, awe-inspiring canyons, and pristine rivers and lakes will leave a lasting memory of the unforgettable panoramic views found throughout this national park. Even if you have just one day in Canyonlands.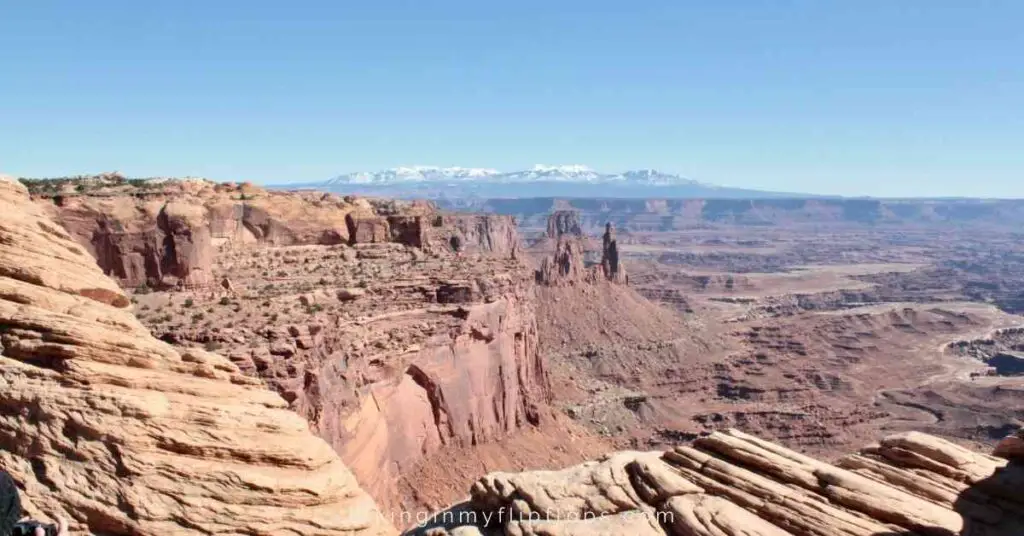 About Canyonlands National Park
One of Utah's Mighty 5 (that also includes Bryce Canyon, Zion National Park, Arches National Park, and Capitol Reef National Park
340,000 acre National Park comprises 3 districts: Island in the Sky, The Needles, and The Maze.
Canyonlands is a series of canyons throughout the park. Find Shafer Canyon, Lathrop Canyon, and Buck Canyon in the Island in the Sky. Big Spring Canyon, Elephant Canyon, and Cyclone Canyon are found within The Needles District.
The Three Districts of Canyonlands National Park
The park is divided into three districts: Island in the Sky, The Needles, and The Maze. Island in the Sky and The Needles are accessible by car, and The Maze is more challenging to access. The Maze is primarily used by backcountry hikers and mountain bikers. These sections are separated by the Colorado and Green Rivers, making it difficult (if not impossible) to access one area from another.   
How Canyonlands National Park Was Formed
Long ago, this land was plains that were layers of sedimentary rock, part of the Colorado Plateau. Eventually, erosion from the Green and Colorado Rivers started carving through those layers and forming the canyons and other geological formations that draw about a half million visitors every year. Read more about the history of the land here.
You Might Also Like: 5 Awesome Moab Hiking Trails Outside the National Parks
Canyonlands National Park Itinerary
Many plan their Canyonland National Park itinerary for Island in the Sky and The Needles because they are the most accessible districts and easily experienced by car. It's challenging to explore both areas with only one day in Canyonlands, so your best bet is to plan for Island in the Sky or The Needles. 
Island in the Sky
Island in the Sky is the northernmost district in Canyonlands and is the most accessible from Moab. This series of points for your Canyonlands itinerary are ordered to make the most manageable stops to pull-offs and viewpoints. 
Of course, if you're trying to catch the unforgettable sunrise from Mesa Arch, the Canyonland's crowning feature, you'll want to head straight there. Plan to arrive about an hour before dawn.
Drive time from Moab to the Island in the Sky Visitor Center: 40 minutes
1. Island in the Sky Visitor Center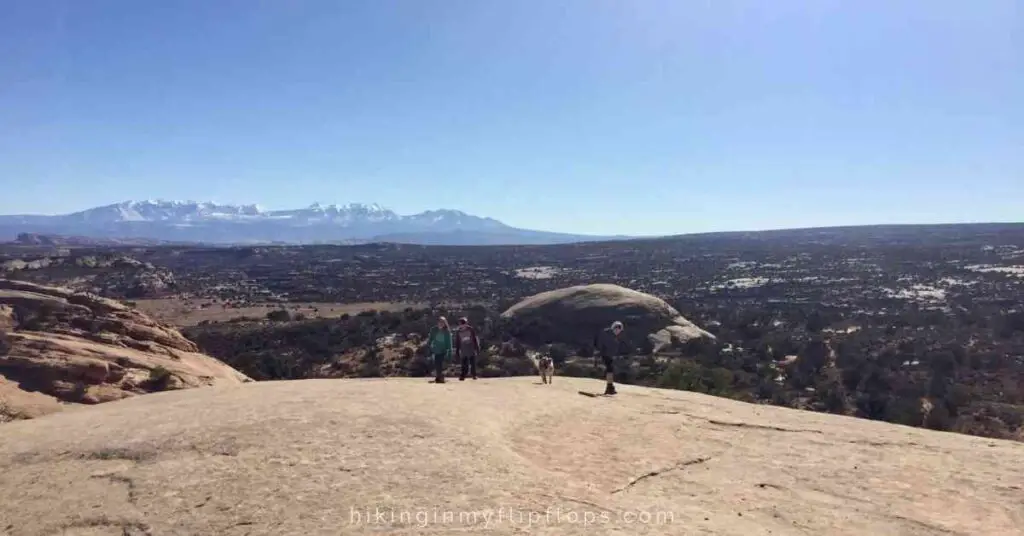 We always recommend a stop at the visitor center. Get park maps, fill up on water, browse souvenirs, and take advantage of the restrooms that tend to be sparse further into the park. It's also your opportunity to talk with rangers about lesser-known but just as impressive spots in the park.
2. Upheaval Dome and Whale Rock
After taking in the views at Mesa Arch, turn right onto Upheaval Dome Road for views of Upheaval Dome and Whale Rock from the overlook at the end of the road. 
Upheaval Dome is a geological wonder with an uncertain history. Some theories state that it resulted from a meteor impact, while others believe an eroded salt dome formed the crater.
Whale Rock, west of the parking area, is a massive sandstone formation that resembles a beached whale.
Suggested hike: the Crate View Trail overlooks give spectacular views of both features. The first overlook is about a 1/2 mile hike, with the second overlook about another 0.8-mile. Those with time for a more intense trail should try the 8-mile Syncline Loop. This challenging trail can take 5-7 hours, so start the hike immediately after catching the sunrise at Mesa Arch.
3. Green River Overlook
After leaving Upheaval Dome and Whale Rock, turn right on Green River Overlook Road to make a brief stop at the Green River Overlook. 
This is one of two rivers credited with forming the deep canyons that the park is known for.
4. Candlestick Tower Overlook
Getting back onto Grand View Point Road, make another brief stop to see Candlestick Tower, aptly named for its resemblance to a group of candlesticks. This feature is viewable from the car if you're short on time.
5. Grand View Point Overlook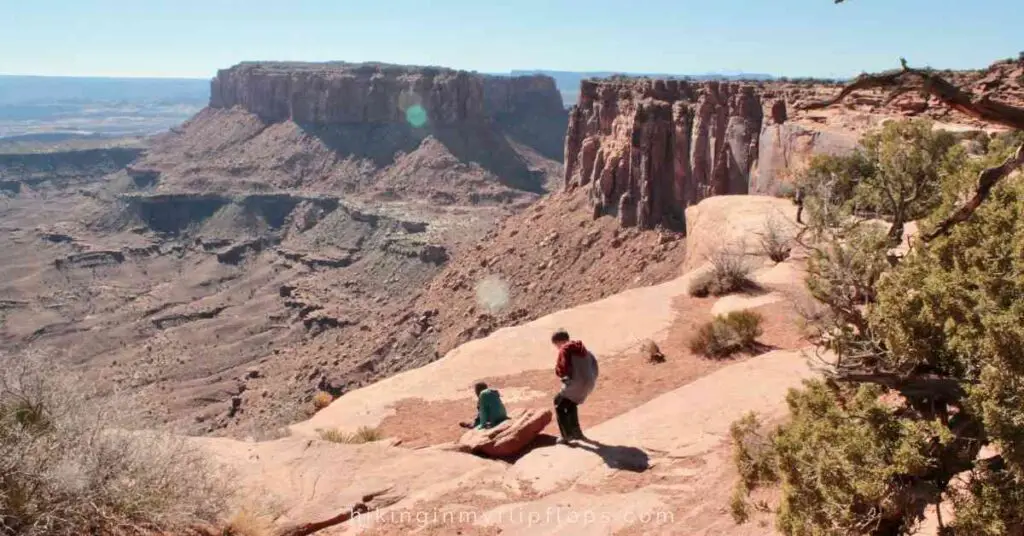 The end of the road brings you to the Grand Viewpoint overlook, which offers another short hike beyond the main viewpoint.
Below the viewing area, take the steps down to a flat rocky area for incredible views along the canyon's rim. This is an excellent spot for a picnic or just relaxing in the sun.
Suggested hike: Grand View Point Trail is a 2-mile hike at the overlook. The trail is busy, but the stunning views along the way are well worth it.
6. White Rim Overlook
Those looking to get a little deeper into the canyon should make a stop to hike the easy, 2-mile trail to the White Rim Road Overlook.
The stunning viewpoint at the trail's end is considerably less busy than the Mesa Arch or Grand View Point trails.
7. Buck Canyon Overlook
The expansive, flat sandstone terrain makes this an easy walk out to views of canyons and the snow-capped La Sal mountains.    
8. Mesa Arch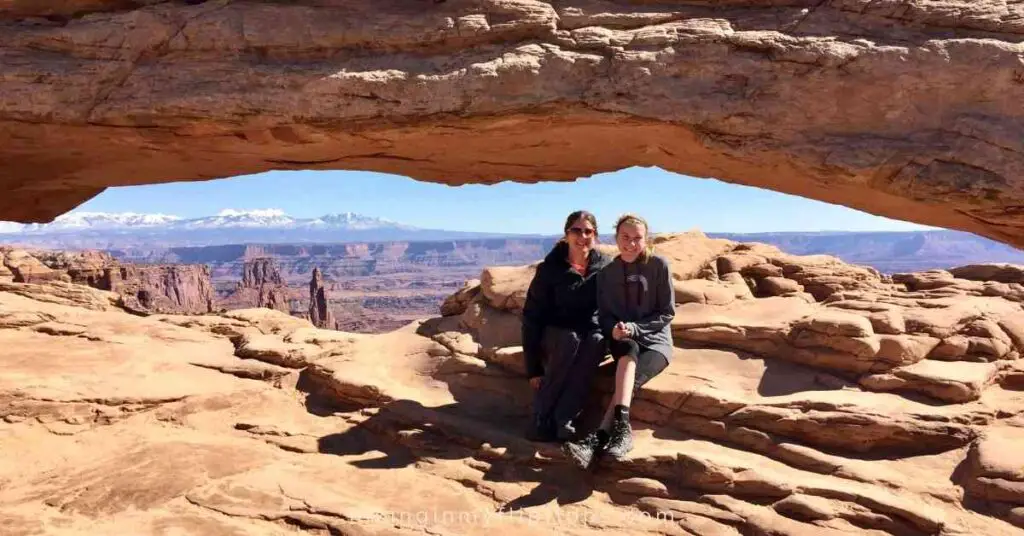 When you see photos of Canyonlands National Park, it's often of Mesa Arch. Hike the quick ½ mile loop from the parking area to see this iconic natural feature. Cairns marks the trail along the way, but the path is generally easy to follow. If you are an early riser, this is a spectacular spot to watch the sunrise – though you should be prepared to share the views with others after the perfect shot of the landscape. You'll see amazing views of the canyons below and White Rim Road from the arch, with a backdrop of the La Sal Mountains.
Suggested hiking trail: The Mesa Arch Trail is an easy loop trail out to Mesa Arch that is less than a mile. The trail is heavily trafficked, especially at sunrise and sunset.
9. Shafer Canyon Overlook
Heading back toward the Visitor Center, make one last stop at Shafer Canyon Overlook, where you can view Shafer Trail Road. This exhilarating drive runs deep into the canyon.
10. Off-Road Adventures for Your Canyonlands itinerary
If you're traveling with a high clearance, 4WD vehicle, add off-roading to your one day in Canyonlands National Park for the ultimate experience. White Rim Road is a 100-mile multi-day adventure that requires a permit, so we opted for the Shafer Trail Road, which can be completed in just a few hours and doesn't require a permit. Plus, this road brings you out to Potash Road, an alternate route back to Moab.
The wide, flat roads at the bottom of the canyon were an easy drive compared to the cliff-side descent. The adventure isn't over, though. You come upon a few rocky areas that require a little planning to make sure you don't bottom out on the rocks. It's a far cry from rock crawling, but still an adventure!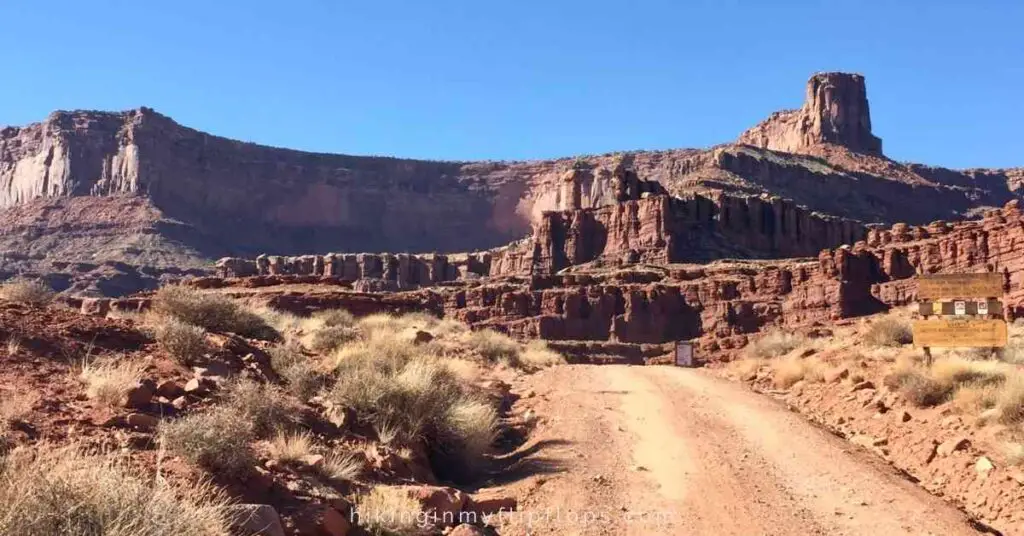 After the nail-biting descent into the canyon, take Potash Road at the fork in the road (to the left) to head back to Moab. Along the route, keep an eye out for sights like Gooseneck Overlook, Thelma & Louise Point (where the movie's last and most famous scene was filmed), and the bright blue potash ponds. Salt is harvested here for making lite salt and fertilizers, leaving salt-covered drives that look like snow.
Side note: if anyone needs the restroom, this is your chance. There is a vault toilet just about 100 ft onto the White Rim Trail, so you'll have to catch it before you get too far onto Potash Road. You'll have another chance further up on Potash Road if you miss it.
Your off-road adventure ends at the Potash Plant, where you will be greeted with paved roads. The road winds along the Colorado River on the right and a massive wall of red rock on the left. Be on the lookout for climbers near Gold Bar Canyon, near the Corona Arch Trail (one of our favorite hikes in Moab found outside the national parks).
The Needles District
If you've already explored Island in the Sky or looking for something fewer visitors see, plan your one day in Canyonlands for The Needles district. This area is a shorter drive through the park with a few short hiking trails with exciting things to explore beyond the typical scenery. These trails are open year-round, but you may need traction for the icy terrain in the winter months.
Drive time from Moab to the Needles Visitor Center: 1.5 hours
11. The Needles District visitor center 
Stop at The Needles Visitor Center for the park orientation movie and pick up any required backcountry permits. It's also an opportunity to fill up on water before heading into the park, where water is limited.
12. Roadside Ruin
Take the 1/2 mile hiking trail to an exceptionally well-preserved ancestral structure from the Puebloan era.
13. Cave Spring
At this stop, take the short hike, which includes two ladder climbs, to a historic cowboy camp. Get a glimpse of the life of late 1800s cattle ranchers with a display of original items left by the cowboys. You can also see rock paintings dating back at least 700 years from American Indians who occupied the area well before the cowboys.
14. Wooden Shoe Arch Overlook
Throughout your one day in Canyonlands, many rock formations and features are named for anything they resemble, like Wooden Shoe Arch. Make a brief stop at this overlook to see this arch off in the distance.
15. Pothole Point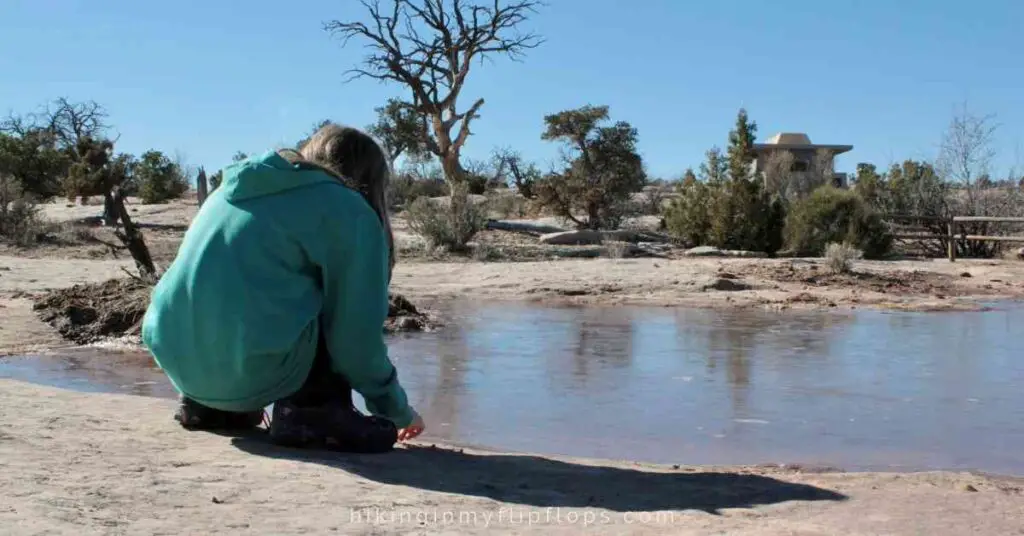 Explore the expansive slickrock where water periodically fills the potholes. Pinyon and juniper trees and grasses can thrive here surrounded by desert. The pothole's delicate ecosystem is sensitive to anything foreign – including our fingers and toes. As we told the kids when they were young, look with your eyes, not your hands!
16. Elephant Hill
Head off the main road to the unpaved Elephant Hill Road to reach the Elephant Hill Overlook. Going further on this road is for experienced off-road drivers and requires a permit. And pets aren't allowed on the trail, even in a vehicle.
17. Confluence Overlook
True adventurers and off-road enthusiasts can continue from Elephant Hill to Confluence Overlook, where the Colorado River and the Green River meet. Experienced hikers can reach this overlook from the trailhead at Big Spring Canyon Overlook. The 13-mile (round trip) trail will fill your visit to Canyonlands National Park in one day, all on its own.
18. Big Spring Canyon Overlook
The end of Needles Park Road is an overlook where visitors can see rock spires and sandstone benches. Hike down into the canyon to Elephant Hill for a challenging hike, or take in the views from the overlook.
Horseshoe Canyon Unit
Horseshoe Canyon is a less frequently explored area to the west of the main Canyonlands area but worthy of a visit. Access this area via a 30-mile dirt road off UT-24.
Drive time from Moab to the Horseshoe Canyon Trailhead: 2.5 hours
19. Explore a Part of History
Highlights of Horseshoe Canyon's history include:
the Great Gallery, where you can get a close-up view of the panel of pictographs and petroglyphs, as old as 4,000 years, found on the canyon walls
a network of canyons where outlaws like Butch Cassidy took refuge in the late 1800s
remnants of a pumping operation from the early 1900s, built to get food and water to ranch animals
Suggested hike: it's one of the more strenuous day hikes in this area of the park, but the trail to the Great Gallery Pictographs is well worth it. The challenging, 7-mile hike with a sandy terrain and little shade has a close-up view of the ancient drawings on the canyon walls.
Planning Your Visit to Canyonlands National Park
Best Time to Visit Canyonlands National Park
Canyonlands NP is open year-round. Summer months are the most active, but daytime temperatures can get unbearable hot in the desert. Winter is an excellent time to visit, but many services are closed or have limited hours.
Spring and fall are the ideal seasons to visit Canyonlands for the best weather, but it's also the most crowded.
Try to avoid visiting in late October, if you can. Moab and the surrounding area fills with Jeep lovers who flock to the town for the annual Jeep Jamboree. It's difficult to find lodging, and the parade of Jeeps takes over the trails.
What to Pack for Canyonlands National Park in One Day
Even in the winter, the sun can get hot, and the air is dry, so lots of water is a must.  
Water – 1 gallon per person is recommended

Sunscreen

Camera

Binoculars

Hats and or sunglasses

Solid shoes

Plenty of gas in the car, especially if taking any off-road routes
Note: while dogs are allowed in the park, they are NOT permitted on most trails, including the short walks to the overlook points. Even in the winter, cars heat up quickly, so it's not advised to leave them in the car while you are out on your hike. Since we couldn't hike with our dog, we took turns on the short trails while one of us stayed back with her.
Getting Around Canyonlands National Park
Plan for a lot of driving during your one day in the Canyonlands. There are plenty of opportunities to park your car and get out onto some short hiking trails. There are no shuttles to bring visitors to the various points like Yosemite or Rocky Mountain National Parks.
Like many other national parks, use the national park service maps, as GPS doesn't always route visitors to the correct place.
If visiting with your dog, plan a canyonlands itinerary without hikes. Like in many national parks, dogs are not allowed on the trails in Canyonlands. 
If You Have More Time in Moab
If your Canyonlands itinerary is just a part of your visit to Moab, here are a few other must-see places around Moab.
Arches National Park
Moab is home to a second national park with an entrance close to Canyonlands' Island in the Sky district. Arches NP is easily experienced in one day.
Dead Horse Point State Park
Dead Horse Point State Park is an easy stop for more incredible sights as you come to the park entrance. You'll get views of the salt ponds and the Colorado River's Gooseneck from above (we found this point is a little too close to be the best view of the Gooseneck).
Downtown Moab
There is plenty to see and do in the city of Moab. Shops, restaurants, and countless outdoor adventures.
Canyonlands National Park is a must-see for anyone visiting eastern Utah. With its unparalleled landscapes and impressive canyons, it's hard to beat this park for an unforgettable experience. Plan your trip well in advance, as the park can get quite crowded during peak season. And be sure to leave plenty of time to explore all this incredible park offers!
Canyonlands National Park Itinerary FAQs
What are the best hikes in Canyonlands?
What is the closest city to Canyonlands?
Canyonlands and Arches National Parks are close to Moab, UT. While there aren't many services within either park, the city of Moab has plenty of hotels, restaurants, and shopping.
What Can You Not Miss at Canyonlands National Park?
Sights like Mesa Arch, Grand View Point, and Shafer Canyon are some of the most popular and iconic things to see at Canyonlands. Other features like the Green River Overlook, Buck Canyon, and Upheaval Dome are worth adding to your Canyonlands itinerary. We also recommend spending some time at the visitor center.
How many days do you need at Canyonlands National Park?
It depends on how you want to experience Canyonlands. One day is plenty to drive through Island in the Sky if you are primarily interested in taking in the gorgeous canyon views and visiting some iconic sceneries. If you have more time, add a day to spend at The Needles district or get a deeper look into the canyons on a few hikes throughout the park.
What can you do in one day at Canyonlands National Park?
With just one day, your time is best spent driving through the park and making stops at as many overlooks and viewpoints as you have time for. Consider adding a short hike or driving Shafer Trail Road if you have a 4WD vehicle.
---
There you have it – our Canyonlands National Park itinerary for when you have just one day in this magnificent national park! This list of stops is just a starting point; be sure to add your own favorites and tailor the day to your interests. If you're looking for an adrenaline rush, take on some of the more challenging off-road drives. Or, if you prefer a leisurely pace with plenty of photo ops, wander through the park's mesmerizing landscapes. We promise that this one-day trip will leave you longing for more time in this beautiful place no matter what you choose to do. Save this list now to start planning your visit to Canyonlands National Park!
---
Click below to save these sights for your one day in Canyonlands itinerary on Pinterest!
---
More in National Parks: