North Carolina beaches and mountains seem to get all the attention from travelers. Visitors usually miss the family-friendly sights and activities in the central Tarheel State. Like nearby Charlotte, the city of Winston-Salem is often overlooked. Rich with history and a booming downtown area (that has surprisingly little traffic), there are more things to do in Winston-Salem than you might expect.
After spending many weekends in the Twin City, we've curated the best things to do with kids in Winston-Salem – or without the kids!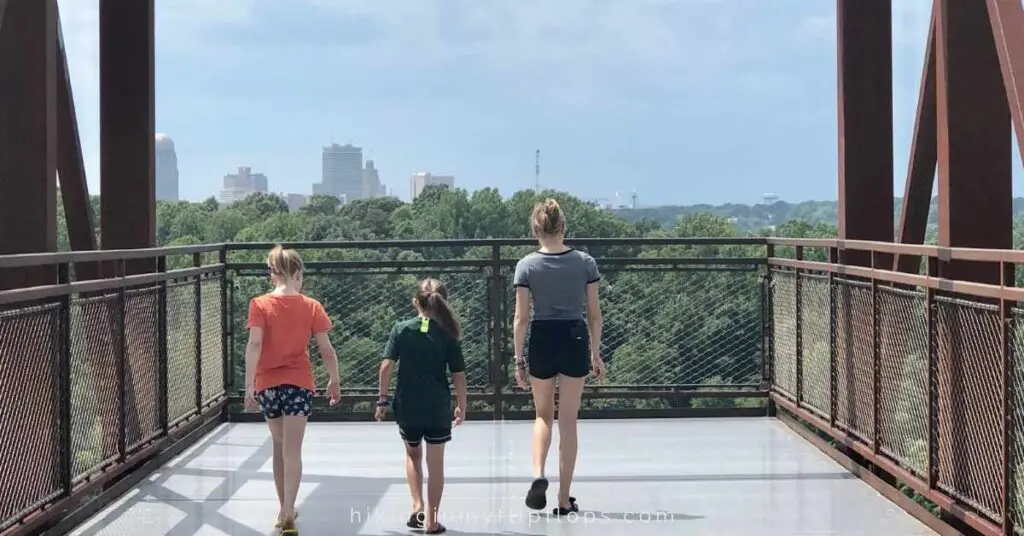 5 Fun Facts about Winston-Salem
Winston and Salem were once separate cities
Once known separately as Winston (with a rich history in the tobacco industry) and Salem (an area settled by members of the Moravian Church)
Moravians were the first to settle in the area
In the mid-1700s, 15 German-speaking Protestants walked(!) from Pennsylvania, and the Moravian culture and history is still deeply rooted in the city
The city has deep roots in tobacco and textiles…
Tobacco giant R.J. Reynolds got its start here, as Hanes brand hosiery
… but now known as the City of arts and innovation
Judge Reinhold, Diedrich Bader, and Jada Pinkett Smith all studied theater in the city that is also home to the Wake Forest University Innovation Quarter
Winston-Salem is also home to some sweet and spicy favorite foods
Krispy Kreme donuts and Texas Pete hot sauce are both based in Winston-Salem
Things to do in Historical Winston-Salem
1. The Reynolda House and Reynolda Village
The estate of R.J. and Katherine Reynolds is now a museum with an extensive art collection, beautiful gardens, and even a few shops within the 28 buildings on the property. Once a self-sufficient estate is now a non-profit organization supporting arts and education.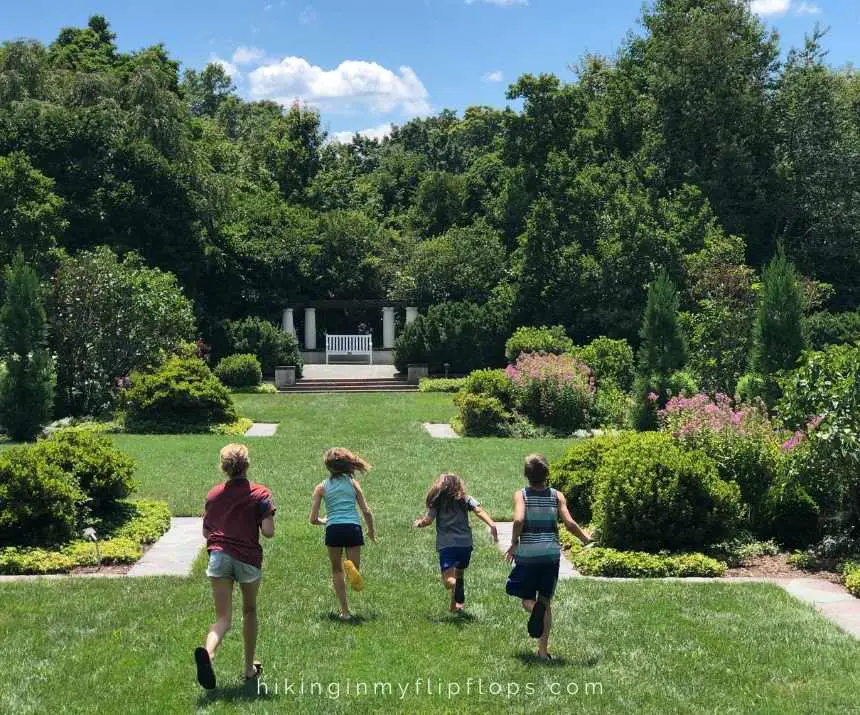 Take a tour of the Reynolda House Museum of American Art for a peek at a day in the life of the wealthy and influential family, then get the kids out to stretch their legs. A 16-acre lake and gardens filled with flowers are the perfect spots to explore. Don't miss the cacti collection in the greenhouse.
There is a fee for the tours inside the house, but exploring the gardens and other areas around the property is one of the best free things to do in Winston-Salem.
Reynolda Village: 2201 Reynolda Road
Reynolda House Museum of American Art: 2250 Reynolda Rd
2. Old Salem
Winston-Salem may be best known for Old Salem. Founded by Moravians in the mid-1700s, the community still stands today with historic buildings filled with shops, restaurants, and galleries. There is also a college, a church, and private residences.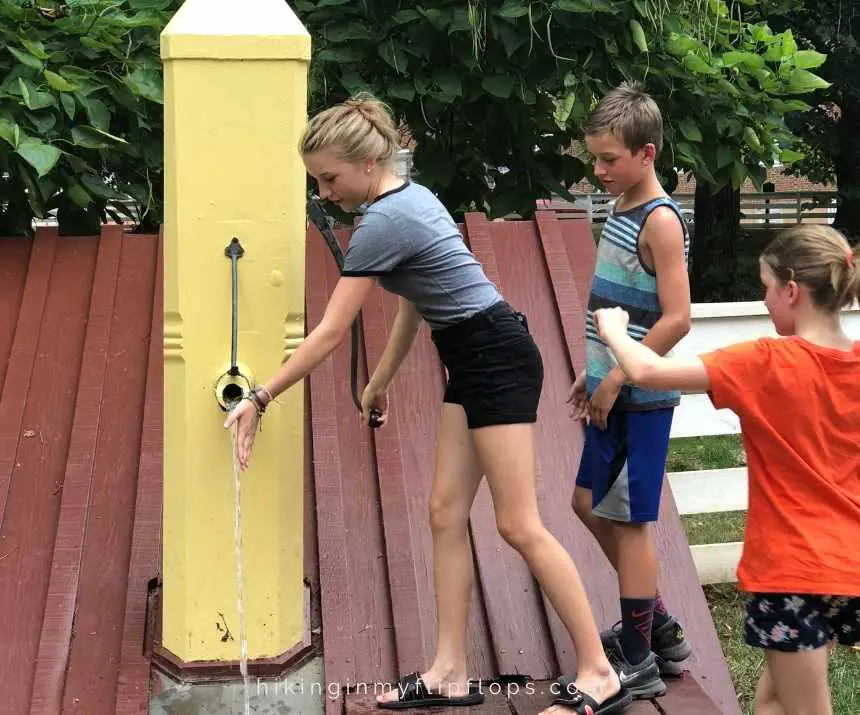 Spending time in Old Salem is another one of our favorite free things to do in Winston-Salem. Our favorite stop: Winkler Bakery. The oldest operating bakery in Old Salem is filled with sweet treats from the Moravians – and probably tops the list of things to do with kids in Winston-Salem. Moravian cookies, Sugar Cake (and pick up a bag of the sugar cake mix to make more at home), and lovefeast buns.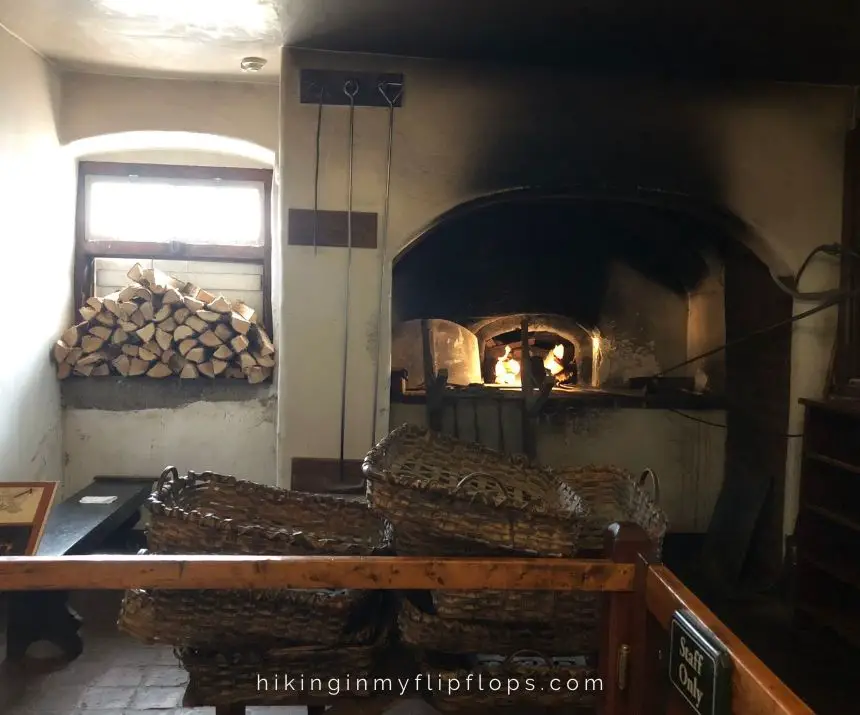 If you are visiting during Christmas, don't miss the opportunity to experience a traditional Moravian Lovefeast service at one of the many Moravian churches throughout the city.
900 Old Salem Rd
Just 10 minutes from downtown Winston-Salem is a lesser-known historical area. Historic Bethabara Park was the first European settlement in North Carolina, 13 years before Old Salem.
Both historical areas allow you to explore the grounds for free, with options to purchase tickets to many guided tours.
2147 Bethabara Rd
4. Roadside Architecture
Winston-Salem is home to not one but two historical landmarks from American brands:
Shell Gas Station
The Shell Station, which is shaped like a shell on Sprague St. & Peachtree St., is registered on the National Register of Historic Places. It's not a working gas station, but still a fun sight to see in Winston-Salem!
1111 E Sprague St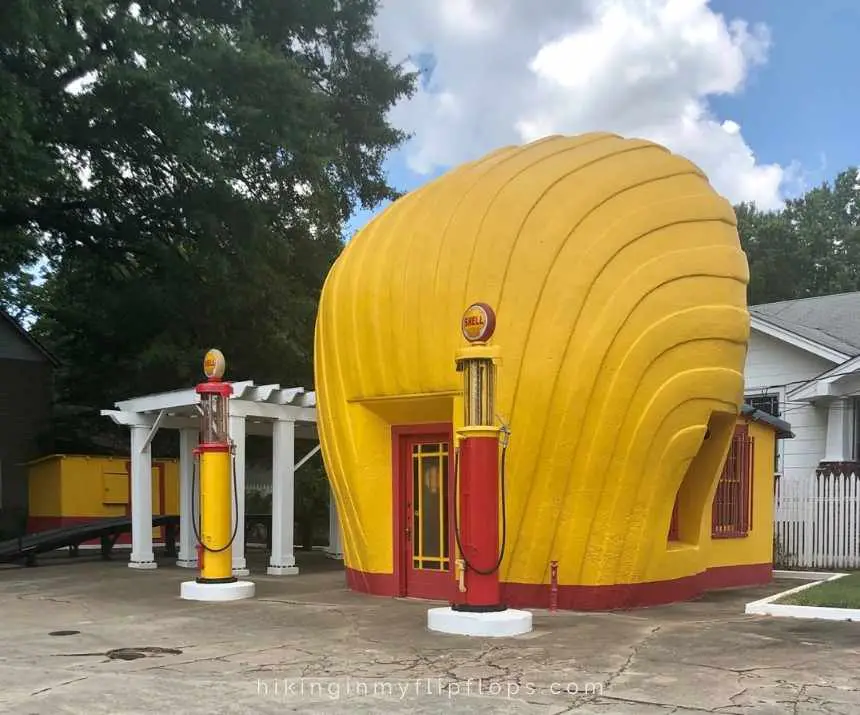 Arby's Restaurant
With countless updates over their 50+ year history, there are just a handful of Arby's locations with the original sign. You know, the one with the big hat? And one is right here on Knollwood St, near the intersection of Stratford Rd.
400 Knollwood St
5. Winston Cup Museum
Anyone with good, southern roots will tell you there is so much more to racing than cars driving around in circles (for hours and hours).
Winston-Salem's roots in tobacco made their way into the racing industry too. Step back to a time when racing was heavily funded by R.J. Reynolds for over 30 years. Old-school NASCAR fans, history buffs, and any car-loving kid won't want to miss the Winston Cup Museum, located right in downtown Winston-Salem.
1355 N Martin Luther King Jr Dr
Outdoorsy Things to do in Winston-Salem NC
6. Wake Forest University
There are almost always hidden gems found on a university campus. The swings under canopies of trees are a shady, outdoor break for kids and adults. Best of all, this is one of the free things to do with kids in Winston-Salem.
One of our favorite places to explore is Wake Forest University, nestled in a wooded area. It's a great place to get out of the sun for walking, biking, and swinging.
1834 Wake Forest Rd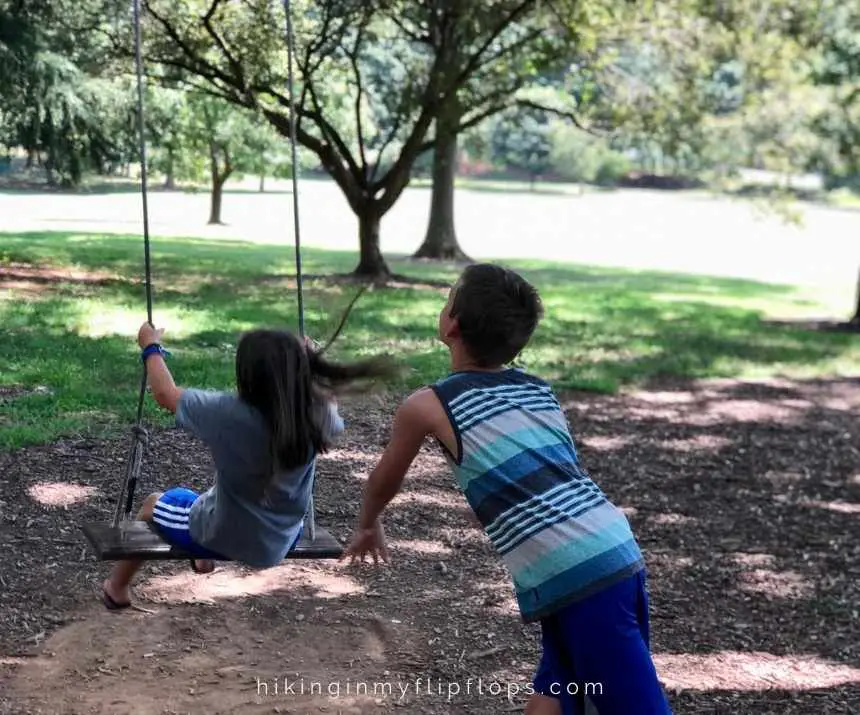 7. Quarry Park
Whether you go for one of the many summer events or a picnic just outside of the city, Quarry Park is the outdoor fix you're looking for. A massive pier that extends over the deep waters of the old Piedmont Quarry is one of the best places to get a view of the Winston-Salem skyline.
Maximize your outdoor adventure by reaching Quarry Park by foot or bike on the city greenways. The Waughtown Connector Greenway is paved 3-mile biking, walking, and hiking trail, providing easy access to the park.
1790 Quarry Rd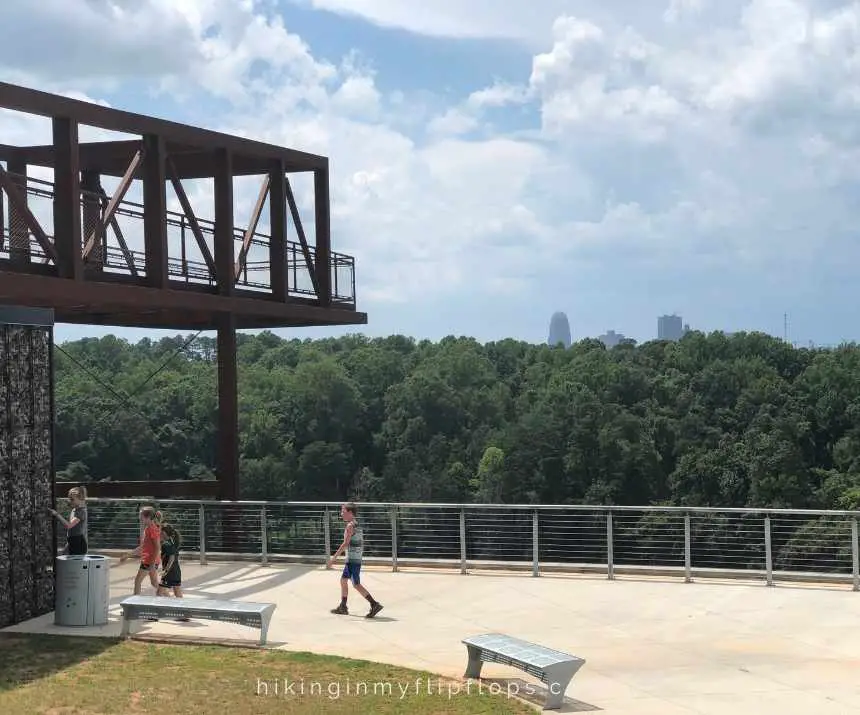 8. Winston-Salem Dash at BB&T Ballpark
Named for the dash that separates Winston and Salem, a Winston-Salem Dash minor league baseball game is a fun addition to your Winston-Salem visit. Check the schedule for dates to watch players on the Class-A Advanced team trying to make it to the big leagues.
951 Ballpark Way
You Might Also Like: The Best Things to Do in Alabama's Dauphin Island
9. ARTivity on the Green
Let the kids run, play, and frolic at ARTivity on the Green in a half-acre outdoor space in downtown Winston-Salem.
This open space isn't just any outdoor space in an urban setting. The design and structure pay homage to Winston-Salem's history and geography. Tributes to Winston's industrial past, Wake Forest University, and its proximity to Pilot Mountain.
630 N Liberty St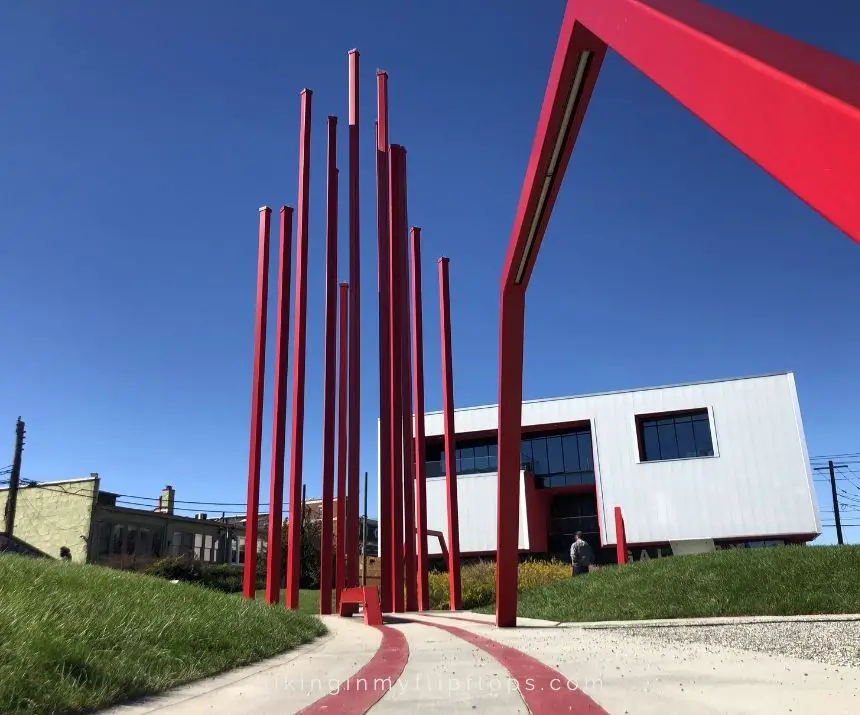 Swim, golf, bike, ride horses, or explore the gardens at Tanglewood Park, just 20 minutes outside of Winston-Salem.
Looking for accommodations for your stay in Winston-Salem? Tanglewood has cottages, an RV park, and a bed and breakfast located right in the park.
The best time to visit is when it's transformed into a winter wonderland for the holidays. The Festival of Lights runs from mid-November through December.
4061 Clemmons Rd, Clemmons
A Few More of Our Favorite Things to Do in Winston-Salem
11. Shop Mast General Store
After breakfast, stroll over to Mast General for some shopping. We have spent hours browsing fun finds in this regional chain that carries everything from toys and home décor to outdoor gear and clothes. The barrels of bulk candy and walls filled with vintage toys will have the kids more than happy to make the stop.
516 Trade St NW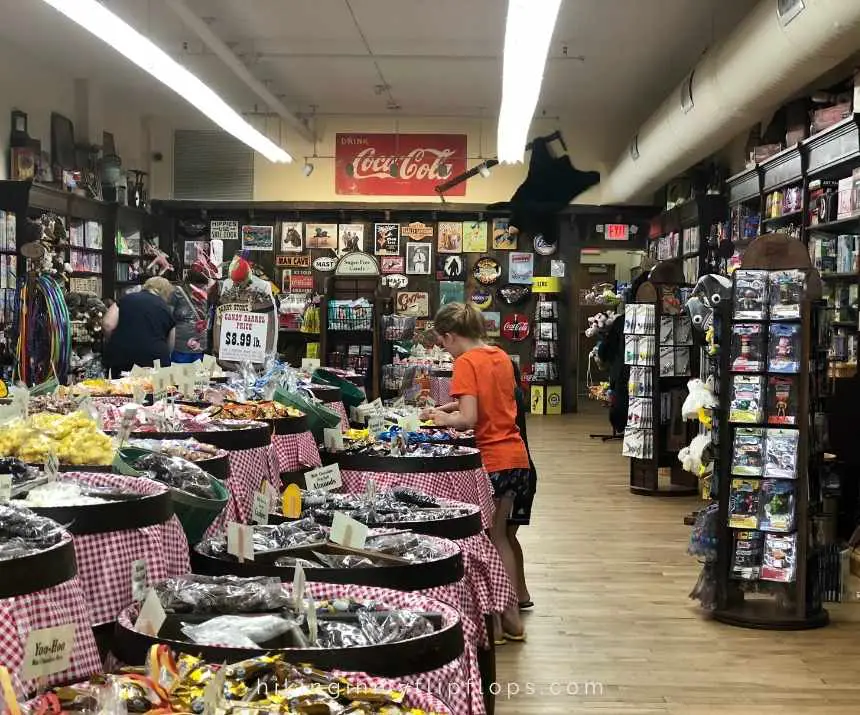 12. Things to Do with Kids in Winston-Salem: Visit Kaladium
We don't usually make children's museums part of our itinerary (they're found in nearly every major city, after all). We make an exception for this one.
Why? The theater is part of Winston-Salem's culture. The Peppercorn Theatre at Kaladium is a great place to immerse the kids into Winston's vibrant performing arts community.
And we love the second location just as much for their outdoor and nature-based learning in the onsite environmental park and planetarium.  
390 S Liberty St; there is an additional location, Kaladium North, at 400 W Hanes Mill Rd 
The Best Places To Eat In Winston-Salem, North Carolina
Cin Cin Burger Bar
This family-owned restaurant cooks up the "best burger I've ever had" kind of burger, according to our 14-year-old nephew. Build your own with your favorite toppings, or try one of their speakeasy-themed combinations.
1425 W 1st St
Related Reading: A North Carolina Mountain Getaway: A Local's Guide to the Best Sights, Food, and Activities in Asheville
Camino Bakery
Start your day with breakfast at Camino Bakery. Freshly made bread, sweet pastries and cakes, and the most delicious sandwiches are served for lunch. You can also pick up your favorite baked goods on Saturdays at the farmer's market.
310 W 4th St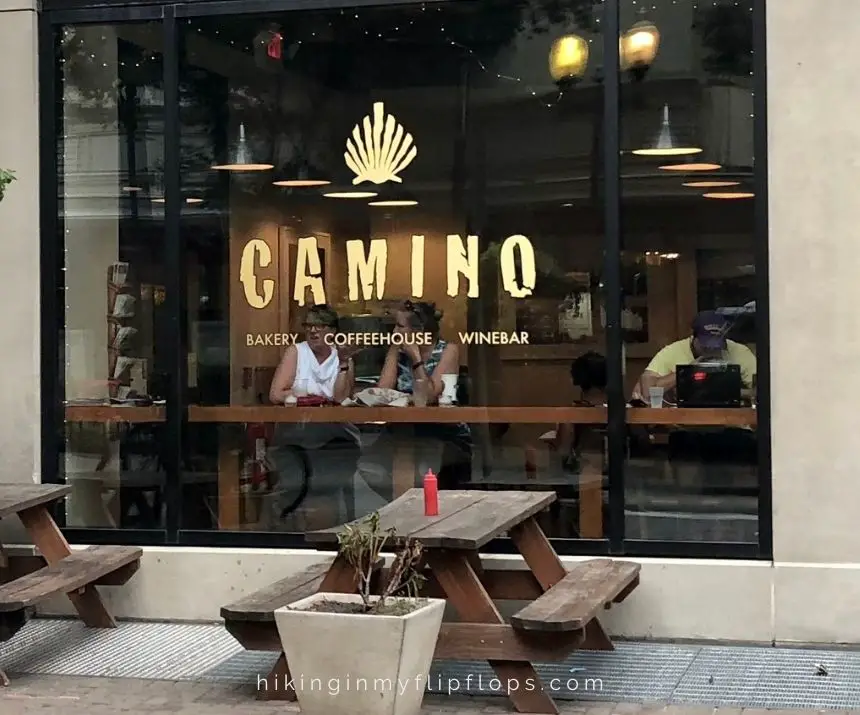 The menu at the Tavern in Old Salem is inspired by traditional Moravian dishes. You'll be served by staff dressed in traditional Moravian attire while dining at the historical Tavern.
736 S Main St
Foothills Brewpub
Breweries with in-house restaurants mean a chance for parents to try local craft beers. Foothills Brewing in downtown Winston-Salem has traditional bar food with lots of kid-friendly options. Not a beer drinker? They brew coffee too, and we hear their house-roasted coffee is exceptional!
638 W 4th St
After lunch, wander next door to the bookstore and let the kids browse the kid's section at Bookmarks (634 W 4th St), a non-profit and independent bookstore.
West End Cafe
The West End Cafe in (where else?) West End Historic District of Winston-Salem has been one of the local's favorites for over 30 years. Serves up sandwiches, salads, grinders, and Rubens for lunch. Or stop in for one of their upscale dinner offerings.
926 W 4th St
Southern BBQ at Camel City BBQ Factory
A visit to the south isn't complete without a stop for some authentic southern BBQ. Camel City BBQ is a Winston-Salem favorite, where BBQ has been in the family for almost 100 years. Don't miss the pulled pork, brisket, and hush puppies!
701 N Liberty St
Have you visited this charming southern town? Let us know your favorite things to do in Winston-Salem, NC!
---
Click below to save these things to do with kids in Winston-Salem, North Carolina, on Pinterest!