Fingers always seem to be the first place you feel the chill in the mountains on a cold and snowy day. Finding the proper protection for your hands is key to staying comfortable on the slopes. Since we're outfitting the kids for new gear this year, we've done all the homework to find the best snowboarding gloves that keep their hands warm and dry.
Gear up and get ready to get outside with a new pair of gloves to keep your fingers and hands cozy and warm this winter!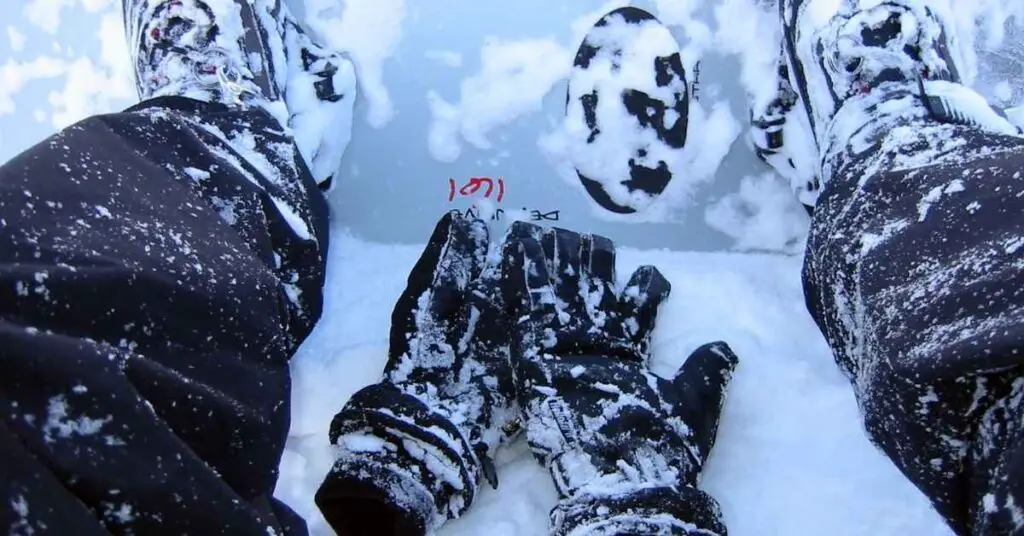 How to Choose the Best Gloves for Snowboarding
Not just any winter hand protection will do, so what should you look for in a pair of snowboard gloves?
Snowboard Glove Materials
All good snowboard gloves will have:
A layer of insulation to keep hands and fingers warm in cold temperatures.
Waterproof membranes to keep hands dry in wet conditions (because moisture is your worst enemy in the cold). The best gloves for snowboarding have a GORE-TEX insert (or a similar material). 
Palms made of durable materials to hold up from falls on packed snow. Look for leather or synthetic materials like polyurethane.
Gloves made with a breathable material will prevent moisture when you sweat.
Tip: A warm glove is important, most of us don't need maximum protection that can handle frigid temperatures. (That's more appropriate for backcountry skiing or boarding). Gloves that are too warm can make you sweat, creating moisture that will make you feel colder.
Glove Styles
Gloves come in three styles: 5-finger, 3-finger, and mitts.
Mitts are the warmest option and often the best gloves for snowboarding. Boarders don't need the dexterity and grip that skiers do.
3-finger (or split-finger) gloves separate the thumb and pointer finger. This provides more dexterity and warmth than a five-finger glove.
Five-finger are the most dexterous gloves, but the separated fingers aren't as warm.
Design Features in Snowboard Gloves
Additional features to look for in your gloves:
Gauntlet-style gloves prevent snow from getting to your wrists or arms. These can be bulky, though (especially those with an extended cuff). A fitted cuff is cleaner and preferred by more experienced boarders who don't fall as often.
Many gloves have a pre-curved, or ergonomic, fit to mimic the natural shape of hands.
Gloves with exterior zippered pockets provide a place to stash keys, lift passes, or even a hand warmer. Some gloves have interior pockets for hand warmers.
The best snowboarding gloves have removable liners. These provide extra insulation for cold hands and make them easier to clean.
Look for extra features like a goggle wipe or a squeegee to clean snow from your goggles. Many also have a nose wipe on the thumb.
If you're afraid of losing a glove on the slopes, choose a pair with a leash that will stay attached to you even when you're not wearing them.
A velcro strap at the wrist or cuff provides a secure fit.
If you're worried about wrist injuries, choose gloves with wrist protection built-in. You can also wear a separate wristguard under your gloves.
More expensive gloves don't necessarily mean better gloves. Well-insulated, waterproof gloves will provide the warmth and protection you need in cold weather and snow.
Related: The Complete Family Ski Trip Packing List to Keep Things Easy and Organized
Snowboarding Wrist Guard Gloves
Choose a pair of gloves with built-in wrist protection when you want your gear to do double duty. Any of these highly-rated snowboard wrist guard gloves will keep you warm and protected on the slopes.
Dakine Wristguard Gloves ($70)
We're all about wrist guards that are both built-in and removable. The Dakine Wristguard Gloves have wrist protection with removable rigid nylon plates to protect wrists on impact. Hi-Loft polyester insulation with DK Dry™ insert, Rubbertec, and goat leather for protection from the elements.
devembr Snowboard Gloves with Wrist Guards (under $50)
We like the budget-friendly options from devembr. The highly-rated gloves keep fingers and hands warm on the slopes (especially when tucking a hand warmer into the zippered pocket!). 3M Thinsulate for insulation, a waterproof insert, and premium PU leather on the palm for durability.
Level Fly Snowboard Gloves with Wrist Guards ($85 and up, depending on size)
Made in collaboration with snowboarders, medical professionals, and engineers, BioMex Plus wrist guards are developed to protect no matter which way a boarder falls. Knitted Brush insulation will keep you warm, while Membra-Therm Plus keeps you dry.
The Best Snowboarding Gloves Without Wrist Guards
There aren't many options for snowboarding gloves with wrist guards on the market, but these can also be purchased separately.
All of the picks featured here are also solid options for skiing (both downhill and cross-country skiing). Just be sure to choose a pair of gloves that gives you enough dexterity to maintain a good grip on your ski poles.
Top Picks for Snowboarding Mitts
Separated fingers often mean cold fingers, so many boarders reach for mittens over 5-finger gloves.
Hestra Army Leather Heli Ski Mitt ($160)
The popular Hestra Heli mitten has an extended gauntlet to provide extra protection from the elements. G-Loft insulation gives warmth, while Hestra's Triton polyamide fabric lends a waterproof but breathable layer. The durable army goat leather palm holds up to wear and tear from snowboarding.
Black Diamond Mercury Mitt ($120) and Soloist Finger Glove ($130)
I chose the Mercury Mitt for skiing here in Colorado. The Soloist Finger Glove has similar protection against the elements (the Soloist also comes in a glove for more dexterity and grip). PrimaLoft® Gold with Cross Core insulation for warmth, plus waterproof BD.dry™ insert.
You May Also Like: Ski Lingo and Snowboard Slang: 53 Terms for Beginners
Outdoor Research Stormbound Sensor Mitts ($110)
Not your standard mitt, the Stormbound Sensors have separated fingers enveloped by an insulating layer of warmth. PrimaLoft® Gold insulation on the backs of hands and PrimaLoft® Silver on the thumbs. Pertex Sheild 2L protects from wet snow.
Burton GORE-TEX Under Mitten ($80)
Burton's popular GORE-TEX line comes in an undercuff for those who prefer less bulk while keeping their hands warm. ThermacoreECO insulation with a DRYRIDE™ shell and GORE-TEX membrane to keep hands dry.
Dakine Titan (Men's) and Sequoia (Women's) GORE-TEX Mitt ($80)
The removable liners in these mitts give you the warmth you need on cold days while allowing you to adjust for milder temps when needed. Hi-Loft insulation; GORE-TEX with Gore Warm technology inserts and PFC Free DWR waterproofing.
Flylow Oven Mitt ($55)
The Oven Mitt is a warm, durable, yet simple pair of gloves from Flylow – and dad's mitt of choice for the slopes. Pair these with an insulating liner when you need a little extra warmth. Spaceloft™ insulation with outer protection from pigskin leather sealed with SnoSeal beeswax.
REI Co-op Guide Insulated Mittens ($50)
Full leather mitts keep hands warm while holding up with rugged use. Stay warm with synthetic insulation (polyester) and shearling fleece. Synthetic soft-shell fibers keep this mitt waterproof, breathable, and extra grippy.
Andorra Mitts (under $25)
Surprisingly effective mitts given the affordable price. We bought these for one of our teens the day ahead of our winter trip to Fairbanks, AK. He has continued to use them boarding ever since. Thermal insulation with waterproof TPU inserts to keep hands warm and dry.
Top Picks for Best Snowboard Gloves
Black Diamond Guide Gloves ($180)
Black Diamond's warmest glove protects against cold fingers but still provides full dexterity. Rated for temps as low as -20°F (-29°C), PrimaLoft Gold insulation, and GORE-TEX insert.
Hestra Leather Fall Line Glove ($165)
One of Hestra's newest in their line of hand protection is leather gloves with a fitted cuff for less bulk. The cowhide shell provides superior protection from the elements. Fingers stay warm with G-Loft® insulation and are protected from moisture with a cowhide shell and neoprene cuffs.
Dakine Excursion GORE-TEX Gloves ($130)
One of Dakine's top sellers. Those taking their snowboard adventures into the backcountry are sure to stay warm with Dakine's Excursion line of gloves. Insulated with PrimaLoft® Gold and protected with GORE-TEX + Gore Active Technology inserts.
Burton Profile Gloves ($80)
A step down from Burton's GORE-TEX line, these gloves still deliver warmth and waterproofness at a lower price. The Profile Gloves are insulated with Thermacore insulation, and the DRYRIDE 2L (2-layer) shell will keep you warm and dry.
Related: Skiing for Beginners: 23 Super Useful Tips for Your First Ski Trip
REI Co-op Gauntlet GTX Glove 2.0 ($80)
Get protection from the elements with plenty of dexterity with REI's own affordable gloves. Fingers stay warm with synthetic polyester insulation and dry with GORE-TEX inserts.
Outdoor Research Prevail Heated GORE-TEX Gloves ($329)
Heated gloves are the best way to prevent cold hands and fingers. But the amount of warmth in these gloves comes with a price tag to match. These are definitely an investment (around $300), but there is no doubt they will keep you warm no matter how low the temps are. EnduraLoft insulation with waterproof GORE-TEX inserts.
The Best Wrist Guards for Snowboarding
One of our teens ended last year's ski season with a wrist fracture, which is all too common for boarders. Add protection to snowboarding gloves that do not have wrist guards.
Burton Impact Wrist Guard ($25)
The wrist guards our kids use. These wrist guards for snowboarding fit securely under their mitts.
Dakine Wristguards ($20)
Low-profile wrist guards that fit nicely under most gloves and mitts.
Impact Wristguards from CTHOPER ($20)
The most breathable wrist guards provide just enough coverage to protect wrists from impact.
Where to Buy Snowboarding Gloves
We have a few favorite places to look for snowboarding gloves. 
REI is one of our favorite places for outdoor gear. From membership rewards (members receive an annual dividend from their purchases every year) to competitive prices, excellent returns policies, and a buyback program, we frequently shop REI for snow gear. 
Backcountry is another fantastic outdoor retailer, carrying a full line of winter gear.
The House now runs two go-to online retail shops for skiers and boarders (skis.com and snowboards.com).
Of course, Amazon is also a destination to pick up some of the best gloves for snowboarding, especially when you need them quickly.
Snowboarding Gloves: Frequently Asked Questions
---
When shopping for a new pair of snowboard gloves this season, choose a pair that will hold up in cold conditions to keep your fingers warm and toasty. Durable gloves will hold up fall after fall, and water-resistant materials keep wet snow from reaching your hands.
---
Click below to save the best snowboard gloves with wrist guards (and without) on Pinterest!