Fingers always seem to be the first place you feel the chill on a cold, snowy day in the mountains. Finding the proper protection for your hands is key to staying comfortable on the slopes. And since we're outfitting the kids for new gear this year, we've done all the homework and found the best snowboarding gloves to keep their hands warm and dry.
And because protection from falls is also essential for beginners, we've also found the best snowboarding wrist guards – both integrated into the gloves and separate.
Gear up and get ready to get outside this winter season!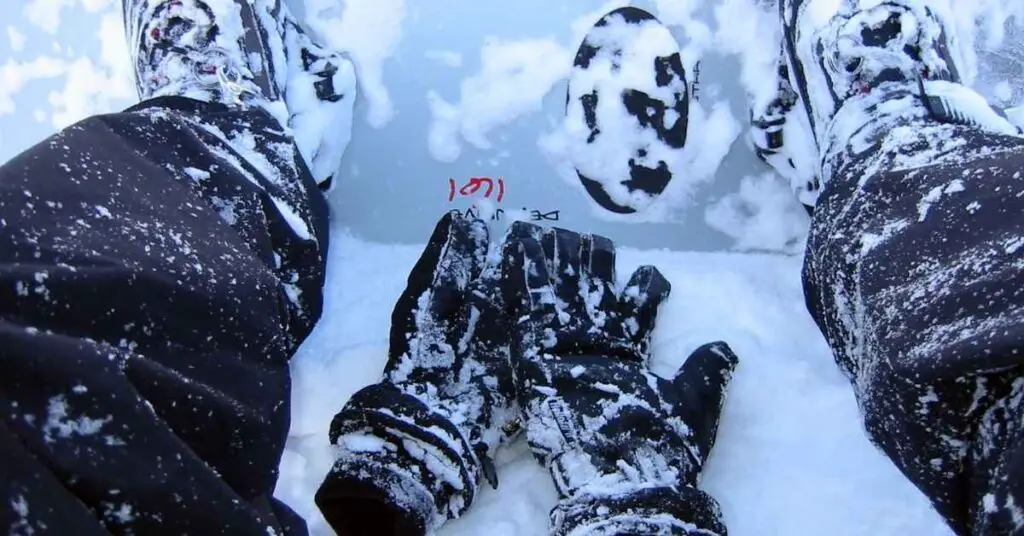 How to Choose the Best Gloves for Snowboarding
So what makes an excellent glove for snowboarding? Gloves with good insulation and are waterproof and windproof will keep you warmer. Durable materials on the palms will hold up from falls on packed snow.
Gauntlets (the part that covers your wrist) can be cuffed, and wrists that can be cinched keep know off your wrists and forearms. Gloves with zippered pockets are even warmer when tucking a handwarmer into those pockets.
Some of the best snowboarding gloves have removable liners, and these provide extra insulation and make them easier to clean. Gloves can also come with nose wipes (those fridge temps make lots of runny noses!) and squeegees for your goggles.
If you're afraid of losing a glove on the slopes, choose a pair with a leash that will stay attached to you even when you're not wearing them.
The Best Snowboarding Gloves with Wrist Guards
When you're hitting the slopes for the first time, wristguards can provide protection when there are frequent falls. These options for the best snowboarding gloves all have removable inserts, so you don't have to buy another pair when you no longer need the guards.
1. Dakine Unisex Wristguard Gloves
We're all about wrist guards that are not only built-in but also removable. The Dakine Wristguard Gloves have wrist protection with the ability to quickly remove them for washing. Built-in wrist leash and cuff cinch closure make these gloves even more comfortable.
removable rigid nylon plates to protect wrists from falls
the cuff cinch closure and velcro wrist strap create a custom fit to keep snow from getting into your jacket sleeves
the wrist leash ensures you won't have a lost glove on the slopes
DK DRY insert provides additional insulation
available in multiple colors/designs
2. devembr gloves with wrist guards
We like the budget-friendly options from devembr. The highly-rated gloves will keep fingers warm on the slopes (especially when tucking a hand warmer into the zippered pocket!).
3M Thinsulate for insulation and premium PU leather on palm for durability
wrist guards are removable when not needed
zippered pocket for hand warmers
Snowboard Gloves Without Wristguards
Intermediate and expert boarders often don't want the restriction of wrist guards. These gloves can be worn over wrist guards when you're ready, so you can avoid buying a separate pair of gloves.
3. Burton Profile Undergloves
Gauntlets are great for keeping snow from getting into the sleeves of your jacket, but that does as bulk. If you don't have trouble keeping snow out, consider under gloves. This pick for best snowboarding gloves is designed to be worn with cuffs tucked under your jacket.
stay warm with midweight Thermacore insulation
moisture-wicking DRYRIDE materials keep you dry and warm
4. Burton Insulated Waterproof Touchscreen
The quality of Burton gloves gives protection from the snow with an over-the-cuff style. This simple option makes the list of the best snowboard gloves for providing all the warmth you need on the slopes.
two-layer DRYRIDE fabric is waterproof but breathable
Thermacore insulation for warmth
removable wrist leach for only when you need it
5. MCTi Waterproof Snowboard Gloves
A budget-friendly option with the key features of the best gloves for snowboarding: warmth, cinch closures, and durable materials.
3M Thinsulate traps warmth in
durable leather palm provides grip
snow scraper finger for wiping goggles clean
6. Burton Prospect Glove
The Prospect Glove is a no-frills glove with the warmth and quality from Burton. A simple but effective glove for spending the day on the mountain.
Thermacore insulation for warmth
fixed microfiber lining stays in place
DRYRIDE membrane is waterproof to keep hands dry
available in multiple colors
7. Carbide Sensor Gloves from Outdoor Research
Outdoor Research uses premium materials to make these as weatherproof as possible.
GORE-TEX shells are waterproof, windproof, and breathable
VerticalX polyester insulation (85% recycled)
clasp wrist closures for a custom fit
includes removable leash and goggles wipe
8. REI Co-op Timber Mountain Snowboard Gloves for Kids
This budget-friendly glove for kids keeps them warm and dry out on the slopes. Another highly-rated, no-frills pick for the best snowboard gloves is perfect for beginner boarders.
waterproof and windproof, yet breathable
wrist straps and gauntlet cinches keep snow out and warmth in
bluesign® approved materials make these gloves a sustainable option
detachable leashes ensure they don't get lost on the slopes
The Best Mittens for Snowboarding
Mittens are often warmer than gloves, but you also lose dexterity in your hands. While grabbing things is a little more challenging, your hands will be warmer!
9. Burton Gondy GORE-TEX
The Gondy GORE-TEX is an entirely weatherproof glove made of leather with a lining that offers temperature control. There is little bulk to these snowboard gloves with the under-cuff design and lightweight insulation.
under cuff fit with velcro closures
Thermacore insulation for extra warmth
10. Burton GORE-TEX Mittens for Kids
Burton makes a version small enough for the kiddos too. The same high-quality features make this smaller version a fabulous option little hands.
DRYRIDE technology is waterproof yet breathable
moisture-wicking microfiber lining stays in place to keep hands dry
ergonomic fit to the natural shape of hands
11. Tough Outdoors Snow Mittens
This budget-friendly pick for the best snowboarding gloves is surprisingly effective in the snow and cold temps.
waterproof nylon shell keeps hands try in snow
wrist leashes keep them attached to you at all times
extra deep powder cuff keeps snow off your skin
12. Hestra Heli Snowboarding Gloves
The carabiners at the cuffs of the Hestra Heli gloves make it easy to clip to your gear for easy access when you need it. The removable liner is also mitten.
goat leather construction for durability
removable lining for extra insulation on the coldest days
wrist closures to keep snow out
pre-curved design to fit the natural shape of hands
Three Finger Snowboarding Gloves
Split-finger or 3-Finger gloves provide the warmth of mittens with some dexterity of gloves. Only the index finger and thumb are separated, making it easier to pick things up without taking your gloves off.
13. Outdoor Research Highcamp 3-Finger Gloves
Customers love this glove for more than just snowboarding. The warmth and waterproof materials make this a multipurpose glove for all winter activities.
water-resistant goat leather palms
VerticalX high-loft insulation for warmth
5-finger liner gloves are touchscreen compatible
pre-curved design fits the natural shape of hands
14. Kids' Split Finger Gloves from Outdoor Research
Our kids have used these gloves skiing and snowboarding in Colorado for the past few years. The split-finger design provides a balance of dexterity and warmth.
synthetic leather palms for durability and grip on the snow and ice
wrist straps and cinches keep snow out and warmth in
a budget-friendly option for growing kids
15. Hestra Heli Three Finger Gloves
The Hestra Heli is one of the highest quality on the market but comes with a price tag to match. You really can't go wrong with an investment in these top-of-the-line snowboarding gloves that come with a lifetime warranty.
removable liners for extra warmth
cuff cinches and closures keep snow out
waterproof and windproof to protect from the elements
"Eagle Grip" finger for better dexterity
Heated Snowboarding Gloves
The best snowboarding gloves are built to keep your finger warm – and these definitely fit the bill. It doesn't get any warmer than heated gloves!
16. Outdoor Research Capstone Heated Sensor Gloves
The amount of warmth in these gloves comes with a price tag to match. These are definitely an investment, but there is no doubt they will keep you warm no matter how low the temps are.
rechargeable batteries deliver heat for up to 8 hrs (on low)
PrimaLoft insulation traps warmth in
palm is weather-resistant and durable
17. Action Heat 5V Battery Heated Mittens
Heated gloves that come in a mitten version – and are more budget-friendly! Synthetic fabrics are wrapped around the heating element that keeps your fingers toasty warm.
rechargeable batteries are slim enough to a gauntlet pocket
3 heat settings for the right amount of warmth
outer materials are waterproof to keep you dry
The Best Snowboarding Wrist Guards
Whether you already have a favorite pair of gloves or have your eye on one of our best for best gloves for snowboarding, these wrist guards can be worn under a separate pair of gloves.
These wrist guards for snowboarding have great protection and are made for a comfortable fit for a full day on the slopes.
Dakine Wristguards
neoprene material is stretchy and more comfortable
aluminum stay provides wrist protection
Wrist Guards from cthoper
can also be used in other activities requiring wrist protection, like skateboarding and ice skating
velcro straps for a custom fit
sides are made of nylon mesh for breathability
Burton Impact Wristguards
Where to Buy Gloves and Wrist Guards for Snowboarding
We buy most of our outdoor gear from REI. They have a great selection, competitive prices, and a generous return policy. Plus, members receive an annual dividend from their purchases every year.
Amazon also has an excellent selection of snowboarding gloves and wrist guards – and quick shipping on many items.
Of course, the experts at skis.com are an excellent resource for the best snowboard and ski gear.
What kind of gloves is best for snowboarding?
The best gloves for snowboarding are waterproof and warm, and they should come with clasps or cinches at the wrist and cuff to keep the cold out and warmth in. Also, look for gloves with leashes to reduce the risk of losing one on the mountain.
What are the warmest gloves for snowboarding?
The warmest gloves for snowboarding are heated gloves. This type of gloves comes with a rechargeable heating element to keep fingers toasty warm. A more budget-friendly option is gloves with a zippered pocket to stash a handwarmer on extra chilly days.
Are gloves or mittens better for snowboarding?
It depends. Gloves give you better dexterity, but heat is lost when the fingers are separated. Fingers stay warmer when they are not separated, but it can get tricky when you need your fingers to clasp, buckle, or pick up items with them on.
Do I Need waterproof gloves for snowboarding?
Yes! The number one rule for keeping warm is to also stay dry. The quickest way to feel the extreme cold is when gloves get wet and the dampness soaks through the material to your fingers. Look for highly waterproof gloves with moisture-wicking liners to keep you dry.
---
Click below to save the best snowboarding wrist guards and gloves on Pinterest!