We always talk about getting out for a hiking adventure with the family, but why not make it a romantic hike and leave the kids at home? After all, is there anything more romantic than being surrounded by the beauty of nature on a hiking date?
There are many ways to pull off a date on the trails. We have what you need to know, whether you're planning a date with your tried-and-true hiking partner or looking at hiking date ideas for a first date. Or maybe you're even starting off on an adventure as friends and want to see where the relationship goes.
No matter who you are with, these tips and ideas are sure to make your hiking date fun and memorable!
Why is Hiking a Great Date Idea?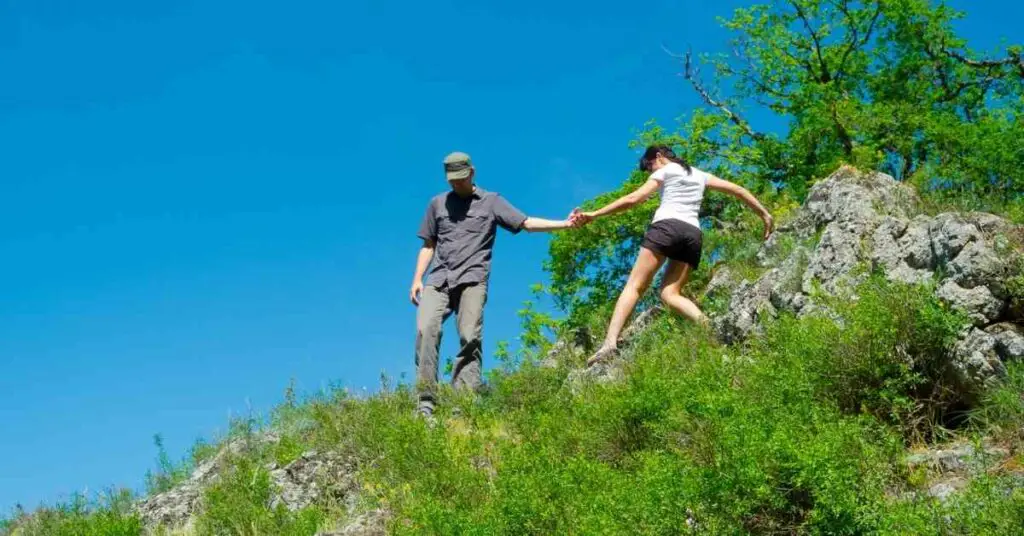 Hiking dates are really just going for a walk with views along the way, making them low pressure.
Few distractions give plenty of time to talk, leading to more meaningful conversations.
It's adventurous but not one of the outdoor activities that require a lot of skill.
Hiking is super affordable, often costing nothing more than the food and drinks you bring along on the trail.
A day on the trails is an opportunity for subtle physical contact.
It's an opportunity to get a new perspective on the trails for couples who are always hiking with kids in tow.
Hiking is Excellent for Long-Term Relationships or First Dates
A hiking date night is a unique alternative to traditional date nights at the movies or dinner. When you're looking to do something new and different, this is an excellent way to get some quality time together. Plus, it's a chance to have fun while getting in some physical activity.
Planning a first date? We all know that can be a little nerve-wracking – you want to make a good impression, but you also don't want to do anything too risky or adventurous. And on your first date, there's no uncomfortable eye contact. A hiking date is a perfect way to show off your adventurous side while remaining comfortable and low-key. 
The Best Hiking Date Ideas
While you don't need to plan every last detail for your time out in nature, it's fun to add to the experience. Here are a few hiking date ideas that can make the trail that much more fun
Pack A Picnic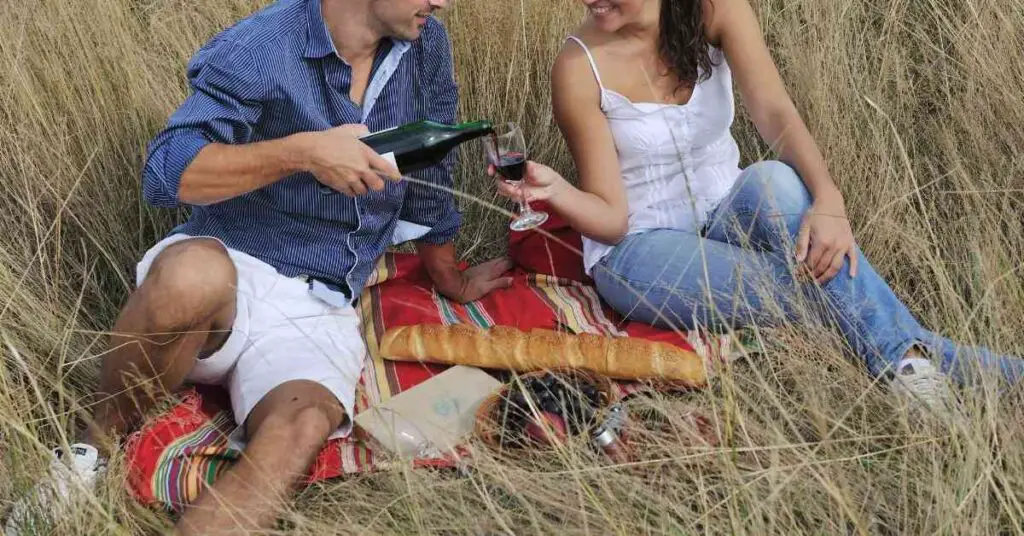 Bring plenty of hiking snacks or a picnic lunch for your date – or even a portable breakfast if you're going on an early morning hike. Go casual with sandwiches and chips. Or make it a little more romantic with cheeses, cured meats, dried fruits, and a baguette.
Make it a Surprise Date
The best and most romantic ideas are the unexpected ones. Make sure your partner has the proper hiking gear, so they're not caught unprepared. If you need to, try to sneak a backpack with gear into the car ahead of time, so they don't get suspicious when you tell them to wear hiking boots on your date!
Take a Night Hike
Make it a bigger adventure and make it a night hike. On nights when a full moon provides lots of light, many trails are lit up just enough to make your way along the path. Share a new experience, like the sounds of nature after dark, to make it extra romantic.
Hike At Sunrise Or Sunset
An exceptionally romantic hiking date night is a sunset hike. Or, if finding time proves difficult, consider squeezing in a very early morning sunrise hike. Research ahead to find locations to view spectacular sunsets or sunrises. And don't forget to check the time, so you don't miss the show!
Find an Unforgettable Destination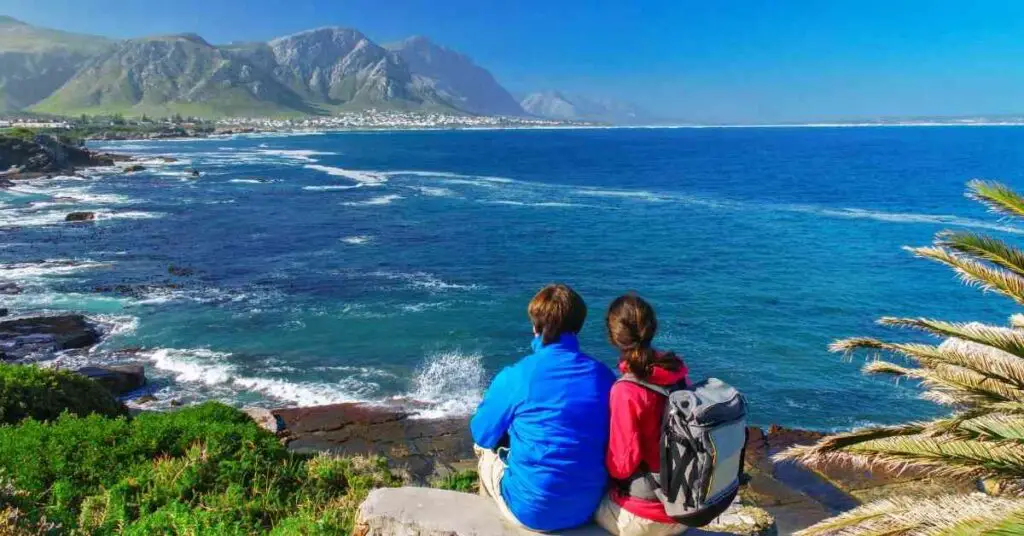 Choose hiking trails that lead to stunning views, spectacular waterfalls, or gorgeous lakes. Or look for hikes with something to explore, like old airplane wreckage on the Waterrock Knob Trail in the North Carolina mountains or abandoned mines at Caribou Ranch Open Space near Boulder, Colorado.
8 Tips for a Perfect Hiking Date
Even the best hiking date ideas can go awry without a bit of planning ahead. Whether you are on your first date or have had too many dates to count, there are a few hiking date tips to ensure the time goes as planned. If you are new to hiking, our daughter shared a few basic hiking tips here.
Check the weather. Nothing can take away from a hiking experience like being unprepared for the weather. If planning your hike for early or late in the day, be ready with layers for temperature changes. If there is any chance of rain, bring gear to keep dry. Postpone if you need to.
Don't be on a tight schedule. We all know the time it takes to hike a trail is a very rough estimate. If anything like too many stops to take in the views leaves you short on time, the return back could be filled with frustration.
Planning your hiking destination ahead of time. Like picking a restaurant, you don't want to spend most of your date deciding where to go.
Keep it a simple day hike. Unless you are both very experienced hikers, it's probably not the time for a great adventure. 
Remember to hydrate, bring more water than you think you'll need if the temps are higher. No one wants to be on a date when not feeling at their best.
Don't worry too much about finding the perfect hiking trail, but don't choose one that is too challenging for either of you. After all, you want the focus on the date rather than getting through the hike. If you're unsure, choose a good trail for any skill level.
Consider both the distance and the difficulty level when estimating your time on the trail. A steep climb will make short hikes a bit longer.
Like on any day out on the trails, let someone you trust know about your plans for the day if anything doesn't go as you anticipate.
Consider bringing your dog along on the hike, too, as long as you are both dog lovers!
What to Wear on Your Hiking Date
The most important thing is to dress comfortably and appropriately for a day on the trails. Consider the weather and how it can change during your adventure.
hiking shoes or boots
comfortable, moisture-wicking clothing
layers, especially if there is a chance of the temps getting warmer or cooler
a brimmed hat
What to Bring on a Hiking Date
 One of the reasons to go on a hiking date is because there is not much you need to bring. Pack up a few hiking essentials, and you're ready to go.
reusable water bottle
bug spray (especially in summer and near water, or if either of you is a mosquito magnet)
sunscreen
a hiking backpack to hold everything
sunglasses
a bag to collect any trash from snacks or drinks (other than water)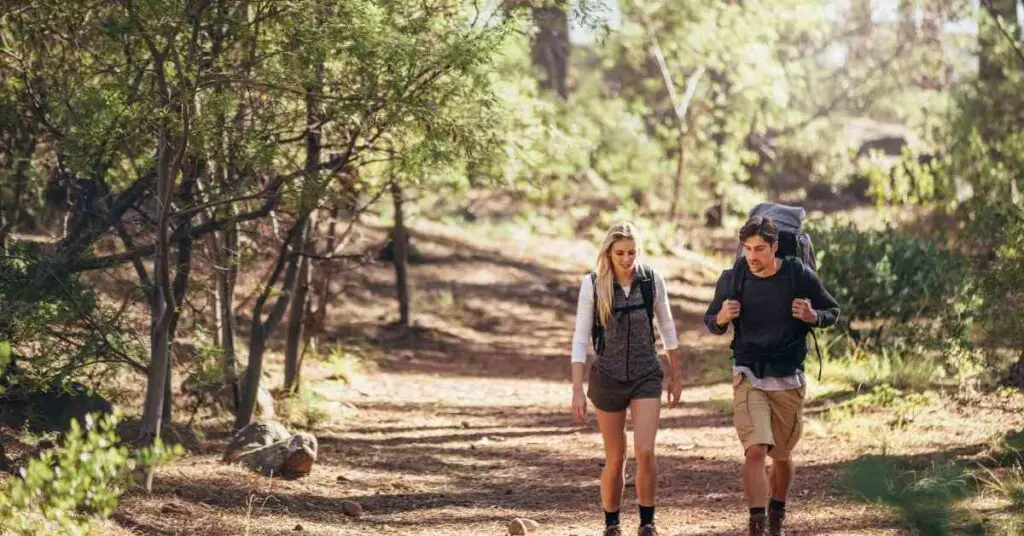 Frequently Asked Questions About Hiking Dates
Have you ever hit the trails on a date? Let us know your favorite hiking date ideas in the comments!
---
Click below to save these hiking date tips and ideas on Pinterest!