Every year, there seems to be at least one person on our gifting list where we draw a complete blank. Subscription boxes are great, but they can get expensive. Our Cairn subscription review tells you what you need to know before sending this gift to your favorite outdoor friend.
Although we received the October 2018 box from Cairn at no cost to us, the opinions expressed in this Cairn subscription review are our own.
Update for 2020: it's been 2 years since we received the box. While it's always fun to try out new things, any subscription box is only worth it if it comes with some great new finds. Read on to see what we still love and what we don't from our original Cairn subscription review.
The October 2018 Cairn Subscription Review
This is where all the fun comes in. You never know what you are going to get, and it changes every month.
Each box will have up to 6 (full-sized) products, valuing up to $50 total. Products can include apparel, trail food, gear, skincare, and outdoor safety items.
We found 3 great products in our Cairn box: a headlamp, a water bottle, and a snack bar. A Cairn sticker and newsletter were also included in the box.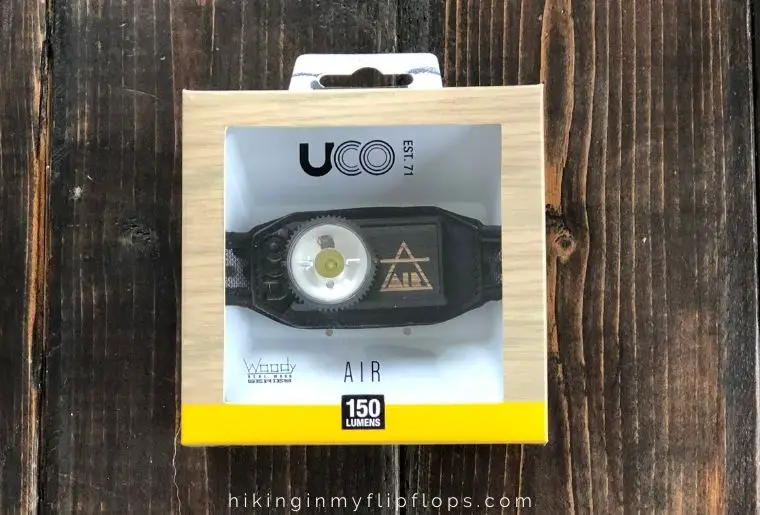 This super light, water-resistant headlamp has a dial to change the brightness of the light. It also has a red light, ideal for stargazing.
Our favorite features of this headlamp are the rechargeable battery and the flip-down light so you can get the light in the direction you need.
Update for 2020: we are still using this headlamp and often argue over who gets the "good one!" We love it because the adjustable strap makes it quick and easy to fit on different-sized heads. And we still love that the light flips down to keep light from shining directly at other people.
The UCO Air Headlamp retails for $34.99.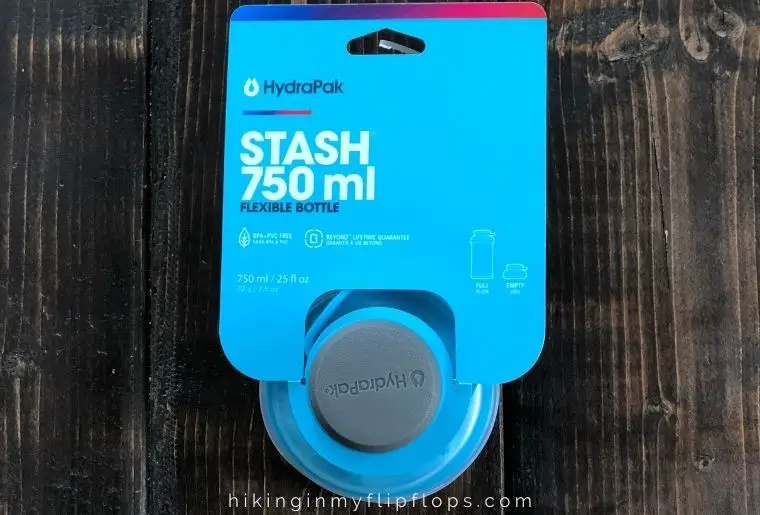 The HydraPak water bottle is not only light weight, it collapses when not in use.
The best part? This water bottle is dishwasher safe!
Update for 2020: we're still using this water bottle too! We've found that it can take a long time to dry out, and we don't want to put it away until it's fully dried. But it's definitely worth easily stashing away when the bottle is empty – whether we're on the trail or running through the airport.
The HydraPak Stash retails for $20.00.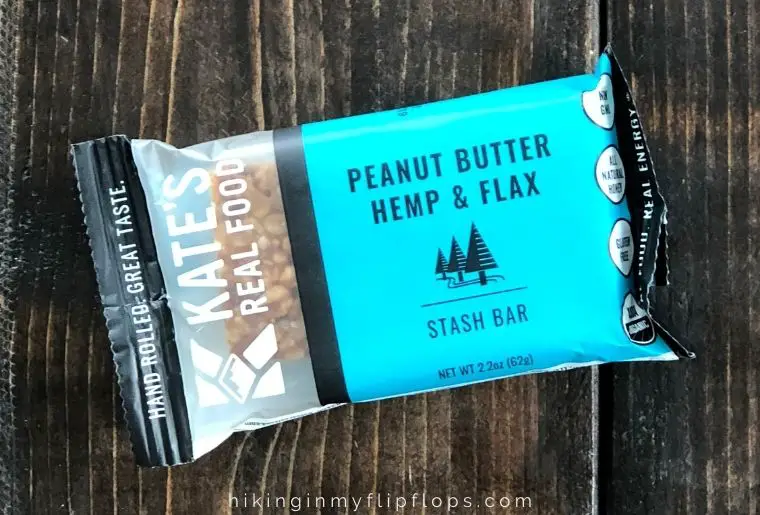 We got the Peanut Butter flavored bar (with Hemp, & Flax), so we knew it would be easy to love this one.
But what we really loved was how light the bar was. Similar bars are often dense and hard to eat.
Update for 2020: we've seen these in a few markets, but haven't had an opportunity to buy again.
Kate's Real Food bars retail for $2.99 each.
Cairn Scout Newsletter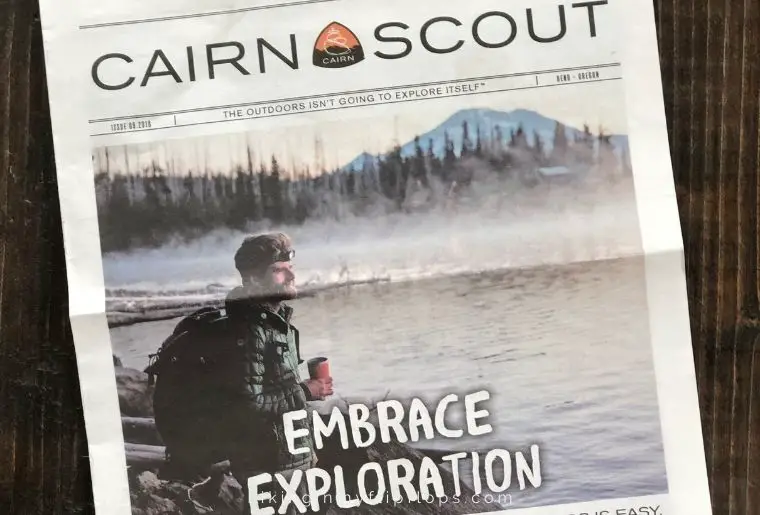 The Cairn Subscription box included a newsletter with information on this month's products. The newsletter also has more information on a Cairn subscription, a few adventure tips, and some words of inspiration to get out and explore.
Don't Miss Out on These Items!
If you missed out on the October box, not to worry. These products are all available on Amazon – and each get great reviews.
Kate's Real Food Organic Energy Bars, Non-GMO, All-Natural Ingredients, Gluten-Free and Soy-Free Healthy Snack with Natural Flavors, Peanut Butter Hemp & Flax (Pack of 12)
USDA-CERTIFIED ORGANIC ENERGY BARS: Our bars are USDA-certified organic, gluten-free, non-GMO, soy-free, and kosher. Each bar brings a great texture with the energy and nutrients you need.
NATURAL GREAT TASTE: We keep things sweet by using only organic dried fruits, organic dark chocolate, organic honey, and other clean flavors to satisfy your cravings. We never use any artificial or chemical sweeteners. Great taste guaranteed.
Gifting a Cairn Subscription Box
This has to be one of the easiest gifts you could ever give.
Choose the subscription length (options vary from one to 12 months) and provide the recipient's name, email, and mailing address.
>> Click here to set up a gift subscription <<
Cairn won't email the recipient until after the first box is sent. But once that first gift is received, they'll have the opportunity to set up a profile to personalize their boxes.
The Perfect Recipient
Just about anyone who loves the outdoors (including you!) will love getting a monthly box with new outdoor products.
While the products are not geared toward kids, everything in the October 2018 box was claimed by our kids – including the sticker!
Clothing sizes and activity preferences are all noted in the recipient's profile, to match them with gear that fits their favorite activities.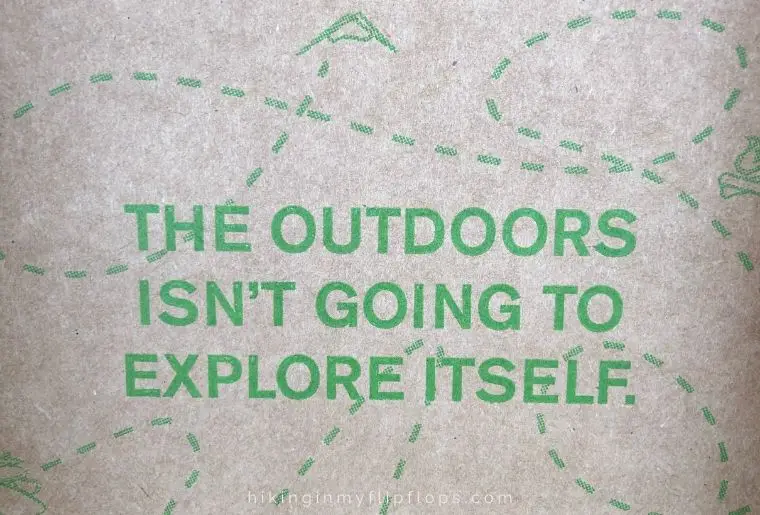 The Gear
When you don't know what products will be in each box, it's easy to worry about gifting something they already have.
In our box and from what I've seen in past boxes, these boxes aren't filled with everyday brands. You aren't likely to see Coleman, REI, or Patagonia. Instead you'll find newer, smaller brands with innovative products.
So while we have lots of headlamps in our house, none have the cool features of the UCO Air Headlamp.
The Cost
Gifting a full 12-month subscription means lots of gear (that at least 36 products!). While that's an outdoor gear lover's dream gift, it does come with a price tag to match.
Take advantage of Cairn's flexible subscription length to make it a budget-friendly option.
The Bottom Line
A Cairn subscription is a great done-for-you gift, especially for friends and family that are hard to buy.
While the price tag can creep up quickly, it ends up being a lot of gear that people won't usually buy for themselves. 
We think the Cairn subscription box is such a great gift, that it earned a spot on our 2018 gift guide for outdoorsy people. After all, what's better than a gift that keeps giving all year long??
Have you received a Cairn subscription? Give use your Cairn subscription review in the comments!
---
Click below to save the Cairn subscription box on Pinterest for your holiday gifting list!
Back to the top of Cairn Subscription Review: The Gift that Lasts All Year