On an extended trip to Northern California, we enjoyed several day trips to explore beyond San Francisco and the Bay Area. With a weekend that also covered Santa Cruz and Napa Valley, we only had time for one day at Yosemite National Park.
It might not sound like enough time, but we took full advantage of the opportunity to see everything we could at the iconic national park. Exploring this enormous park could fill an entire week, but few of us have the luxury of that much time.
Follow our sample itinerary below to squeeze in the biggest highlights of Yosemite National Park in one day!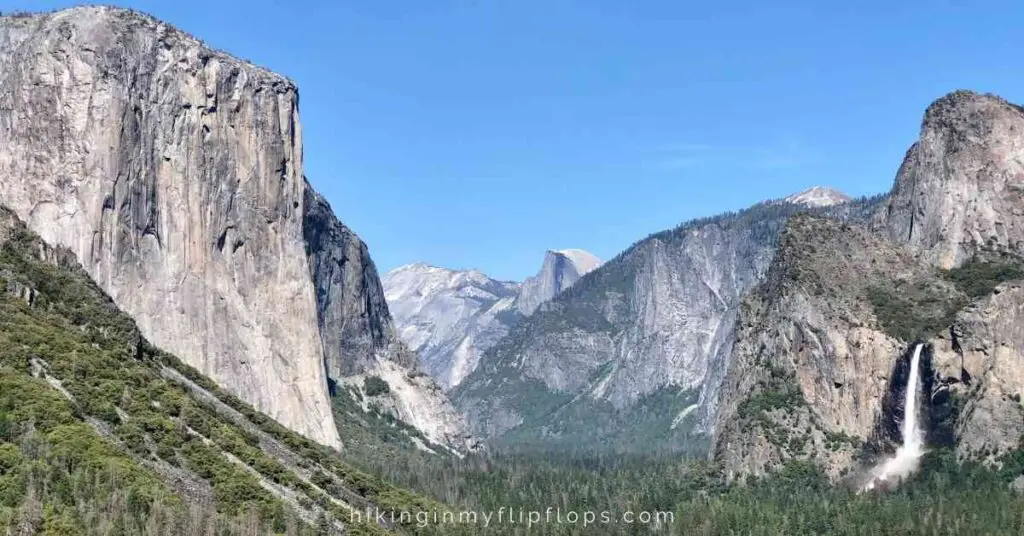 ---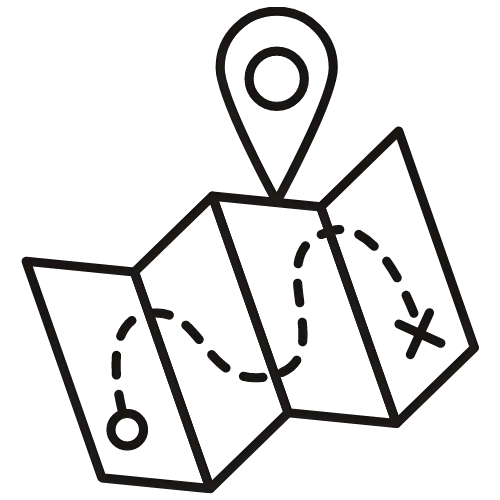 About Yosemite National Park
---
Open dates/times: Yosemite is open year-round, 24 hours a day, with some seasonal closures
Visitation: This busy park ranks in the top 10 most-visited national parks (especially May-October).
Weather: summer months are warm and dry, with cooler temps at higher elevations in the park
Closest Cities: Fresno, Sacramento, and Oakland, CA, are all within a few hours of the park
On-site Amenities: both lodging and restaurants are available within the park
---
Yosemite National Park in One Day: 5 Ways to Spend Your Day
These park highlights are must-sees when planning what to do in Yosemite in one day. Most of the day is centered around granite rocks, peaks, and domes, not to mention the waterfalls that define the jaw-dropping landscape of Yosemite Valley.
1. Hit the Hiking Trails
Bring your hiking shoes (or any good, sturdy shoes) to hit one of the park's beautiful trails. There are plenty of Yosemite Valley day hikes to choose from. Hit an easy trail like the Lower Yosemite Fall Trail or Bridalveil Fall Trail. Or choose something more strenuous, like the Snow Creek Trail or Half Dome Trail.
On recommendation, we did the waterfall hike to Vernal Fall. This out-and-back trail ranges from 1.6 miles (roundtrip) to 8 miles if you continue to Nevada Falls (we took the shorter route because we wanted to see as much of Yosemite National Park in one day as we could). Once we reached Vernal Fall, where hikers get soaked from the heavy spray of the waterfall, we turned back.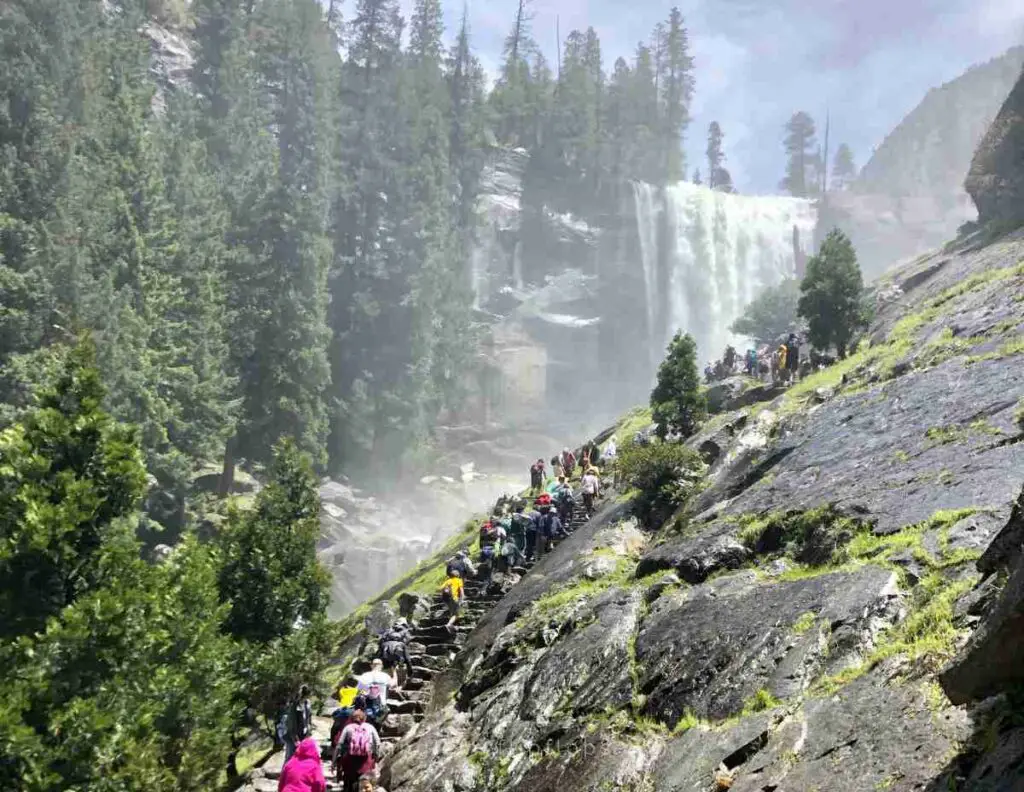 2. Walk Through a Sequoia Grove
Head out of Yosemite Valley to see the giant sequoia trees. The largest trees in the world can grow up to 300 feet tall and weigh over 2 million pounds. Not only are these trees enormous, but they also live for a long time. Estimated to be about 3,000 years old, the Grizzly Giant is the oldest sequoia tree in Yosemite.
There are three sequoia groves within the park:
Mariposa Grove, the most accessible sequoia grove, is near the Wawona Visitor Center (south entrance) and is home to Grizzly Giant. When Mariposa Grove Road is open in the summer, visitors can drive or take the free shuttle bus to reach this sequoia grove.
Merced Grove, near the Big Oak Flat Entrance, is smaller, more secluded, and can be reached only on foot. The 3-mile (roundtrip) trail is open year-round but becomes a more strenuous hike when there is snow and ice in the winter.
Tuolumne Grove is another smaller sequoia grove near the Big Oak Flat Entrance. The trail to reach these giant sequoia trees is easier than the Merced Grove trail.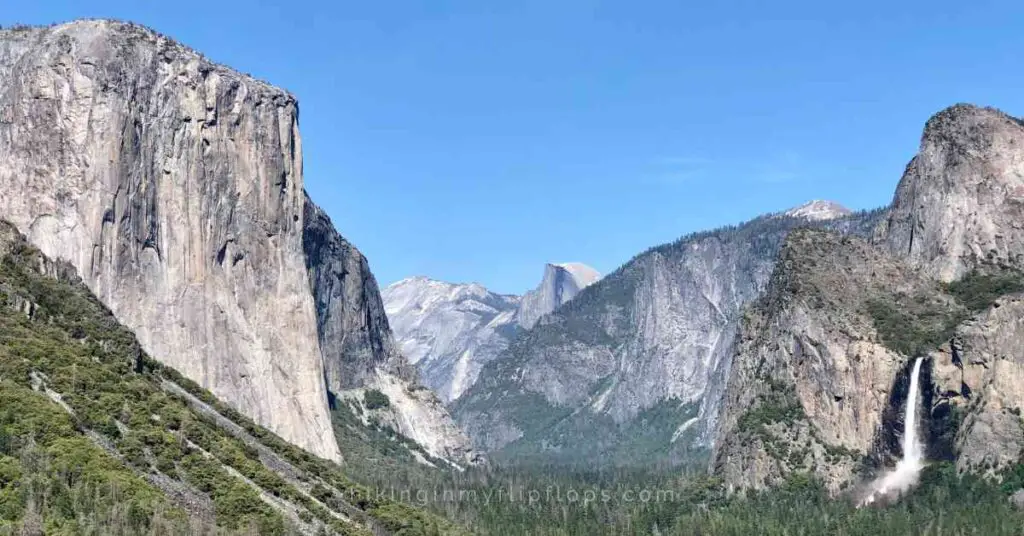 3. Stop to See Yosemite Valley's Most Iconic Views
Get spectacular views of natural wonders like waterfalls and granite domes from several spots around the park.
What to See: 5 Iconic Sights in Yosemite
A day in Yosemite isn't complete without standing in awe at these natural wonders:
Half Dome is the iconic granite formation featured in The North Face's logo. See it from Mirror Lake.
El Capitan, often called El Cap, is a granite monolith that towers above Yosemite Valley. It's a challenging climb, worthy of any rock climber's bucket list. If you're looking for a challenge, try climbing the Nose Route on El Capitan.
Sentinel Rock is a granite peak with steep joints formed by rocks splitting off the Valley cliffs. See it from Cook's Meadow or Lower Yosemite Fall area.
Sentinel Dome, one of the park's granite domes, can be seen from Glacier point road. Visitors can also hike to the top of the dome on an easy-to-moderate 2.2-mile (roundtrip) trail.
Across from Sentinal Rock is Yosemite Falls, the tallest waterfall in North America and one of the tallest in the world.
Where to See Them: The Best Viewpoints in the Park
Yosemite Valley View has unparalleled views of El Capitan and Bridalveil Fall behind the Merced River. A parking area off Northside Drive provides easy access to incredible views. 
If your Yosemite itinerary allows for a longer hike, the Sentinel Dome and Taft Point Loop will reward you with incredible views. The moderate 5-mile hike leads to two viewpoints. Sentinel Dome is a spectacular spot to see it all, with 360-degree, panoramic views of the park. Taft Point is an excellent opportunity to see stunning views of El Cap and Yosemite Falls. Skip the loop trail to hike to just one of these viewpoints for a shorter hike.
Drive through Wawona Tunnel to see the most famous sights of Yosemite Valley from Tunnel View. See El Capitan, Half Dome, Sentinel Rock, Cathedral Rocks, and Bridalveil Fall.
4. Explore Yosemite Village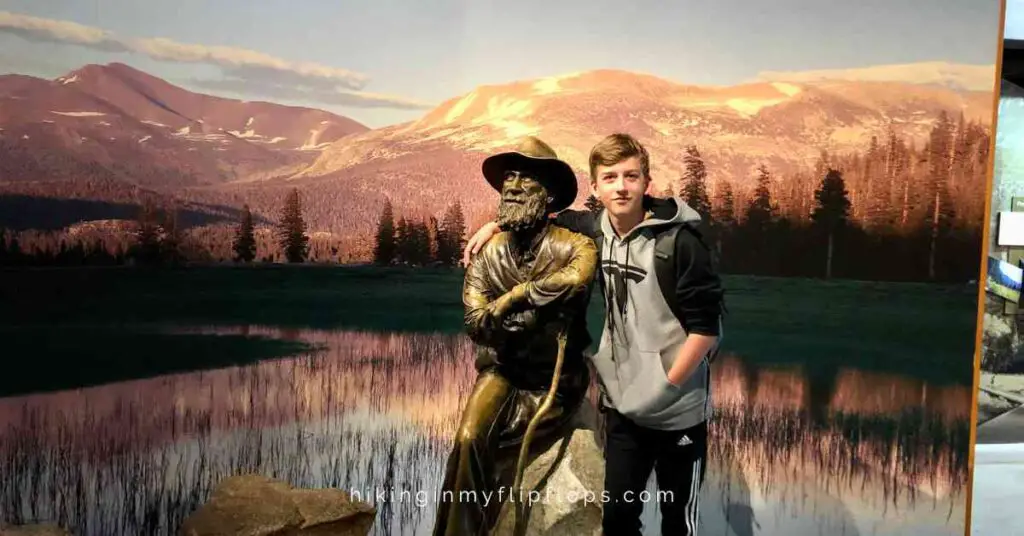 Yosemite Village is bustling with activity. There are many services in this area, including food and restrooms. There is also access to highlights such as Lower Yosemite Fall and Camp 4.
Yosemite Valley Visitor Center
We always recommend time at any national park's visitor center. Learn more about the park, pick up a few souvenirs, and talk with rangers about their favorite spots to explore. The ranger we spoke to proudly talked about his son climbing up El Cap that day.
Yosemite Theater
Learn about the park from the film "The Spirit of Yosemite." There are several showings each day at the theater, and they come highly recommended when spending one day at Yosemite NP.
Yosemite Falls
Walk the paved paths or hike the Lower Yosemite Fall Trail to view the falls.
Camp 4
Even though we had only one day at Yosemite, Camp 4 was at the top of our list of things to see in Yosemite. We aren't climbers but were fascinated by the climbing history at the park after watching the movie Valley Uprising. Back in the 50s and 60s, climbers stationed themselves at Camp 4.
Sentinel Bridge
Views of Half Dome with its reflection in the Merced River.
5. Take a Scenic Drive
The drive into Yosemite Valley is scenic in itself. If you want to catch more views with less traffic during your one-day trip to Yosemite, try one of these scenic drives in the park: 
Tioga Road and Highway 120
A 55-mile stretch between the Big Oak Flat Entrance and Tioga Pass Entrance takes about 1.5 hours to drive (not including stops). See natural wonders like Tenaya Lake, Mono Lake, and Tuolumne Meadows along the way.
Wawona Road
On the park's western side, Wawona Road is a 25-mile drive that includes opportunities to see Mariposa Grove and Tunnel View.
Hetch Hetchy Road
If fishing is on your Yosemite itinerary, this is the drive for you. From Mather, drive the 16 miles to Hetch Hetchy Reservoir for brown and rainbow trout. There are also hikes and waterfalls in this more remote area.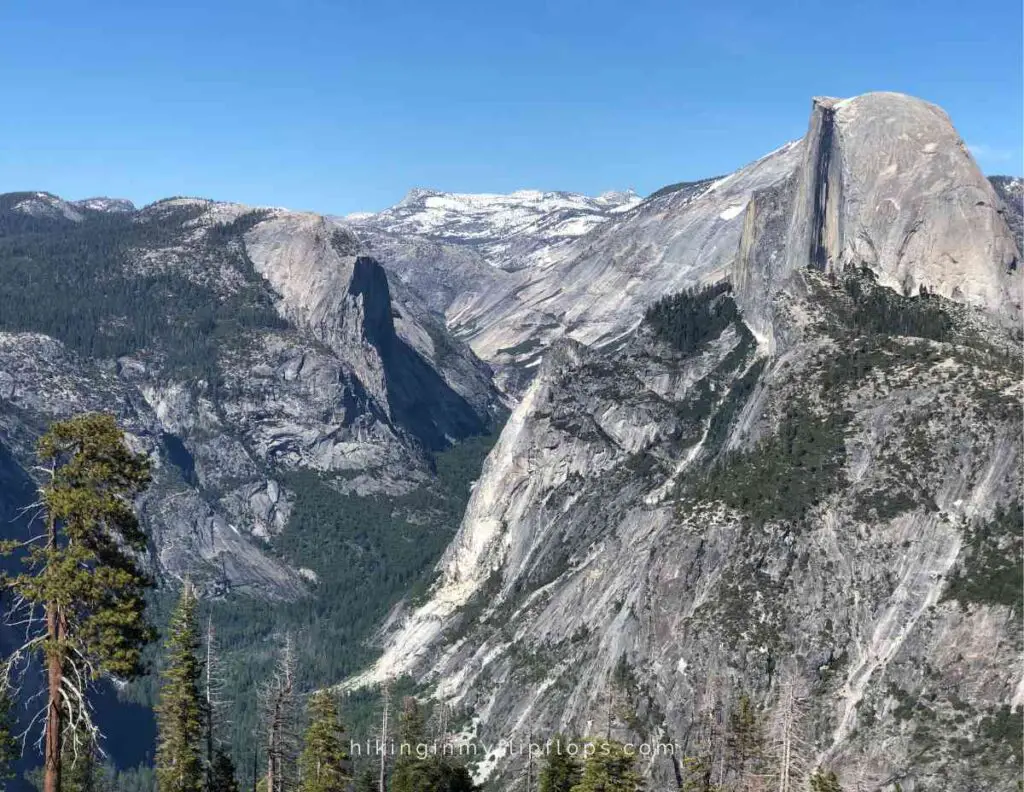 Glacier Point Road
One of the most popular scenic drives in the park, Glacier Point Road, is around 30 minutes to see stunning Yosemite Valley views. Be aware that this road is incredibly busy in the summer, and we nearly gave up before reaching the viewpoint.
Update: The park has closed Glacier Point Road to vehicle traffic in 2022 for some much-needed rehabilitation. Access to Glacier Point is via a strenuous hike on the Four Mile, Panorama, or Pohono hiking trails.
A Sample Itinerary for One Day at Yosemite NP
This was our itinerary for seeing everything in Yosemite National Park in one day, soaking in as much as possible before dinnertime. This plan will bring you to all the park's highlights, but adjust as needed to create the perfect itinerary for you.
Start a day in Yosemite with an early arrival. Aim for by 8 am at the Big Oak Flat Entrance Station.
8 am – 9 am: drive along Big Oak Flat Road into the park, stopping at Yosemite Valley View to see El Capitan and Bridalveil Fall.
9 am – 11 am: Continue to Yosemite Village to get a parking spot. (If it's busy, rangers will direct you to open parking until all lots fill up.) Explore Yosemite Village, see Yosemite Falls, and check out Camp 4.
11 am – 1 pm: Take a shuttle to hike Vernal Fall and Nevada Fall Trails. Be prepared for a soaking as you reach the falls!
1 pm – 2 pm: Head back to Yosemite Village and grab lunch. We recommend a picnic at Sentinel Beach Picnic Area. 
2 pm – 4 pm: Leave Yosemite Village and head towards Glacier Point via Wawona Rd. Stop to take in the views from Tunnel View. Don't miss the left turn onto Glacier Point Road. 
4 pm – 5 pm: As you leave the park at the South Entrance, stop to see the sequoias at Mariposa Grove.
Planning Your One-Day Trip to Yosemite
Planning is essential to get as much in as possible when there is so much to see. Spend more time taking in the spectacular views and less time finding your way around.
Getting to Yosemite National Park
Three main park entrances allow visitor access from major cities, including San Francisco, Los Angeles, and Las Vegas. Nearby lodging is the best way to start a day in Yosemite NP from any of these starting points.
Driving from the Bay area (San Francisco / San Jose) or Sacramento brings visitors to the Big Oak Flat Entrance, the park's west side entrance. There is easy access to Yosemite Valley from this entrance. Drive time from San Francisco: about 3.5 hours
Coming in from Los Angeles or Fresno, visitors reach the South Entrance. The Wawona Visitor Center and Mariposa Grove Welcome Plaza are open in the summer. Mariposa Grove, the largest sequoia grove, is accessible from this entrance. Drive time: around 5 hours.
The Tioga Pass Entrance on the park's eastern side makes Yosemite accessible from Las Vegas (though this is best for the summer months when Tioga Road is open). The most direct route goes to the Tioga Pass Entrance and the Tuolumne Meadows Visitor Center. Drive time: 5-6 hours to the Tioga Pass Entrance Station (8+ hours in the winter); drive another two hours to reach Yosemite Valley
If you're not hurrying to reach Yosemite Valley from the eastern entrance, take the time for a few stops in this less-visited area within the park. Stop at Tenaya Lake, an alpine lake over 8,000 feet in elevation. The large is the most accessible in the park and is a spot for swimming, picnicking, and hiking.
Park Entrance Fees
Like most national parks, there is an entrance fee at Yosemite NP. There are three options:
The $35 vehicle entrance fee is valid for seven days.
A Yosemite National Park Annual Pass for $70 for unlimited visits to the park for a year.
The "America the Beautiful" National Parks pass, $80, is valid for unlimited visits to any US national park for a year. (This often includes only the 63 national parks and not national monuments or historical sites).
* Prices are accurate as of December 2022 and are subject to change.
Entrance Reservations: At the start of the pandemic, the park implemented a reservation system. Starting in 2023, the park will no longer require entrance reservations. The exception is during weekends in February 2023, when visitors flock to the park to see Horsetail Fall firey glow from the sunset.
Getting Around Yosemite Valley
Once you have secured a parking spot, keeping it for as long as possible is best because you may not get a chance at another. When we visited on a Saturday in June, our parking spot went to a group who had been driving around looking for parking for two hours.
Once parked, use the shuttle service to get to many of the best spots around Yosemite Valley.
Visitors can also explore on bikes provided by the park at no charge. Learn more about Yosemite's Bike Share Program here.
Where to Eat at Yosemite National Park
Yosemite is a full-service national park that provides almost everything you need during your visit.
While a picnic lunch is our go-to for road trips and outdoor adventures, Yosemite has several dining options. Choose fine dining at the Ahwahnee Dining Room, quick service at the Base Camp Eatery, or grab snacks and groceries from the Village Store.
Find dining options at Yosemite Village and Curry Village. (See all the options here.)
We're fans of picnics whenever we can. And even the picnic areas in Yosemite offer incredible views. Swinging Bridge, Sentinel Beach, and Cathedral Beach have access to picnic tables and restrooms.
Where to Stay When Visiting Yosemite NP
The drive into Yosemite is a few hours for most people, so even if you're planning just one day in Yosemite, you'll need a place to stay in or near the park.
Lodging in the Park
There are several lodging options in Yosemite Valley, plus camping. The beauty and convenience make this a popular option, so reserving months in advance is a must.
The park has three hotels, including Yosemite Valley Lodge and Wawona Hotel.
Reserve cabins and glamping tents at Housekeeping Camp and Curry Village.
Lodging Outside of the Park
Find lodging in the small towns that surround Yosemite National Park.
Tenaya Lodge, located south of the park in Fish Camp, CA
Sonora, CA, has hotels like the Best Western Plus Sonora Oaks, about 1.5 hours from the Big Oak Flat Information Station.
Coming in from Vegas? Try Benton Hot Springs in Benton, CA
Tips for Visiting Yosemite NP for the Day
Your Yosemite day trip itinerary will be more enjoyable if you know what to expect and are well prepared.
1. Arrive Early
If you don't have a reservation during peak season, you'll need to arrive before 6 am. If you have a reservation, arriving as early as possible is still advisable to maximize your time at the park. Even with the reservation system, lines still get long at the entrance stations.
An early arrival helps you avoid long lines at the entrance station and gives you a much better chance at parking.
2. Pack All the Essentials
Time is precious when exploring Yosemite National Park in just one day, so you want to make sure you have everything you need to make the most of your visit.
In addition to the typical essentials for a day of exploring (sun protection, water, snacks, and comfortable shoes), make sure to bring the following items for a day in Yosemite:
extra layers
National Parks pass
a rain jacket and towel if hiking close to waterfalls
3. Prepare for the Weather
Summer months are warm and dry at Yosemite, and the winter months bring rain or snow. The weather can also be different in the lower elevation of Yosemite Valley compared to the higher altitude of Tuolumne Meadows.
4. Respect the Wildlife
Yosemite is home to bears, mountain lions, and other wildlife. Even if you're not camping in the park, practicing bear safety is essential to keep you and the bears safe.
When driving through the park, always watch for wildlife scurrying across the roads.
5. Take Advantage of the Shuttle Service
Parking areas fill up quickly, so plan to arrive early, especially in the peak season (May-September). Once you snag a spot, take advantage of the Yosemite Valley Shuttle System so you don't need to move your car (you probably won't get another parking spot!)
6. Time Your Visit Right
Summer has the advantage of nearly unlimited access to the park when seasonal closures on scenic routes are lifted, and all roads are open. But you'll also be fighting the crowds in the summer – and reservations are required. The colder months draw fewer visitors, but the seasonal facility and road closures limit access to the park.
The crowds are smaller when visiting in the shoulder season (fall and spring). But weather conditions bring uncertainty to the seasonal closures.
7. Pets in the Park
The park allows pets only in designated areas. Pets are not permitted in buildings, undeveloped areas, or on any trails. You can bring pets on sidewalks, roads, paved trails, and to developed campgrounds.
---
Sure, you could fill a week of adventure at Yosemite. But if your schedule allows for only one day to spend at Yosemite National Park, there is no reason to miss out on the sights and wonders of Yosemite. Make sure to include highlights like El Capitan, Half Dome, and Yosemite Falls in your itinerary. But don't stop there. There is much more beauty to behold and adventure to be had in one of America's most impressive national parks.
---
Click below to save these ideas on what to do in Yosemite in one day on Pinterest!
More in National Parks:
Rocky Mountain >> The 19 Best Hikes in Rocky Mountain National Park for a Colorado Adventure
Grand Canyon >>The Perfect Family Itinerary for One Day at the Grand Canyon + the 10 Best Sights
Great Sand Dunes >> 11 Memorable Things to Do at Great Sand Dunes National Park
Badlands >> The Best of the Badlands in 4 Hours: Things to Do at Badlands National Park
Arches >> One Day in Arches National Park: All the Amazing Sights + Planning Guide
Yosemite >> Yosemite National Park in One Day: 5 Ways to Experience the Park's Best Sights
Canyonlands >> Canyonlands National Park Itinerary: The 19 Best Sights to Plan Your Adventure
+ The Complete List of US National Parks by State (with a Printable List)