We were more than pleasantly surprised at how much there is to do in Birmingham. What was supposed to be a brief stop on our way to Dauphin Island, AL, turned into a full day of experiencing so many fun places in Birmingham, AL.
The city has a lot going for it. It's got a thriving music scene, a great food culture, and some of the best museums in the country. But if you're looking for something more than just sightseeing and want to experience what Birmingham is really all about, check out our list of what to do in Birmingham AL.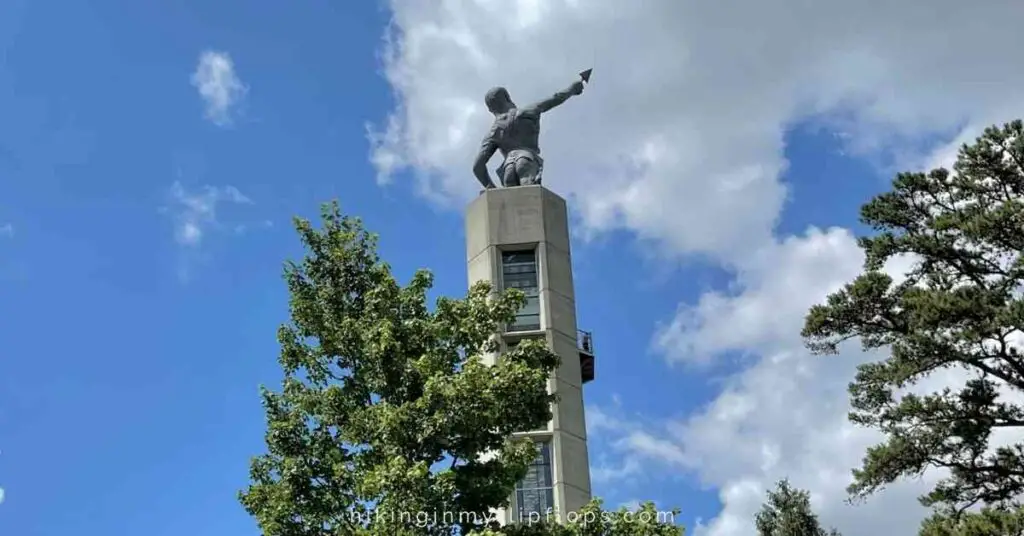 About Birmingham, AL: 5 Fun Facts
Its nickname is The Magic City, named for the rapid growth in the iron and steel industries.
The city has strong ties to America's Civil Rights Movement, and there are multiple sights on the Civil Rights Trail right here in Birmingham.
Birmingham is Alabama's largest city, with a population of almost one million.
Natural spaces are a priority in Birmingham, which has become a national leader in urban green spaces.
Vulcan, the largest cast-iron statue in the world, watches over the city. The mythical god represents the iron and steel industry.
While the hours and admission prices are accurate at the time of publishing, they are always subject to change. Make sure to check any of these Birmingham attractions for families ahead of your visit.
What to Do in Birmingham AL
There are many ways to spend time in the southern city filled with history and culture. We chose these Birmingham attractions for families to experience the city's history and roots. 
1. Vulcan Park and Museum
This park features a cast-iron statue that towers over the city of Birmingham. The 56-foot tall Vulcan (Roman god of fire and forge) sits atop Red Mountain. The only statue larger than the Vulcan in the US is the Statue of Liberty.
Completed in 1904, the Vulcan was first presented at the World's Fair in St Louis to showcase Alabama's iron industry. 
Today, visitors can explore the park's grounds, climb the observation tower, explore the museum, and pick up souvenirs from The Anvil.
The park is open daily; admission to the park is $4-6 (children 4 and under are free) 
1701 Valley View Dr
2. Birmingham Botanical Gardens
It's one of the best free things to do in Birmingham. Plan a stop at the botanical gardens to explore the 67-acre urban oasis. You'll find more than flowers, plants, and trees at the Birmingham Botanical Gardens. The gardens host classes and events like yoga, storytime, and monthly lunch & learns.
Located in Birmingham, Alabama, this botanical garden houses 25 unique gardens, including the Japanese Garden and the Ireland Old-Fashioned Rose Garden, and more than 10 thousand plant species.
Open daily from 7 am – 6 pm; Admission: free
2612 Lane Park Rd
3. Birmingham Zoo
Since 1995, this zoo has been one of Birmingham's top attractions. The zoo is home to more than 500 animals representing 180 different species, plus interactive exhibits. See red pandas, black-handed spider monkeys, Madagascar hissing cockroaches, and more. Visit their website for a current list of animals who call the Birmingham Zoo home.
Open Wednesday-Sunday, 9 am – 5 pm; tickets are $14-19 (children under 2 are free)
2630 Cahaba Road
4. Sloss Furnaces National Historic Landmark
Sloss Furnaces symbolizes the industrial heritage that defines much of Birmingham's history. From 1882 to 1971, it was the world's largest manufacturer of pig iron (crude iron made from smelting iron ore in a blast furnace), becoming a national historic landmark in 1981. 
After closing, Sloss Furnaces became the only blast furnace in the US to be preserved and restored for public use. Explore the historic furnaces at the site, now owned and operated by the City of Birmingham, via guided or self-guided tours. Or, for a bigger adventure, try the Historic Night Tour of Sloss Furnaces.
Open Tuesday-Saturday, 10 am – 4 pm
20 32nd St N
5. Birmingham's Railroad Park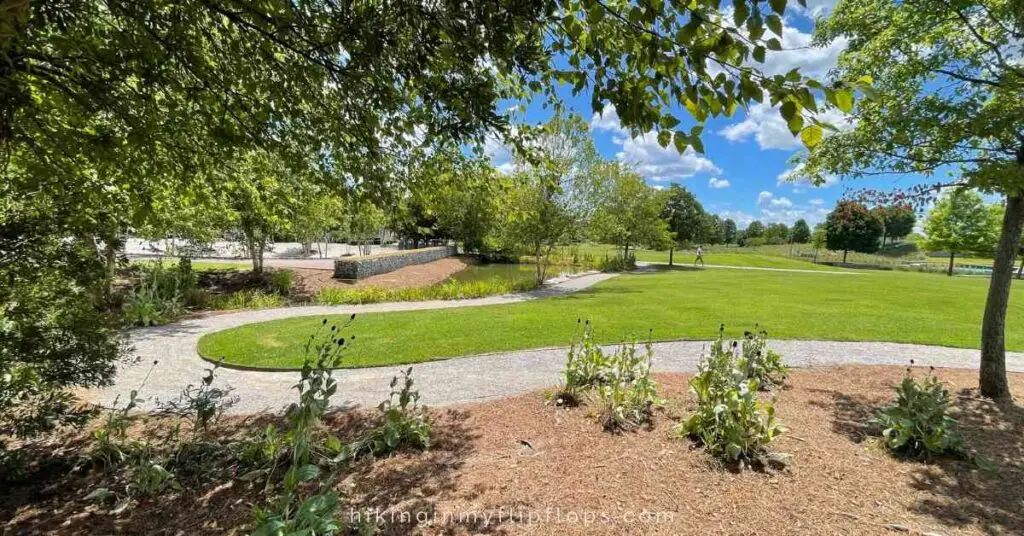 In the middle of downtown Birmingham is the Railroad Park. The beautiful oasis of greenery and water features covers 19 acres. Relax in the grassy areas, under tree shade, by flower beds, and along brooks and ponds. There is also a small lake and several trails for walking or jogging. The three-quarter-mile rail trail offers great views of the city.
There are two playground areas for younger children, and active teenagers will love the three skate bowls. There are also several cultural events, family activities, and concerts. It's the perfect escape from the city while never actually leaving the city. Bring a picnic and spend an afternoon lounging in this urban oasis.
1600 1st Ave S, between 14th Street and 18th Street
6. Civil Rights District and the Birmingham Civil Rights National Monument
The Civil Rights District spans six blocks of downtown Birmingham, providing multiple opportunities to learn more about historical events in the city. Collectively, these points of interest represent the Birmingham Civil Rights National Monument.
The Birmingham Civil Rights Institute tells the civil rights movement story through its exhibits and interactive displays. The museum also offers educational programs for children and adults about the history of the civil rights movement.
Just north of the institute is 16th Street Baptist Church, the site of Birmingham's first black church and former headquarters for civil rights meetings and rallies.
Kelly Ingram Park is across the street from the Birmingham Civil Rights Institute. The 4-acre park is home to several statues and monuments commemorating the civil rights movement.
Other sites in the district, each with its own historical significance in the Civil Rights Movement, include:
A.G. Gaston Motel
The Historic Bethel Baptist Church
The Masonic Temple Building
St. Paul United Methodist Church
Birmingham Civil Rights Institute: open Tuesday-Saturday, 10 am – 5 pm; admission is $13-15, with no charge for children up to 3rd grade (520 16th St N)
16th Street Baptist Church: hour-long tours, offered Tuesdays-Saturdays, are $5 for students and $10 for adults (1530 6th Ave N)
Kelly Ingram Park: open daily, 8 am – 8 pm; free (500 17th St N)
7. Pepper Place
The former Dr. Pepper bottling plant is now one of Birmingham's top downtown destinations. Come to shop, eat, and play in the 350,000-square-foot space. 
The Market, a certified Alabama farmer's market featuring 100 local vendors, is held on most Saturdays.2829 2nd Ave S
8. Southern Museum of Flight
If you love airplanes, then the Southern Museum of Flight just might be your dream museum. See more than 100 aircraft at the museum, plus artifacts, photos, engines, and models.
The vast collection of aircraft is indoors and out and contains aircraft and artifacts from throughout history. See the Korean War Jets, Lake Murray B-25, Huff-Daland Duster Exhibits – and much more.
Open Tuesday – Saturday, 9 am – 4 pm; admission is $5 (children 3 and under are free, as are active military and their families)
4343 73rd St N
9. Alabama Jazz Hall of Fame
About a block from the Civil Rights District is a spot celebrating Birmingham's jazz heritage in partnership with the National Black Cultural Society. The historic Carver Theatre, bustling with nightlife in Birmingham's Black Business District, is now home to the museum. In the Jim Crow era, it was one of the few places where black audiences could see first-run screenings of films.
Visit the museum to learn about the Hall of Fame inductees or plan to visit one of the many events and festivals that celebrate jazz music.
** Note: the Alabama Jazz Hall of Fame is currently closed for renovations, with plans to reopen in Fall 2022. Visit their website for updates.
1701 4th Ave N
10. Hike at One of the Local Parks
With the priority of green spaces throughout the city, getting out for a hike is the perfect way to experience Birmingham while surrounded by nature.
Ruffner Mountain
The 1,000+ acre preserve features several hiking trails for all abilities. One of the recommended hikes, the Crusher Trail, leads to an iron ore rock crusher from the mining years. The trail is 0.7 miles and has moderate difficulty. 
Mountain biking and horseback riding are not permitted on Ruffner Mountain's trails.
Make sure to visit the Ruffner Mountain Nature Center to see snakes, turtles, and raptors – including a hawk and an owl.  
Closed Mondays; parking is $5 per vehicle 
1214 81st St S
Red Mountain Park
Another excellent place for hiking and exploring historic mines. Red Mountain Park features mountain biking trails, zip lines, and three tree houses. There are also bike repair stations, hammock areas for lazy afternoons, dog parks, and a Sensory Trail.
Explore the 1,500-acre park that contains 16 miles of trails and was once the site of several iron-ore mines that put Birmingham on the map.
Open daily, 7 am – 7 pm; admission and parking are free
2011 Frankfurt Dr
Oak Mountain State Park
If you really want to escape the city, Oak Mountain State Park is a short drive south of Birmingham. The park is filled with outdoor activities, including fishing, hiking, mountain biking, swimming, boating, golfing, and more. 
You can even make a weekend of it at Oak Mountain with a stay at the campground. From primitive campsites to sites with hookups for RVs, there is a site for every type of camper here.
Open daily 8 am – 8 pm
200 Terrace Dr, Pelham
11. Catch a Birmingham Barons Game
The best way to really experience "the local" is to hit one of the sporting events in any town. The best place to do that in Birmingham is at Regions Field. Catch a minor league Birmingham Barons baseball game at the downtown field from April through September. 
Catch sweeping views of the city skyline while watching Chicago White Sox hopefuls play ball. 
See the team's schedule here; ticket prices range from $10-20
1401 1st Ave S
Bonus: Indoor Activities in Birmingham, AL
It gets hot in Birmingham – hot and humid. Because summer temps can make the outdoors unbearable outdoors, head to any of these indoor attractions in town. But, really, these fun places in Birmingham are great for any day.
Barber Vintage Motorsports Museum
George Barber began his racing career in the 1960s when he drove a Porsche around the track. He eventually earned 63 first-place finishes in races across the United States. That career, and passion for cars, led to the collection and restoration of vintage cars.
Today, a museum housing the largest motorcycle collection in the world and features rare race cars (including a 1964 Ferrari F-158, winner of the 1964 Formula 1 World Championship), the most extensive collection of British sports cars, and a collection of 50+ Lotus cars.
Also onsite is the Barber Motorsports Park, where racing events are held throughout the year.
Open daily; admission is $10-15 (additional charge for Premium Tours)
6030 Barber Motorsports Pkwy, Leeds
Birmingham Museum of Art
The Birmingham Museum of Art houses an enormous collection of pieces that represent several eras and cultures. See everything from sculptures and decorative arts to drawings and prints. 180,000-square-foot space includes 30,000 feet outdoor sculpture garden.
The Museum of Art is home to the largest collection of Wedgewood china outside of England, with about 10,000 pieces housed at the museum. 
Closed Mondays and major holidays; general admission is free
2000 Reverend Abraham Woods Jr Boulevard
McWane Science Center
McWANE Science Center is an excellent destination for families. There are plenty of unique, hands-on, science-learning experiences for all ages. With permanent exhibits like Itty Bitty Magic Town, Alabama Dinosaurs, Sharks and Rays Touch Tank, and so much more, it's easy to spend an entire day at McWane Science Center.
Plus, there's an IMAX Dome theater, so you can watch movies that range from the educational to the entertaining (often both!) while visiting.
Closed Mondays and Tuesdays; tickets are $8-20  
200 19th St N
---
The next time you find yourself in Birmingham, make a point to stop and experience the history and culture of this southern city. There is much to learn about the Civil Rights Movement and the city's industrial history that made it what it is today. Make sure to have at least a few of these picks for what to do in Birmingham AL for your next visit!
---
Click below to save these ideas for what to do in Birmingham AL on Pinterest!